Last updated on January 28th, 2022 at 05:54 pm
Anime has attracted many audiences with its different assortment of genres. And among them, the Romance genre has been prevalent among all age groups. Moreover, one is well acquainted with romantic animated series like Kamisama no Kiss, Maid-Sama!, Nodame Cantabile, Anohana, Fruits Basket, Toradora!, Your Lie in April, etc.
But in this article, we will not be talking about the romantic series. Rather we will focus on the couples of anime series. We will consider romantic anime as well as not-so-romantic series.
Most of all, we will also acknowledge couples from popular, lesser-known, and also from 90s anime series. So, hold on tight; we will dive first into the Top 30 Best Anime Couples, Loved Forever.
Top 30 Best Anime Couples, Loved Forever-
30. Akito and Sana (Kodomo No Omocha) –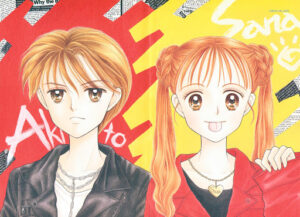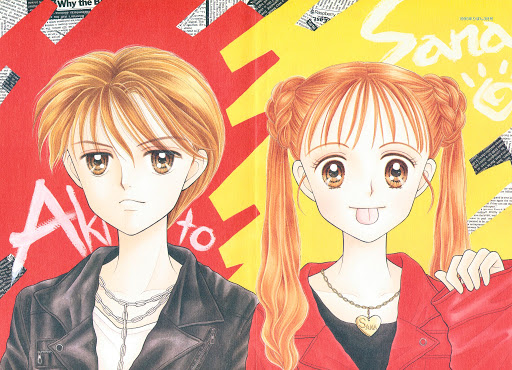 Audiences of 90s anime will be aware of this couple from the Kodomo No Omocha series. As always the series begins with no connection between them but Sana is not ones' ordinary school girl.
She is the star of her own show and a famous personality on TV at that. And what is her problem in life? Akito is her unruly classmate and the sole nuisance in her life.
She is determined to find more about him and starts to investigate. But who knew that would be the reason to bring them close than before.
---
29. Tsutomu and Mikako (Gokinjo Monogatari) –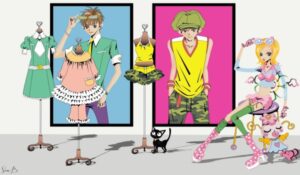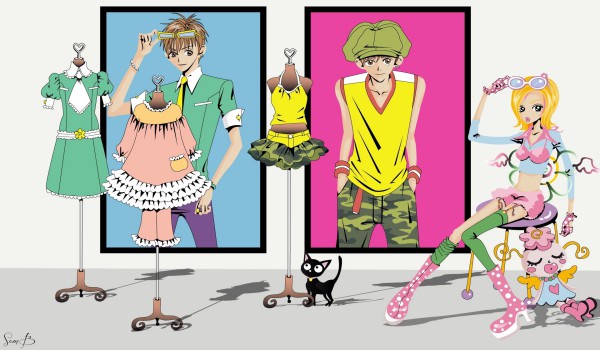 This couple from Gokinjo Monogatari anime and will take one on a journey of love as well as life. Mikako is a fashion design student with strong ambitions while Tsutomu is her childhood friend.
As they grow up Mikako suddenly starts to see him in a new light and falls in love. As a result, their friendship delves into that of romantic. Well not before some age-old misunderstandings and drama and well life.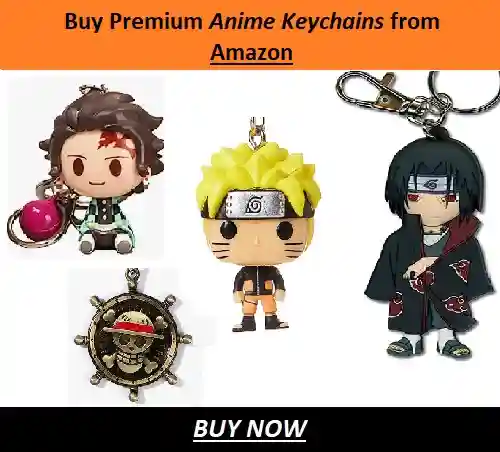 ---
28. Tohru and Kyo (Fruits Basket) –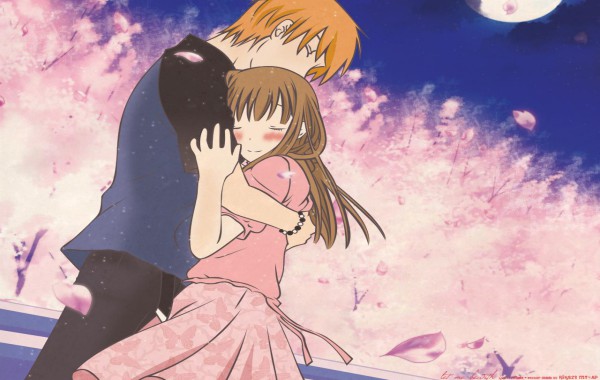 This pair is well known through the Fruits Basket series. Their first meeting was when Tohru discovered the Sohma curse and upon finding he is a cat zodiac she tried to befriend him.
He started to avoid her but later he eventually formed a friendship. Later, their relationship starts to change through many incidents, and finally, at the end of the series, they get together.
Moreover, in Fruits Basket Another they are married with three children.
---
27. Tomoya and Nagisa (Clannad) –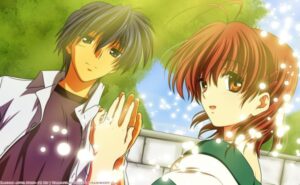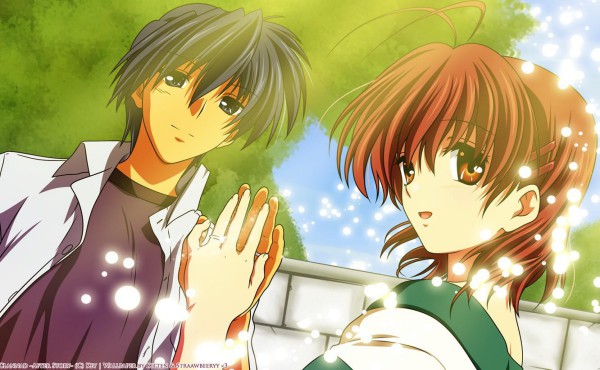 This pair will not only teach the importance of family and friends but also the maturity that comes with life. Nagisa despite being sick tries to bring happiness to people around her.
Whereas Tomoya is perceived as a delinquent by others but it is Nagisa who truly understands him. What makes their relation ideal is that it's not perfect but very much real. And everyone desires such a relation.
---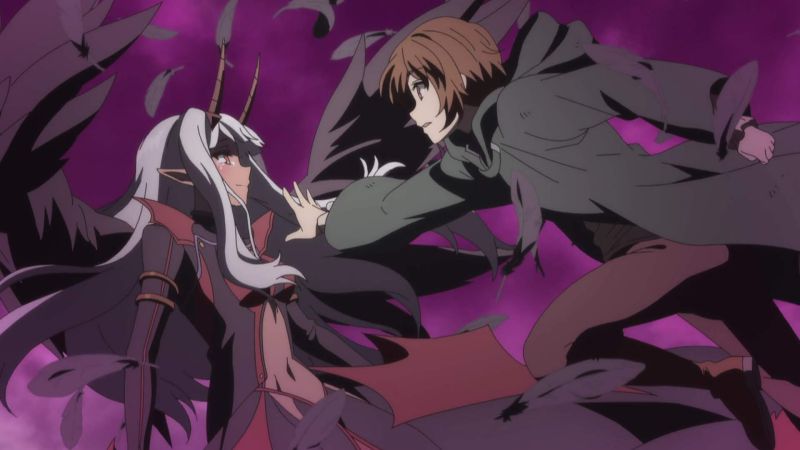 Must read- (2021) Top 10 Best 18+ Anime like Redo of Healer Ranked
---
26. Inuyasha and Kagome (Inuyasha) –

Image Source: wallpaperaccess
A popular couple from the series named Inuyasha. Kagome is ones' normal high school until she fell through her family shrine's well. She ended up in a world full of supernatural creatures and that's where she met Inuyasha.
Inuyasha on the other hand is a demon and has a mission of his own. But despite their initial difference they eventually become friends and then lovers at the end of the series. In the sequel of the series, they are married and have kids.
---
25. Haruhi and Tamaki (Ouran High School Club) –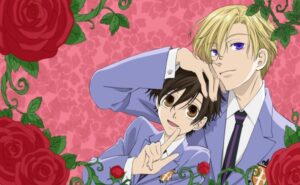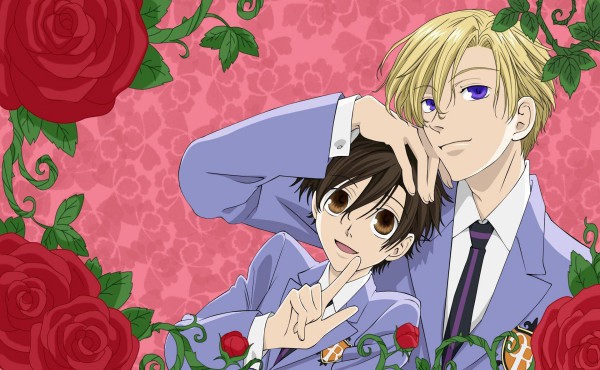 Fans of Ouran High School Club anime will easily recognize this couple. Haruhi is a clever, down-to-earth person, and Tamaki is self-obsessed as well as full of overconfidence.
Their first meeting was not ordinary at all and Haruhi was even mistaken as a boy by Tamaki. Later they finally recognized their feelings for each other but not before lots of misunderstandings. Their relation makes one go through a journey of comedy as well as drama.
---
24. Holo and Lawrence (Spice and Wolf) –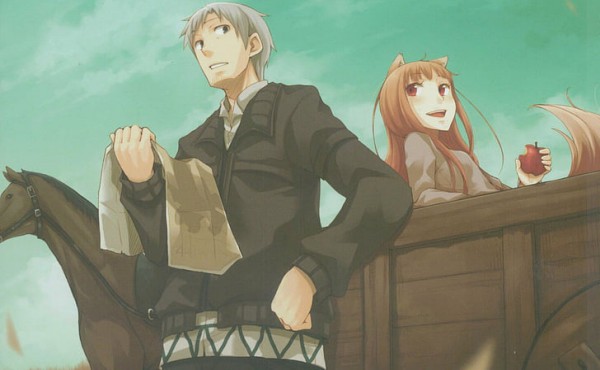 Not many have heard of this couple and they belong to the Spice and Wolf series. Holo is not an ordinary human, she is a wolf deity. Even her human form has wolf-like ears and tail.
On the other hand, Lawrence is a traveling merchant and she constantly flirts with him which makes him flustered. But even so, they develop a relationship unlike others with trust and respect.
Most of all, life is not easy and together they learn to take big steps.
---
23. Risa and Otani (Lovely Complex) –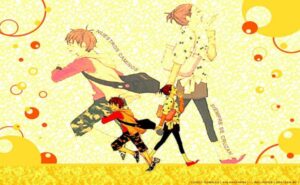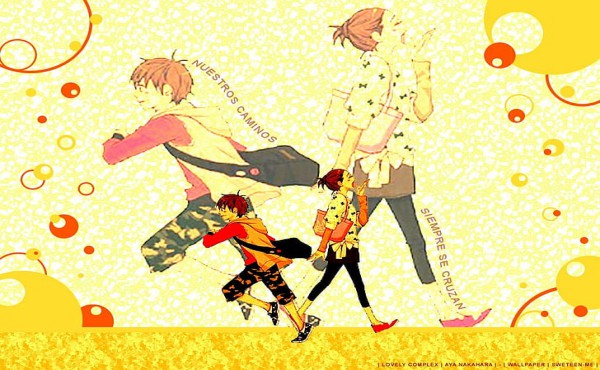 This couple is unlike other couples from other romance series. Furthermore, it is another brilliant friends turned lovers trope and also has musical elements.
Risa is a very tall girl and Otani on the other hand is short. Both of them face daily problems in life due to their life and has insecurities.
But they know how to live their life and joke around. Both of them bond over their shared favorite hip-hop group and from then their relation delves into more.
---
22. Takeo and Yamato (Ore Monogatari) –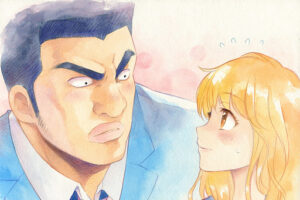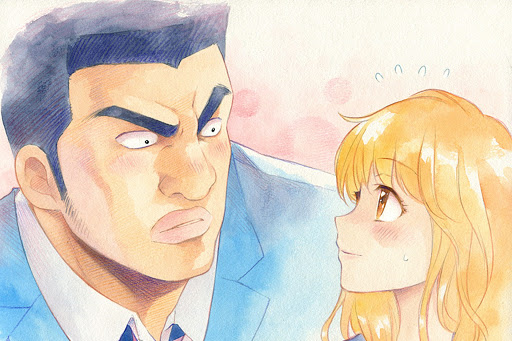 Yamato is a normal outgoing and sweet girl and compared to her, Takeo is the very definition of masculine. He is big and intimidating but despite his appearance, he is kind-hearted and soft in nature.
Yamato practically falls for him after he saves her from assailants. And from then they start their sweet love story. This couple teaches one that appearance is not everything in a relationship and happiness can be found even in small things.
---
21. Kamina and Yoko (Gurren Lagann) –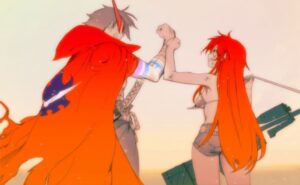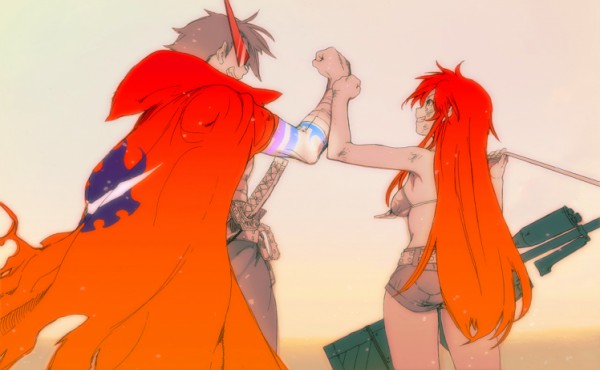 This couple is from the classic anime named Gurren Lagann. Kamina met the sniper girl Yoko when he first went to the surface. And being a playboy he instantly started to flirt with her.
As a result, Yoko didn't have a good impression of him. But eventually, both of them overcome their differences throughout the series and accept the love for each other. No wonder a bond needs both trust and communication.
---
20. Yuzuru and Otonashi (Angel Beats) –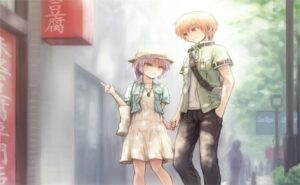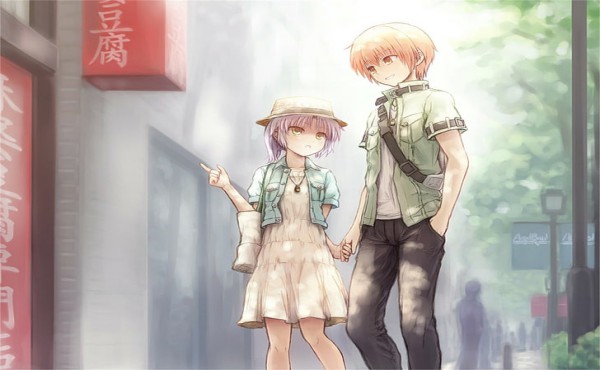 Who hasn't watched Angel Beats anime but above all this couple's story takes one on an emotional journey. While Otonashi is stuck in limbo. Yuzuru is an Angel who is one of the antagonists of the series.
But eventually, he learns she is also dead and together they work to help others to escape the afterlife.
The most interesting part is they are star-crossed lovers and are only to be destined to be together in their next life.
---
19. Kakeru and Naho (Orange) –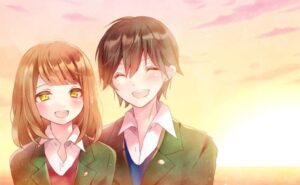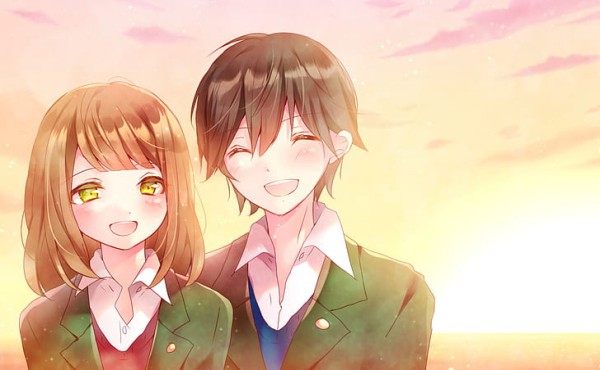 This couple truly proves that love can transcend time and space. The story begins when Naho receives a letter from the past that contained future events of that day and even love.
That same day, Kakeru transfers to her school and she instantly falls in love with his personality. But he is in danger and her only option is to rely on the letters.
Along the way, she eliminates the dangers and becomes more outgoing. As time goes on, their bond becomes more strong and perfect.
---
18. Kyouya and Erika (Wolf Girl and Black Prince) –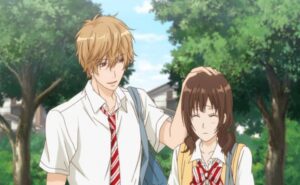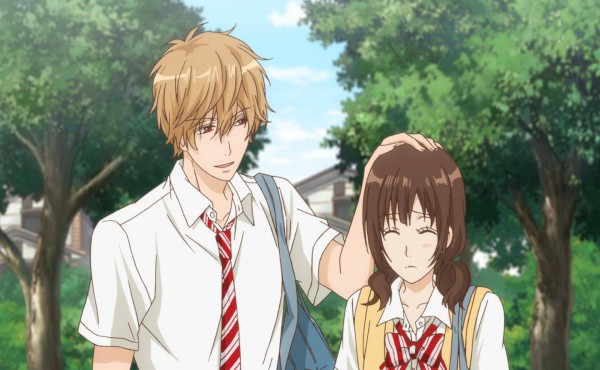 This couple is from the Wolf Girl and Black Prince series and the beginning of their encounter was not an easy one. Even their initial relationship was a rocky start and Kyouya saw Erika as a laughable pass time.
But as time went by, he seriously tried to be there for her and began to love her wholeheartedly. Later, they got married. Sometimes, a relationship needs a rough start for greater things to unfold.
---
17. Junko and Kyosuke (Nana) –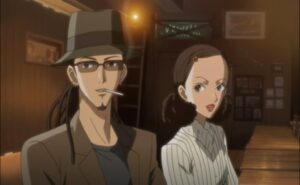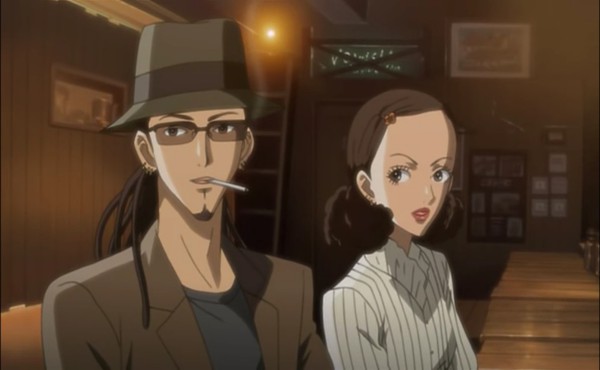 Even though the Nana series has several toxic relationships, this couple stands out more for their down-to-earth relationship.
Most of all, when others are having trouble one needs them to balance things out and shoot facts. Both of them are loyal to each other, live together, and have a passion for the same thing, i.e., art. Who wouldn't want a passionate relationship like them?
---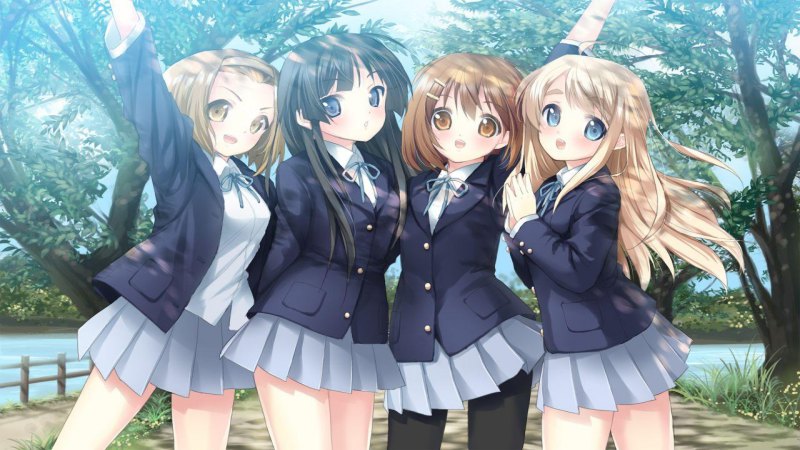 Must Read- (2021) Top 50+ Cute Anime Girl Names
---
16. Naruto and Hinata (Naruto) –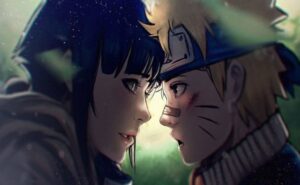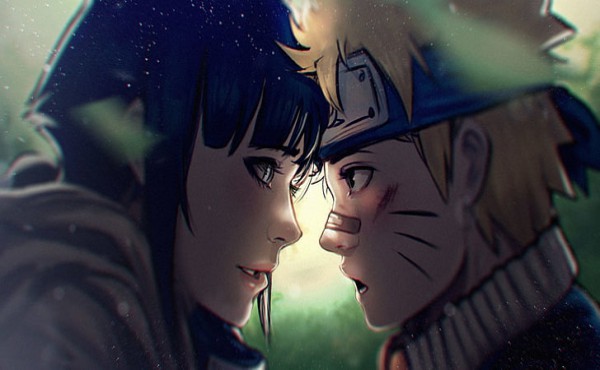 Although the Naruto series is a shounen anime, this couple is well-favored among the fans. In the beginning, it was only Hinata who had a crush on him while Naruto was being well Naruto.
But as the saying goes everything is good that ends well. And the two of them eventually get married after going through wars, hardships, and pain. And later they had a son named Boruto and a daughter named Himawari.
---
15. Sousuke and Chidori (Full Metal Panic) –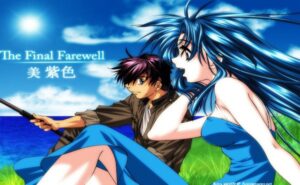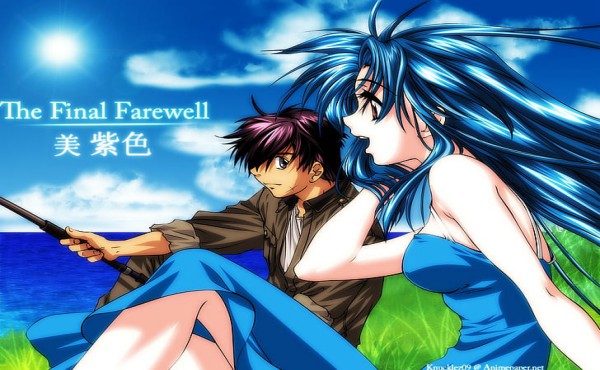 If one remembers the Full Metal Panic series then they will easily recognize this couple. Chidori is a normal high school student and Sousuke is a teenage mercenary arranged to guard her.
On one hand, Chidori is well-loved by her peers and excels in everything she does. On the other hand, Sousuke is struggling to maintain a normal life as a high schooler.
Their relationship begins to improve when she gets kidnapped and he ignoring orders acts on his impulses. Later, her feelings get reciprocated by him.
---
14. Inaba and Taichi (Kokoro Connect) –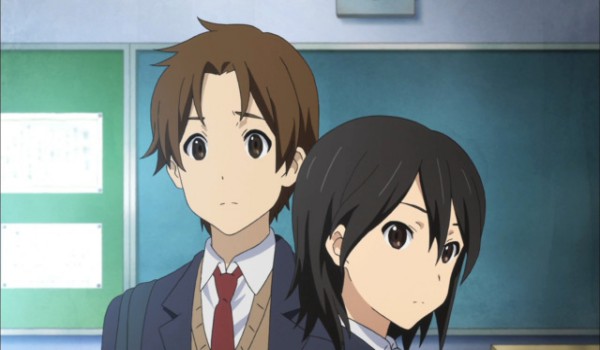 There is always some truth when one says there is very little secret left when one reads and switches body with another. The same goes for this couple and over the course of the series, their love for each other becomes firm.
But before reaching that state nothing was easy as there were countless misunderstandings and even some lying from Taichi's side. But eventually, they got over it and are dating happily.
---
13. Ban and Elaine (Seven Deadly Sins) –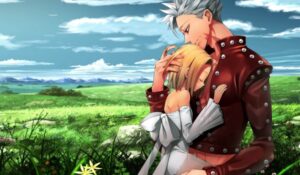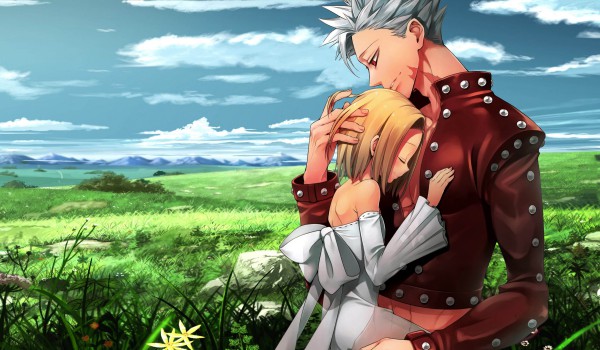 This couple can be considered as a tragic couple but their love for each other is profound. Ban first met Elaine in the Fairy Forest where she is guarding the Fountain of Youth.
To gain immortality, he goes up against her countless times and eventually they form a bond of friendship. And later something more.
But when a demon attacks, Ban eventually drinks from the fountain which leads to Elaine's death. Ban sacrifices his immortality to fully resurrect her.
---
12. Yuu and Nao (Charlotte) –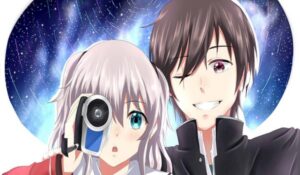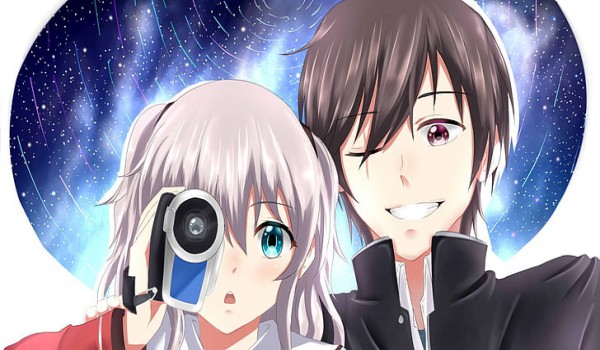 Some may consider this couple as bittersweet due to the last episode of the Charlotte series. But without any doubt, they care for each other and their love is genuine.
In the beginning, Nao didn't like him at all for misusing his powers to guide in exams and Yuu didn't like her for exposing him. Over time, they start to bond and form a strong friendship. Yuu gradually fell for her and Nao accepted him after he kept his promise.
---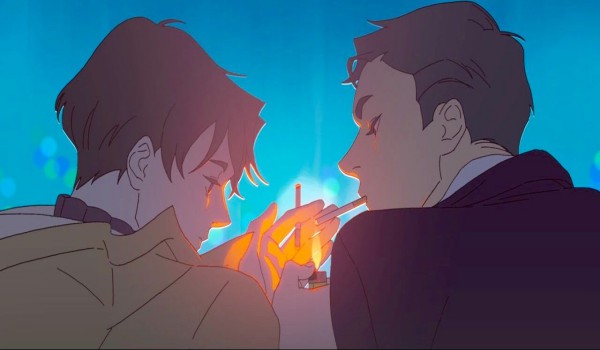 Must Read: (2021) Top 15 Best Yaoi Anime of all time Ranked
---
11. Mitsuha and Taki (Your Name) –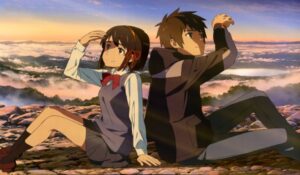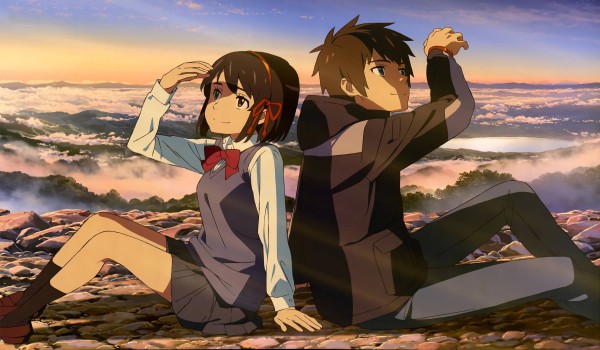 The word Fated Lovers is best suited for this couple and above all, they could switch bodies with each other in their dreams!
This ability led to constant bickering each other and both of them got on each other's nerves. But with time they started to understand each other, their circumstances.
And it was Taki who fell for Mitsuha and after they stopped switching bodies he was determined to meet her. From there on it takes a sad turn but with a happy ending. One has to see Your Name to enjoy a heartfelt journey.
---
10. Misaki and Takumi (MaidSama!) –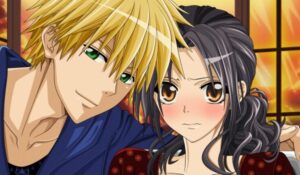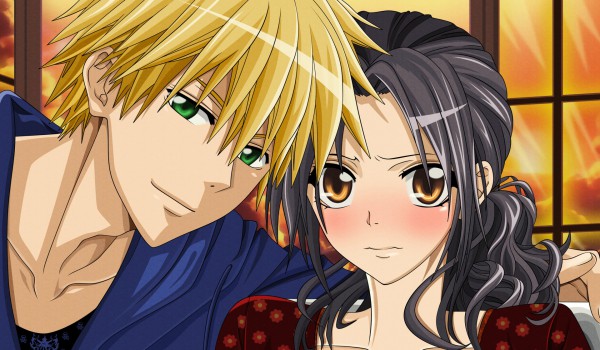 Audiences of romance anime know this pair very well. Misaki is the first female president of a former Boys' School and Takumi is one of the popular classmates of hers.
But she has a strong hate for boys due to past circumstances with her father and also hides a secret. And it was Takumi who found her secret and also vowed not to reveal it.
Eventually, she understands that not boys are the same and slowly they start to develop a friendship which later turns into love.
---
9. Yuuko and Teiichi (Tasogare Otome x Amnesia) –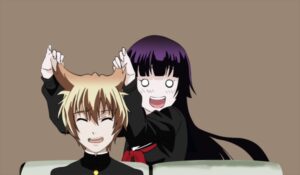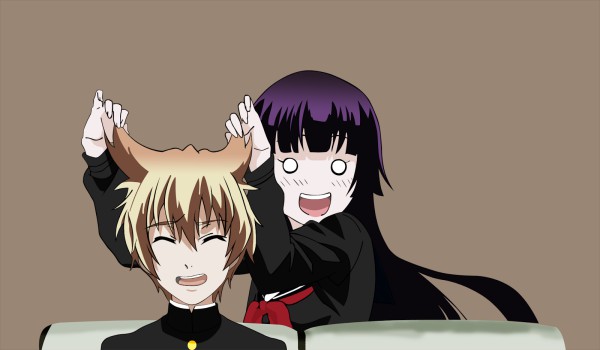 If words are needed to explain this pair then it should be love that can overcome both life and death. This pair of lovers are from Tasogare Otome x Amnesia series and also one of the cutest pair.
Teiichi met Yuuko, a ghost while investigating an abandoned school building. Despite being a spirit she falls in love with her while he tries his best to pass her soul on. In the end, it took a kiss for her to return unexpectedly back to the world.
---
8. Asuna and Kirito (Sword Art Online) –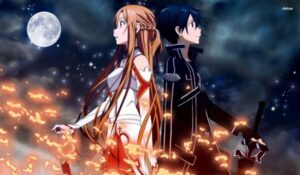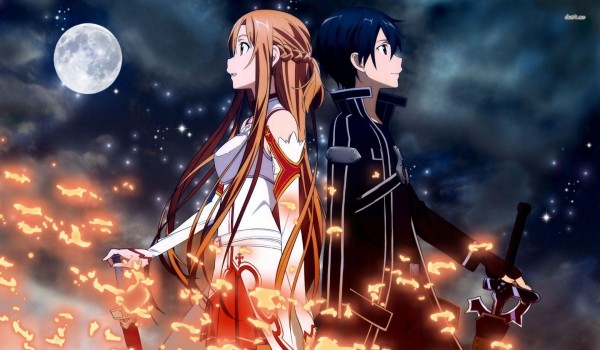 Everyone is aware of this couple from the Sword Art Online Anime. Kirito is excellent at gaming and over time Asuna becomes someone important to him.
Both of them know about each other's strengths and weaknesses. And in that terrifying world, both of them are each other's anchor.
Even though every odd is against them, they still fall in love and along with the series, they try to protect each other. Even Kirito who was headstrong about completing the game changed and now thinks about her survival.
---
7. Shirayuki and Zen (Akagami No Shirayukihime!) –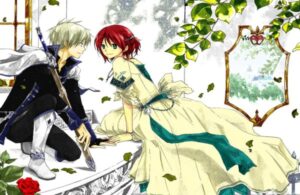 Shirayuki met Zen while on the run from Raji. Zen is the Crown Prince of Clarines and is someone with whom she can relate. Moreover, she isn't some damsel in distress.
She has her own ambitions and is a herbalist at that. Both of them have a strong personality and after getting together they only complement each other.
Initially, she doubted if she could be by his side and it was Zen who reassured and returned her feelings. Their relationship is very much sweet and realistic.
---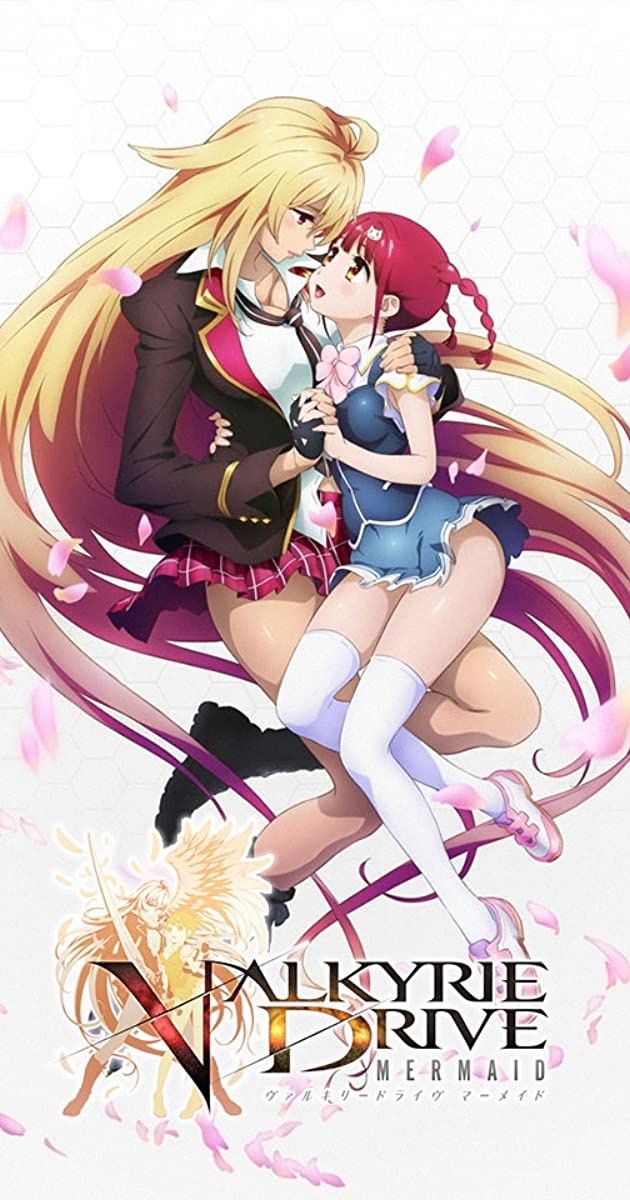 Must Read: (2021) Top 15 Best Yuri Anime of all Time: Girls' Love Anime
---
6. Tomoe and Nanami (Kamisama Kiss) –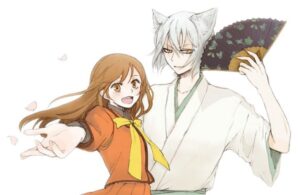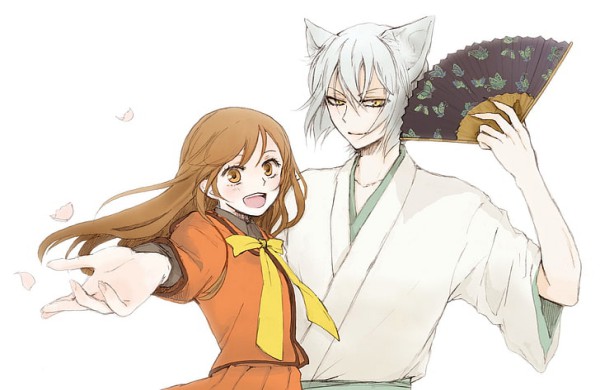 Another popular couple from the Kamisama Kiss series. Nanami is a human and on a chance meeting with Mikage she ends up living in the local shrine.
And there she meets with the familiar named Tomoe whom Mikage had previously saved. In an instant, he disliked her and refused to serve her.
But Nanami had already developed feelings for him. Moreover, there is a somewhat restriction of love between humans and yokai. Tomoe also ends up falling in love with her and together they create a beautiful love story.
---
5. Kou and Futaba (Ao Haru Ride) –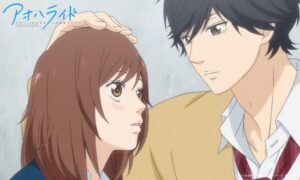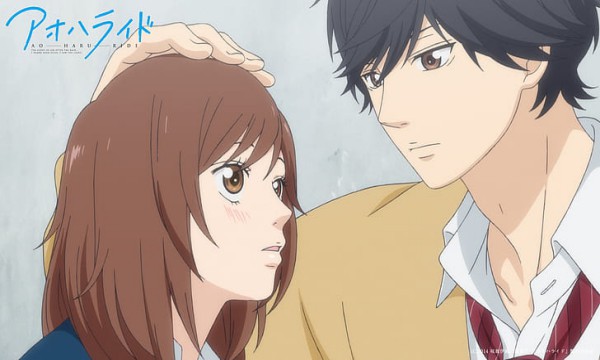 Sometimes one can't forget their first love and the same goes for Kou and Futaba. This series will teach one that sometimes people change and also it is possible to fall for the same person all over again.
But before both of them ended up together, they had to overcome obstacles. Furthermore, their love story got complex and then later got sweet.
Futaba one day encountered her former lover but he was different than before. He was rude rather than kind, a different person altogether.
---
4. Shota and Sawako (Kimi no Todoke) –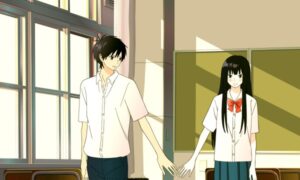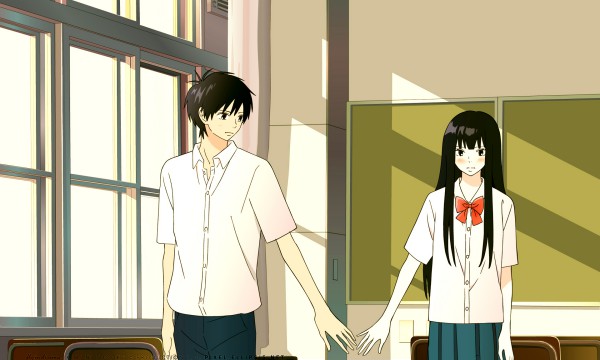 Another well-known couple and they are from Kimi no Todoke series. Sawako most time is feared by her classmates because of her similar appearances to a spirit from a Horror movie.
She has very low confidence in herself and has feelings for the popular classmate Shota. On the other hand, Shota fell for her upon seeing her attractive smile.
And constantly saves her or gets jealous whenever someone approaches her. And often wonders about her feelings, but she also loves him but was too shy to confess. Later, they started going out after confessions from each side.
---
3. Goku and Chichi (Dragon Ball Z) –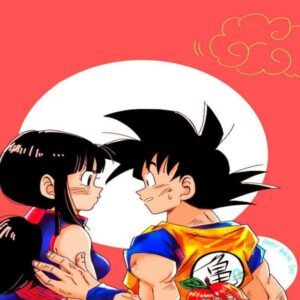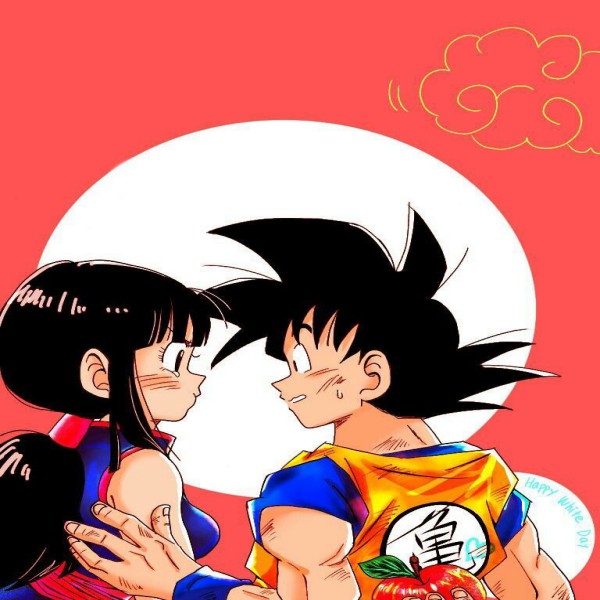 The popular couple from the Dragon Ball series and their relationship was not at all a smooth journey. Chichi fell in love with Goku at first sight and always believed them to be childhood sweethearts.
They met when they were 14 years old, and Goku had saved her at that time. They met again at Martial Arts Tournament after five years, and Goku ended up saving her once again.
The funny thing is Goku agreed to marry her thinking it was something edible. Their relationship had many ups and downs and obstacles, but in the end, they got married and had children.
---
2. Celty and Shinra (Durarara!!) –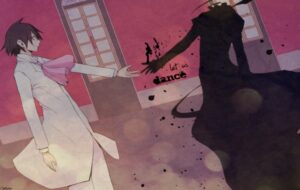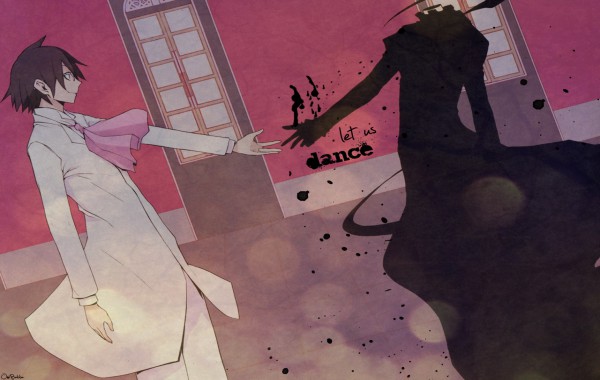 The list will not be complete without mention this couple from Durarara!! Anime. This pair is the definition of opposites attract and, like other couples, also had many hurdles.
But many call them an odd pair due to Celty having a headless appearance. And to her form, she uses a helmet, and it was Shinra, an underground doctor, who started to have feelings for her first.
They started living as roommates first, and later his love was reciprocated by Celty. Moreover, she can't talk, so she communicates with him via text messages.
Anyone can see they have a genuine affection for each other and a loving relationship.
---
1. Isaac and Miria (Baccano!!) –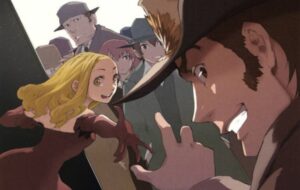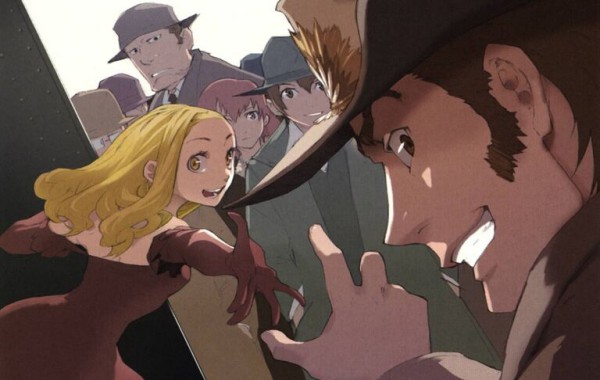 When talking about fairytale-like romance, this couple from the Baccano!! Anime takes the first place. They are not like other lovers because besides being lovers, they are also a pair of robbers.
What attracts the audiences is their trust and how well they complement each other. Both of their targets are very much different from normal and time to time, bring comic relief.
The most interesting fact of this couple is that they dress up in costumes before committing robberies. Who wouldn't want trust with lots of excitement in their bond?
---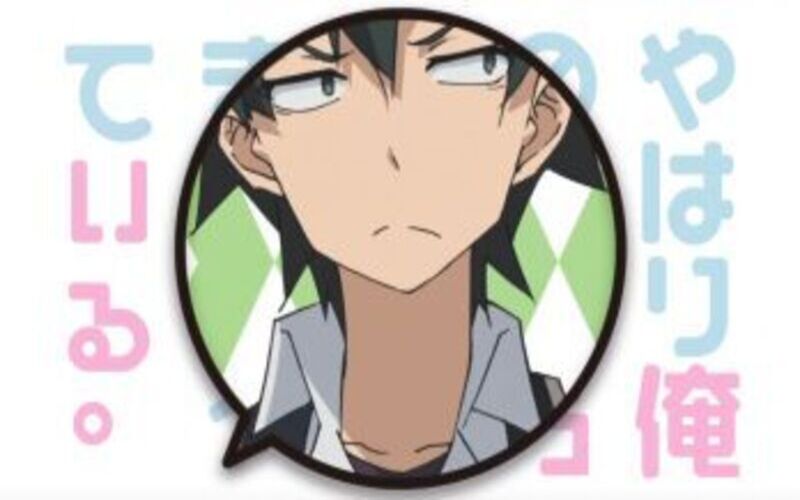 Related- Top 30 Romance Anime Shows of all time with Happy Ending
---
Special Mention-
Kousei and Kaori (Your Lie in April) –
Kousei despite a piano prodigy sees his world in monochrome. But everything starts to change when Kaori enters his life and for the first time brings color in his life.
Both of them steadily develop a relationship and even though there is tragedy towards the end,their love carries on.
Kurisu and Okabe (Steins; Gate) –
Kurisu and Okabe from Steins; Gate is another pair brought together by fate. Initially, they hated each other but gradually started to bond over their mutual interest in science.
They both ended up confessing their love in the lab but it is fate and other dimensions that are stopping them. And Okabe has to die again and again to save both his friends and Kurisu.
Meliodas and Elizabeth (Nanatsu no Taizai) –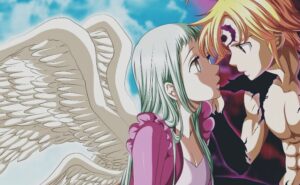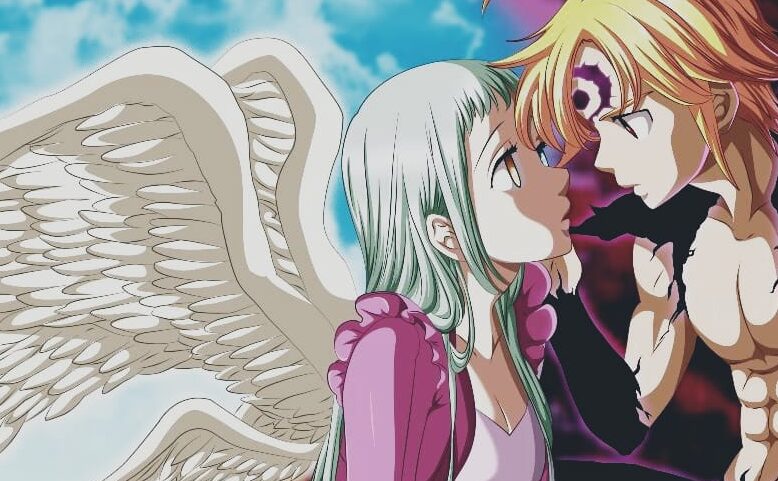 One of the best couples in the anime field. They are also one of our personal favorite couples. Nanatsu no Taizai fans know that how much they loved each other.
Only for love, the Demon Prince betrays his own clan and even challenges all the living species. The same goes for Goddess Elizabeth also.
Finally, we have come to the end of today's post. The list was made based on our research.
We would like to mention other couples such as Hak & Yona (Yona of the Dawn), Yukako & Yoichi (Jojo's Bizarre Adventure: Diamond is Unbreakable), Satomi & Shinichi  (Parasyte), Usagi & Mamoru (SailorMoon), Ryuuji & Taiga (Toradora, etc.
Fans can watch any anime from the official site of Crunchyroll. For plot, rantings and many more, they can reach myanimelist website.
Let us know your favorite couples in the comment section. We will be back with more posts like this, and one can go through our website for recommendations and news. Till then, stay tuned and stay safe.
---
Follow us on Twitter for more post-updates.
Also Read:
(2021) Top 10 Most Popular Webtoons worldwide

(2021) Top 10 Most Disturbing Anime that are banned in many countries

Top 10 Most Underrated Anime in 2021 Ranked

(2021) Top 20 Best End of World Anime Ranked

(2021) Top 15 Sexiest Highschool of the Dead Girls Ranked

(2021) Top 15 Sexiest Tokyo Ghoul Female Characters Ranked

(2021) Top 10+ Best Adult Manga for Otakus Ranked

(2021) 15+ Hottest Attack on Titan Male Characters Ranked

(2021) Ranking of Top 15 Hottest Fullmetal Alchemist Girls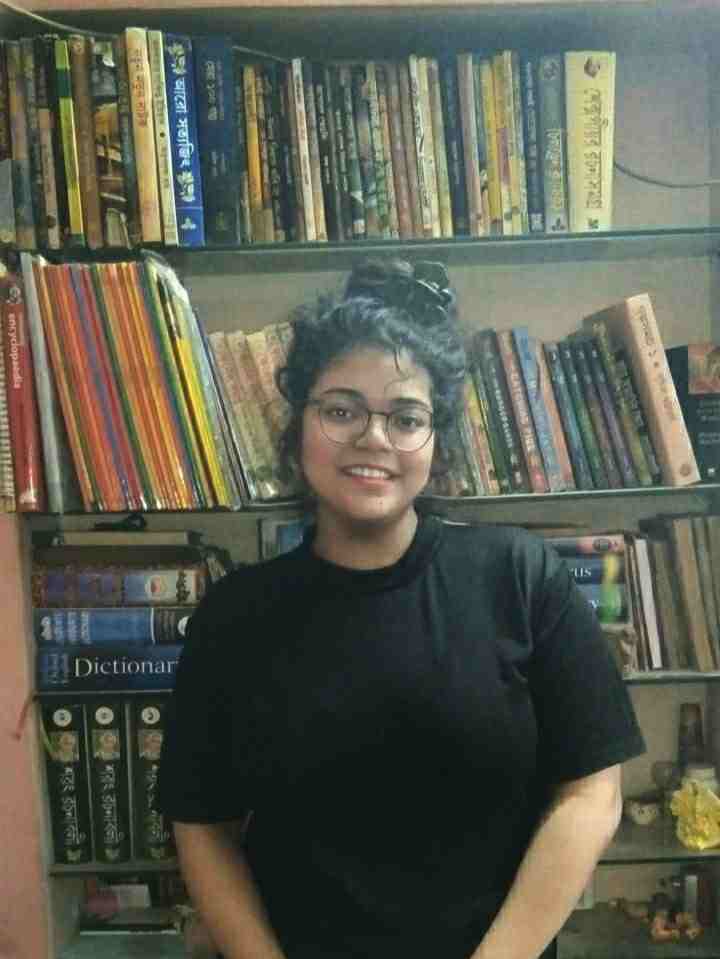 Namrata is a nature lover and frequently spends their time making elaborate plans of settling near the banks of Manasarovar lake with their best friend. If not, then they can be found reading mangas, books, comics, or science journals. Quite interested in science and will start talking about its endless theories if given the opportunity.