Last updated on September 11th, 2023 at 06:18 pm
The iconic battle between Gojo and Sukuna has been going on for some time now and steadily progressing towards the conclusion. It doesn't need to be mentioned that fans are eagerly waiting for each and every chapter, hoping to guess who ultimately wins the fight. Jujutsu Kaisen Chapter 235 is about to come next and we are here with its spoilers and release date.
Jujutsu Kaisen Chapter 235 Spoilers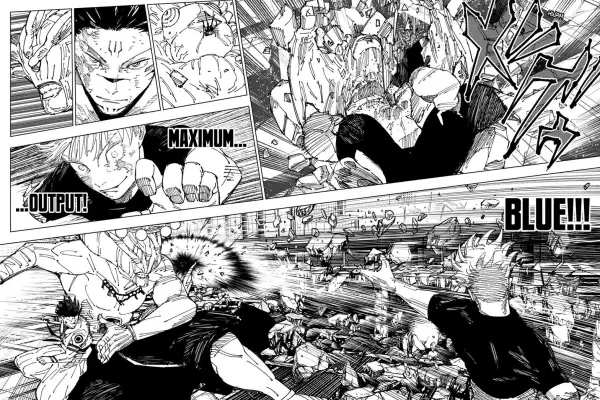 In Jujutsu Kaisen Chapter 235, Gojo destroys Agito before completely regrowing his arm with the Reverse Cursed Technique. The narrator says that the second Black Flash has caused Gojo's intensity to increase and, in turn, has made the King of Curses Sukuna nervous for the first time in a thousand years.
Gojo uses his third Black Flash on Mahoraga before suddenly appearing in front of Sukuna. Sukuna tries to attack Gojo but is blocked and thrown towards Mahoraga before Gojo hits them with the fourth Black Flash.

Mahoraga stops the Black Flash from hitting Sukuna but is thrown away himself in the process. 

As Gojo begins to chant for his next attack, Sukuna guesses it to be Cursed Technique Reversal: Red. He plans to have it hit Mahoraga so that the Shikigami can adapt to it.

However, Gojo doesn't shoot Red at Sukuna or Mahoraga and instead shoots it upwards. As Mahoraga chases the Red technique upwards, the leftover from the Blue technique from the previous attack on Agito is revealed in the sky.

Sukuna orders Mahoraga to not let the Red and Blue techniques touch and to demolish Blue by adapting to it. But before Mahoraga can do so, Gojo punches the Shikigami off.

Sukuna tries to destroy the Red technique with Piercing Blood to stop it from touching Blue and is attacked by Gojo. However, Sukuna reveals that he has already launched Piercing Blood.
Gojo is unaffected and begins to chant for the Blue technique which increases its intensity significantly. The Red and Blue finally meet and Hollow Purple is launched. The technique blasts everything around it, including Gojo himself. But since the attack is born from his own cursed energy, it doesn't affect him all that much.

The aftermath of the Hollow Purple shows a part of the city completely destroyed, Mahoraga's wheel broken and Sukuna horribly injured with one incapacitated arm. 

Kusakabe says that Gojo recovered his Reverse Cursed Technique thanks to the consecutive Black Flashes. He also says that now that Sukuna is without Mahoraga and can't use Domain Amplification, Gojo wins the battle of the strongest.

At the end of the chapter, Gojo completely heals himself and replenishes his cursed energy.
---
Jujutsu Kaisen Chapter 235 Release Date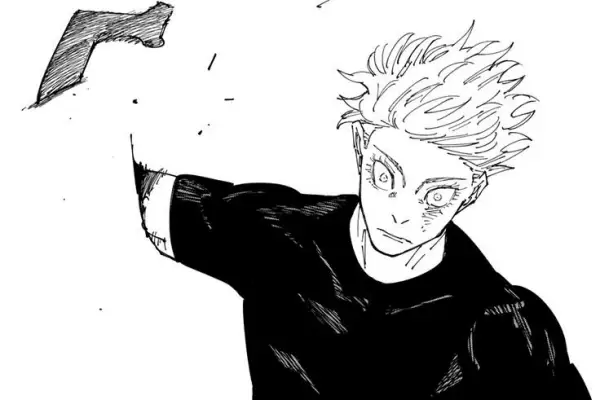 Chapter 235 of Jujutsu Kaisen will be released on Sunday, September 10, 2023. However, the exact time the new chapter will be available will be different in some parts of the world. The time of release will depend on the time zone the particular region falls under.
Here is the timing of the release of Jujutsu Kaisen Chapter 235 in various time zones across the world so that you know the exact time to look for it:
Pacific Standard Time: 7 AM, Sunday, September 10, 2023
Eastern Standard Time: 10 AM, Sunday, September 10, 2023
Greenwich Mean Time: 3 PM, Sunday, September 10, 2023
Central European Time: 4 PM, Sunday, September 10, 2023
Indian Standard Time: 8.30 PM, Sunday, September 10, 2023
Philippine Standard Time: 11 PM, Sunday, September 10, 2023
Japanese Standard Time: 12 AM, Monday, September 11, 2023
Australia Central Standard Time: 12.30 AM, Monday, September 11, 2023
Read the new chapter on Manga Plus and Viz Media, the official platforms of Shueisha, for free. As for the next chapter, Jujutsu Kaisen will be taking an extended break of two weeks. So, Chapter 236 will not be released until October 1, 2023. That means Chapter 235 is the last chapter of this month.
---
Do small things with great love.
Follow us on Twitter for more updates.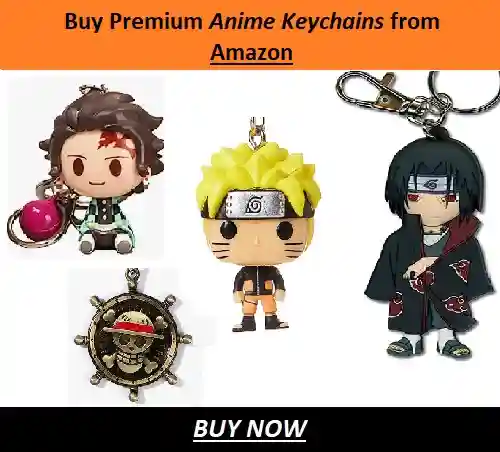 Also Read
Anamika loves words and stories and putting them to pages. She also loves anime, manga, books, movies and everything fantasy. She has been a fan of anime since childhood and her admiration for it only grew with years. Her passion for writing is even more elevated by writing about the things she loves.