Last week's chapter was so shocking that Jujutsu Kaisen changed forever. The strongest jujutsu sorcerer of the modern era and the fan-favorite character Satoru Gojo died in the last chapter, officially confirming Sukuna as the strongest character of Jujutsu Kaisen. This week, in Jujutsu Kaisen Chapter 237, Hajime Kashimo enters the battle against the King of Curses. 
The wait is finally over as the spoilers are finally out. Let's see what happens next in this article about Jujutsu Kaisen Chapter 237 spoilers and raw scans.
Jujutsu Kaisen Chapter 237 Spoilers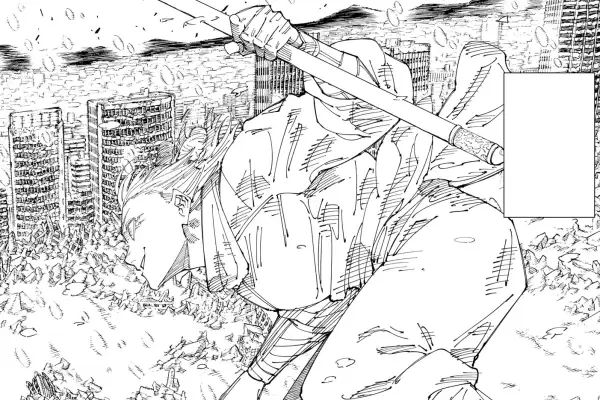 The title of Jujutsu Kaisen Chapter 237 is "The Decisive Battle of Shinjuku Part 14." The editor's note at the beginning says "Battle versus the Strongest. Thunder God Kashimo enters the ring!"
Hajime Kashimo enters the battle but there's another person joining too. Ice Star Uraume also joins the fight. With Uraume, Hakari Kinji enters the ring too. Kinji says he made a promise, so he can't let Uraume live. 
Kinji opens his domain expansion as Uraume activates his own technique: Ice Formation. Uraume is trapped inside Kinji's domain, yet the ice boulder he's summoned continues to fall.
Turns out Uraume is trying to deliver a certain object to Sukuna and the object is none other than the cursed tool that Yorozu constructed by making a binding vow in exchange for her life: Kamutoke.

Sukuna grabs the cursed tool and launches an instant electric attack at Kashimo. But thanks to his cursed energy, Kashimo is unaffected by any electric attack. Kashimo questions Sukuna if he became strongest or if he was born as the strongest.

Sukuna answers that he doesn't know because he was an unwanted child. In reply, Kashimo asks about how Sukuna can interact with people and show them understanding or mercy without knowing their weaknesses. He also admits that he can't do that and he sees people as dirt.

Sukuna disregards Kashimo's questions and calls him extravagant, just like Gojo. He taunts Kashimo into fighting him.

Kashimo activates his cursed technique: Genju Kohasaku, which roughly translates to Phantom Beast Amber.
The narrator explains that Sukuna has only one chance of reviving his body without using the Reverse Cursed Technique. But he's deliberately postponed it several times. Now, he finally uses it and reverts back to his original body.
Next week, it'll be Kashimo vs. the real body of Ryomen Sukuna!
Raw Scans 
At least gege off-ed Megumi onscreen this time 🥴 #jjk237spoiler #jjk237 #jjkspoilers pic.twitter.com/k9C9N7LL51

— Hanyn (MOURNING OVER GOJO) (@ramyeondevourer) September 27, 2023
Anyway, Enough of that soppy shit. SUKUNA HAS ARRIVED BOYS. #jjk237spoiler #jjk237 pic.twitter.com/ct7RJJhD8x

— Andy 💮 (@Dynamic_Weeb) September 27, 2023
#jjk237spoiler #jjk237
Kashimo is WORKING Sukuna😭😭 he getting it back in blood for Gojo pic.twitter.com/nb0cbUpVr1

— Phantom| Reach 250 arc (@Undertheredmasc) September 27, 2023
---
Jujutsu Kaisen Chapter 237 Release Date
Since there is no break this week, Jujutsu Kaisen Chapter 237 will be released on Sunday, October 1, 2023. The chapter will be available on Shueisha's official platforms, Manga Plus and Viz Media, for fans to read for free from that day.
The exact time of release of the chapter will be different in different parts of the world. This is because of the time difference in the time zones. To keep track of the exact time Jujutsu Kaisen Chapter 237 comes out in respective time zones, we've included the timing schedule below:
Pacific Standard Time: 7 AM, Sunday, October 1, 2023
Eastern Standard Time: 10 AM, Sunday, October 1, 2023
Greenwich Mean Time: 3 PM, Sunday, October 1, 2023
Central European Time: 4 PM, Sunday, October 1, 2023
Indian Standard Time: 8.30 PM, Sunday, October 1, 2023
Philippine Standard Time: 11 PM, Sunday, October 1, 2023
Japanese Standard Time: 12 AM, Monday, October 2, 2023
Australia Central Standard Time: 12.30 AM, Monday, October 2, 2023
There's no break announced for next week. So, Jujutsu Kaisen Chapter 238 is expected to be released on October 8, 2023. 
Follow Otakus' Notes for more content on Jujutsu Kaisen.
---
Do small things with great love.
Follow us on Twitter for more post-updates. 
Also Read
Anamika loves words and stories and putting them to pages. She also loves anime, manga, books, movies and everything fantasy. She has been a fan of anime since childhood and her admiration for it only grew with years. Her passion for writing is even more elevated by writing about the things she loves.