The most ridiculous fight of Jujutsu Kaisen has begun as Kenjaku is confronted by the failed comedian Takaba. The fight is already looking pretty bleak but we can always count on Takaba for being a wildcard. So, the result of the fight is still up in the air. Now that the spoilers of Jujutsu Kaisen Chapter 241 are out, we'll finally get to know what happens next. So, here are Jujutsu Kaisen Chapter 241 spoilers and release date:
Jujutsu Kaisen Chapter 241 Spoilers
Jujutsu Kaisen Chapter 241 begins with Takaba's flashback. The flashback starts with Takaba as a university student yelling at his friend for being late to their rehearsal. Takaba's friend cannot remember his lines as he never memorized them.

His friend reprimands Takaba for never coming to drinking parties or laughing at other's jokes. Takaba says he'll laugh when the jokes are funny. They argue some more, leading to Takaba punching his friend. His friend angrily asks how would their audience laugh at their jokes they cannot themselves.

In the next scene, we see Takaba in an afro. It's possibly some years after the first scene as he is a working adult. He looks at the terribly negative reviews of his performance. His colleagues console him by saying he can't make everyone think he's funny.

The scene switches again where Takaba's friend quits their comedy show, knowing there's no future. Takaba is then seen lying alone at home. He wonders when can he keep this up. Then he thinks until he has done everything that's funny.

Takaba confesses that he's lonely and he started doing comedy to make people notice him and laugh. He's gotten many friends this way but no partner.

Takaba sees his child self sitting before him and he confesses his resolve that he wants people to know more about him and think he's funny. This way, he won't be lonely anymore. He also confesses that he stopped doing comedy seriously because he didn't want to get hurt.

Back to the present, Kenjaku is about to attack when Takaba sincerely bows before him. Kenjaku is impressed with his perfect posture when Takaba apologizes for saying that Kenjaku not laughing at his joke was alright.

The comedian promises that he'll make everyone and Kenjaku laugh. Takaba's Cursed Technique is back!

The chapter ends with Takaba writing "waku waku", meaning excited, on Kenjaku's cheek.
FINALLY MY PRINCESS IS HERE #JJK241 pic.twitter.com/23GuqszxCf

— andrea (@suguruismylife) November 1, 2023
#jjk241 #jjkspoilers the ways in which u talk to me……. pic.twitter.com/jSqjk0W6ky

— abbie ★ (@biyuuji) November 1, 2023
#JJK241 #jjkspoilers
GETO SUGURU CRUMBSSS pic.twitter.com/qNBInyUHpG

— JJK (Mya) (@batman4sa) November 1, 2023
---
Jujutsu Kaisen Chapter 241 Release Date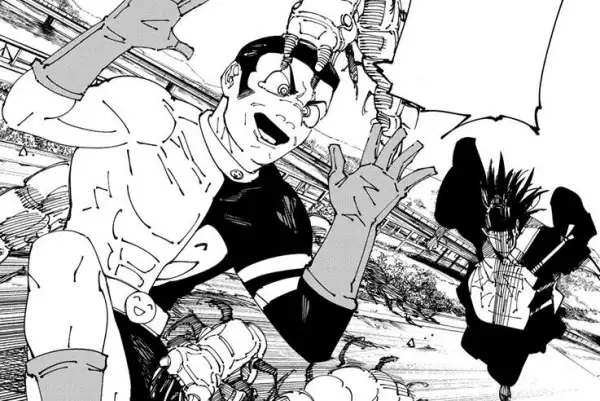 The date Jujutsu Kaisen Chapter 241 will be released this week is Sunday, November 5, 2023. The time and even the date of the release of the upcoming chapter can be different in various time zones around the world. That's why we've included a schedule for the release time of the new chapter so that our readers can know the exact time it'll be dropping in their respective time zones.
Let's look at the schedule:
Pacific Standard Time: 7 AM, Sunday, November 5, 2023
Eastern Standard Time: 10 AM, Sunday, November 5, 2023
Greenwich Mean Time: 3 PM, Sunday, November 5, 2023
Central European Time: 4 PM, Sunday, November 5, 2023
Indian Standard Time: 8.30 PM, Sunday, November 5, 2023
Philippine Standard Time: 11 PM, Sunday, November 5, 2023
Japanese Standard Time: 12 AM, Monday, November 6, 2023
Australia Central Standard Time: 12.30 AM, Monday, November 6, 2023
Shueisha's official platforms, Manga Plus and Viz Media, are where fans will find and read Jujutsu Kaisen Chapter 241. According to the spoilers, there will be a break next week, so Chapter 242 will be released on November 19, 2023. We, at Otakus' Notes, will inform you if there's any new update, so keep following us.
---
Do small things with great love.
Follow us on Twitter for more post-updates. 
Also Read
Anamika loves words and stories and putting them to pages. She also loves anime, manga, books, movies and everything fantasy. She has been a fan of anime since childhood and her admiration for it only grew with years. Her passion for writing is even more elevated by writing about the things she loves.