My Hero Academia Chapter 400 spoilers and raw scans have arrived recently, much to the joy of waiting readers. The All Might vs. All For One is continuing and in the upcoming chapter, we'll be seeing an exciting development that will hype the fans even more. So, without waiting any further, let's see what happens in the next chapter:
My Hero Academia Chapter 400 Spoilers & Raw Scans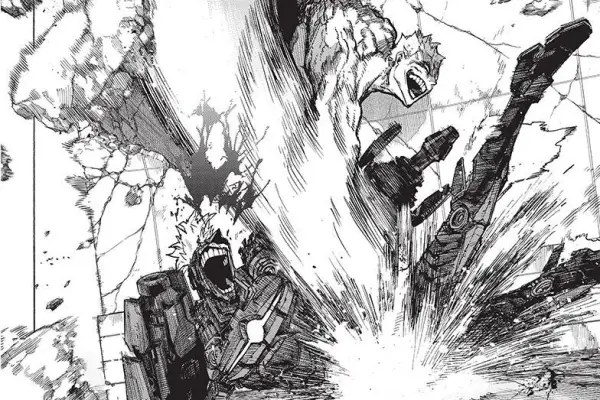 According to the spoilers, the title of My Hero Academia Chapter 400 is "The World." It starts with Aoyama and Hagakure who have defeated Kuneida. However, the flowers are still growing. 
Aoyama tells Hagakure to use the light reflection to destroy them and despite his stomach hurting badly, he'll keep using his Quirk because it's his last day as a U.A. student.
Back to the All Might vs. All For One fight in which All Might last used a laser attack. He says he got the inspiration from Star and Stripes' fight. When All For One tries to escape, All Might captures him with Earphone Jack.
It's also revealed that at the end of last night, All Might escaped from All For One with the help of Tentacole and protected himself from the laser attack with Invisible Girl's optical resins.
All Might then uses Tailman's Quirk but his lower half is pretty badly injured. However, he is still smiling and mocks All For One for not aiming at his head only to see him in pain.
All For One then attacks with several dark tendrils from which All Might protects himself by turning the parts of his armor into sticky spheres, using the Quirks of both Creati and Grape Juice. The spheres glue All For One to the ground.

All Might's armor is now completely destroyed but he's still laughing. In another country, a little boy and his grandmother are watching the fight on TV. When the child asks what will happen if the Hero loses, his grandmother says that nothing will happen to them because it's happening in another country. The child is still rooting for All Might.

Back to All Might vs. All For One, the car shooting the lasers explodes, freeing All For One in the process. The Villain now looks much younger and his body is emitting light.

But suddenly a hand comes out of All For One's back and his whole body tenses. Hero Killer Stain makes his appearance with a manic smile, licking All For One's blood and cheering for All Might. The chapter ends here.
Amei a aparição da Hakagure e até surtei, mas poderiam ter feito de uma maneira mt menos sexualizada ela é invisível e tal, mas o traje dela poderia se adaptar ao como esta seu corpo tipo o da Violeta dos incríveis. Sempre apelam para a sexualização #MHA400 #MHASpoilers #bnha400 pic.twitter.com/aBZFWMpOnF

— muh. (@mmuh_1) September 13, 2023
O stain vai lutar, quero ver ele matando geral bem psicopata #MHASpoilers #MHA400 #bnha400 #Mhaleaks pic.twitter.com/nD9gs8TQBa

— muh. (@mmuh_1) September 13, 2023
#MHA400 #MHASpoilers #BNHA400
THIS FIGHT IS AMAZING! pic.twitter.com/fohiBQcaiV

— Miraculoito on IG || SURTANDO COM AWAKENING (@miraculoito) September 13, 2023
---
My Hero Academia Chapter 400 Release Date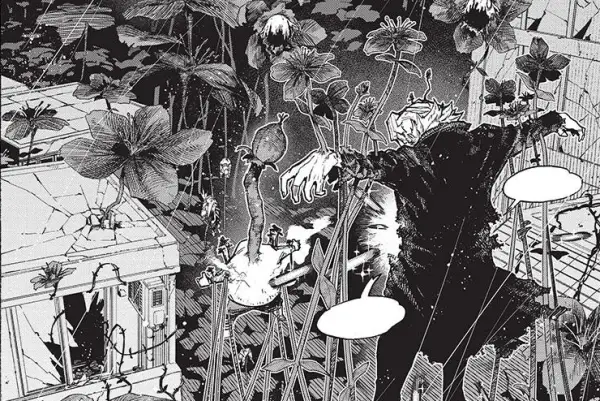 Chapter 400 of My Hero Academia will be released on Monday, September 18, 2023. Fans can find the chapter on Shueisha's official platforms, Manga Plus and Viz Media, for free from September 18 and onwards. However, readers worldwide will find the chapter released in their parts of the world at different times, depending on their time zones.
Here is the schedule for the exact time of the release of My Hero Academia Chapter 400 worldwide, based on time zones:
Pacific Standard Time: 7 AM, Monday, September 18, 2023
Eastern Standard Time: 10 AM, Monday, September 18, 2023
Greenwich Mean Time: 3 PM, Monday, September 18, 2023
Central European Time: 4 PM, Monday, September 18, 2023
Indian Standard Time: 8.30 PM, Monday, September 18, 2023
Philippine Standard Time: 11 PM, Monday, September 18, 2023
Japanese Standard Time: 12 AM, Tuesday, September 19, 2023
Australia Central Standard Time: 12.30 AM, Tuesday, September 19, 2023
There hasn't been any break announced for next week. So, Chapter 401 is expected to be released on September 25, 2023. For more updates on My Hero Academia manga, keep reading Otakus' Notes.
---
Do small things with great love.
Follow us on Twitter for more post updates.
Also Read:
Anamika loves words and stories and putting them to pages. She also loves anime, manga, books, movies and everything fantasy. She has been a fan of anime since childhood and her admiration for it only grew with years. Her passion for writing is even more elevated by writing about the things she loves.