This post is updated based on new information.
The female characters in My Hero Academia are not far off from the males. In terms of style and aptitude in fighting, they have given a strong competition to them. As a result, we are going to put together a list of the sexiest My Hero Academia female characters. 
We will be ranking them not only in terms of their beauty but also in keeping in mind their personality and style. Let us start with the ranking and see if our favourite female character can manage to make the cut.
17) Mitsuki Bakugo (MHA)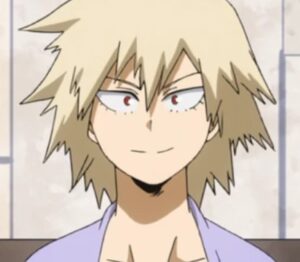 Let's begin our list with an unexpected name, Mitsuki Bakugo. She is Bakugo's mother, and the only reason to put her on the list is because of her too much fan following. 
After her introduction, her popularity has risen too much. Her quirk Glycerin allows her to secrete Glycerin from her skin which moistures her skin and maintains her beauty even in her middle age. Also, her short messy hair looks very cute on her.
---
16) Fuyumi Todoroki (MHA)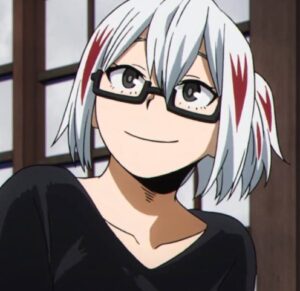 Another unexpected name on our list of the hottest female characters in My Hero Academia is Fuyumi Todoroki. She is Shoto's sister, who is a teacher in a school. She is not a hero and lives a normal life.
Like Shoto, she also has white and red (multicolored) hair and a cute face. She is also a very kind-hearted person who cares about her family the most. Presently in the manga, she is 23 years old and has an ice quirk like her mother.
---
15) Nana Shimura (MHA)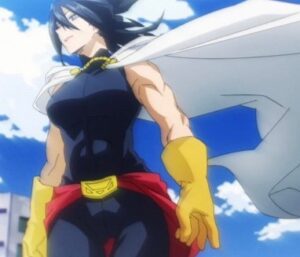 Nana Shimura was the previous user of One For All and was a beautiful lady. She has a strong resemblance to Momo of class 1-A with her dark black hair and sharp eyes. She kept half of her hair tied in a bun while leaving the other half free.
 Her skin was pale, and the mole below her lips was easily visible. She wore a dark hero outfit which was a bodysuit like many other female heroes. 
Her bodysuit was accompanied by yellow gloves, a belt on her waist, and a cape. She was a woman with only justice in her mind, which also led to the downfall of her family in a way.  
---
14) Emi Fukukado (MHA)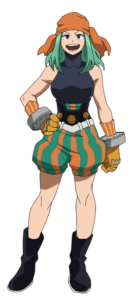 Emi Fukukado, also known as Ms. Joke, teaches in Ketsubutsu Academy High School and is a childhood friend of Aizawa sensei. 
She is a well-built woman who has a very charming personality. Her arms and legs are quite muscular, which denotes her athletic capabilities. 
Her eye-catching feature is the constant smile on her face, which does justice to her alias. She likes to wear a bandana on her head with a blue shirt and baggy shorts. Her floating green hair matches her sharp and beautiful eyes.
---
13) Rumi Usagiyama (MHA)

The most distinguishing feature of Rumi Usagiyama or Mirko is her muscular body. Her skin is dark and toned, and her height is comparatively short. 
This, in turn, gives her great agility during her battles. Her red eyes give off a mischievous look with her long white hair floating at her back. 
She is covered in her white hero costume, with the exception of her purple boots. She also wears a pair of white gloves on her hand, giving the overall look of a fluffy rabbit.
---
12) Uwabami (MHA)
A celebrity like Snake Hero: Uwabami is a justified mention in this list. Her curvaceous figure makes her a natural favorite among the male audience with thick blonde hair. 
Her hairstyle is also unique, with two curly locks dangling in front of her head. Her eyes have the same color as her hair, with three snakes sticking out of it. She likes to wear a short maroon dress with golden bracelets on her hand and a choker to complete her attire.
---
11) Itsuka Kendo (MHA)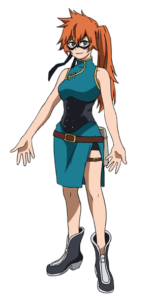 Kendo (Battle Fist) is the only character from class 1-B to be featured in this list. The fact that she took part in the fashion competition of the UA School Festival and almost won speaks a lot about her beauty. Her decent height and slender body make her one of the hottest female characters in My Hero Academia. 
She normally keeps her orange hair tied in a ponytail that perfectly complements her teal eyes. She has a pretty unique hero costume which includes a qipao and a pair of a corset. Her mask and satchel also make her stand out among the rest of the female characters.
---
10) Mei Hatsume (MHA)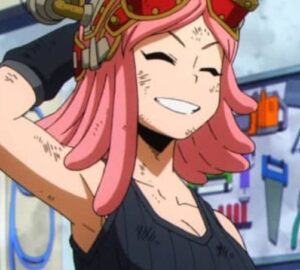 Mei Hatsume is the double package of brains and beauty. Since her introduction, she has been shown to be a tech geek who loves her new creations like newborn babies. She also makes Deku fluster and blush around her, which proves she is not just a boring nerd. 
Her salmon pink hair is not easy to miss that is kept in its place with a pair of goggles on her head. While working, she generally wears a black tank top with a pair of baggy pants. She has a cute look on her face, and she is mostly indifferent to everything around her.
---
9) Mina Ashido (MHA)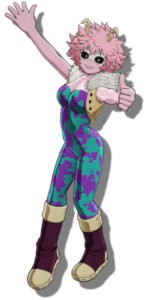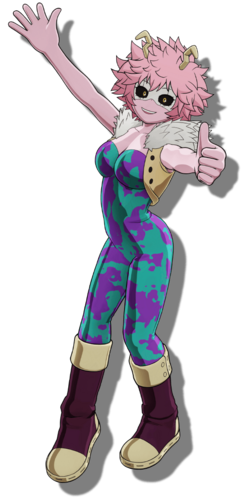 Mina Ashido, who also goes by the name of Pinky, is one of the beauties of our favorite class 1-A. She has an extremely curvaceous figure with thick thighs and an athletic body. Her Quirk makes her skin appear pale and pink, with a pair of horns arising from her head. 
Covering the horn is her curly and fluffy hair that matches the color of her skin. While performing hero activities, she wears a skin-tight bodysuit with a mask over her eyes like Kendo. Other than that, she also wears a pair of boots to protect her from her acid attacks.
---
8) Himiko Toga (MHA)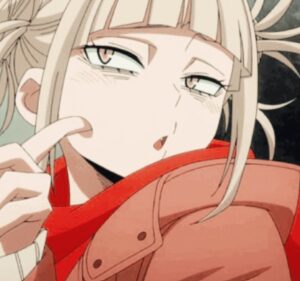 Despite being a villainous character, Himiko Toga is quite popular among male fans as one of the sexiest MHA characters. She has a crazy personality with messy blond hair tied to two buns on each side of her head.
 She is seen blushing most of the time with her bright yellow eyes. She generally wears a schoolgirl outfit with a red scarf and beige cardigan. 
---
7) Camie (MHA)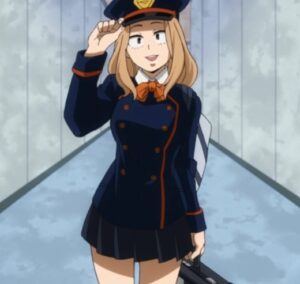 Camie or Maboromicamie hails from Shiketsu High School, and her hourglass figure easily catches most of the eyes of the male characters in MHA. She has light brown hair and glossy, attractive lips. Her school attire comprises a dark shirt and dark skirt. 
She likes to keep the top buttons of her shirt open while she also wears a black hat. Her Hero costume is equally stylish, consisting of a skintight catsuit with knee-high boots, making her a perfect candidate for one of the sexiest female characters.
---
6) Yu Takeyama (MHA)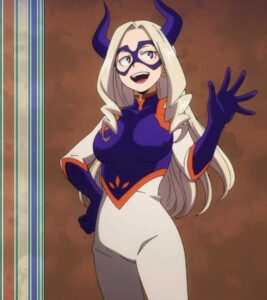 Yu Takeyama, popularly known as Mt. Lady, has some of the perfect features as an attractive woman in MHA. Her purple eyes match up with her purple skintight bodysuit. 
Her hair is light blonde in the color that falls down to her waist, and her long eyelashes give a playful look to her eyes. 
Her purple suit is designed with orange stripes at the end with a similar design in her boots. Like Mina and Kendo, she wears a domino mask which makes her look like she has horns coming out of her head. 
---
5) Nemuri Kayama (MHA)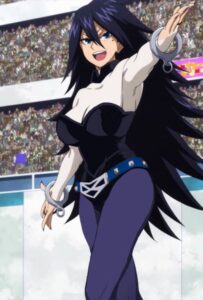 Nemuri (Midnight) sensei was one of our dear teachers in UA high. She also had a playful rivalry going on with Mt. Lady. Like most female characters in MHA, she was extremely curvaceous and with clear blue eyes. She had spiky purple hair with a beauty mark below her left eye. 
Similar to Mt. Lady, she also wore a skintight white bodysuit with shades of purple. This was accompanied by black stockings and knee-high boots. In addition to these, she wore a red mask and a pair of handcuffs.
---
4) Ochaco Uraraka (MHA)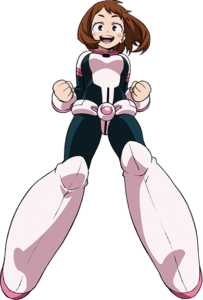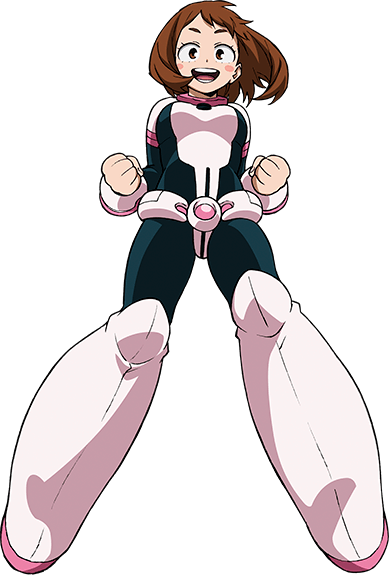 Ochaco goes by her hero name Uravity. She is a sweet and cute girl that made her way into the hearts of the fans since the examination arc. 
She has a very charming personality who deeply cares for others. Her bright and cheerful nature also makes her beauty shine even more. She has a tender curvaceous body with fair skin. 
She blushes quite often on hearing Deku's name that makes her go all red. She has short shoulder-length hair with large round eyes. Other than her school uniform, she wears a skintight pink bodysuit with high boots.
---
3) Lady Nagant (MHA)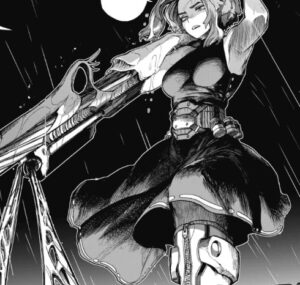 Lady Nagant has been recently introduced in the series and has already started creating a buzz with her slender, curvy body and assassination abilities.
 She has voluminous blue hair that she keeps tied in a ponytail. A sleeveless dress and dark boots complete her simple yet stylish attire. Her accessory includes a utility belt that she uses to keep her bullets in. 
---
2) Nejire Hado (MHA)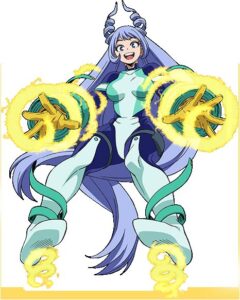 One of the big three, Nejire Hado, doesn't lack behind in beauty. Her skills as a fighter and her attractive nature are evenly matched. 
She also won the fashion competition of UA School Festival, which makes her automatically qualified to appear in this list of My Hero Academia sexiest female characters. 
She is a cute girl with a big smile on her face who also loves to cheer for others. She has long shiny light blue hair that she keeps untied. Her eyes have the same color as her hair, with prominent long eyelashes.
---
1) Momo Yayourozo (MHA)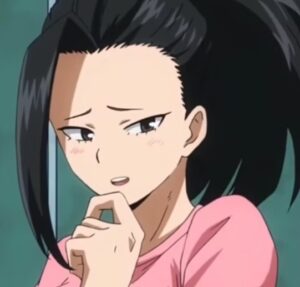 Everything Hero: Creati, or as we know her as Momo, is the sexiest female character in My Hero Academia. She is someone who can lead from the front and walks with an air of dignity surrounding her. 
She has thick dark hair tied into a bunch behind her head, with two strands falling to the side of her face. 
She is very mature for her age and is the tallest among her female classmates. In her hero outfit, she wears a sleeveless leotard like Midnight with calf-length boots and utility belts.
---
Must Read- Top 15 Hottest Male Characters in My Hero Academia
---
On that note, we finally come to the conclusion of our top 15 My Hero Academia sexiest female characters. This list proves that the female heroes in the series can not only pack a punch but also steal the hearts of others with their beauty. 
Some of the pro-heroes have also made their mark, while some common names like Asui and Jirou have missed out. We will be back with more My Hero Academia articles. Till then, stay hyped with us.
---
Do small things with great love.
Follow us on Twitter for more post-updates. 
Also read-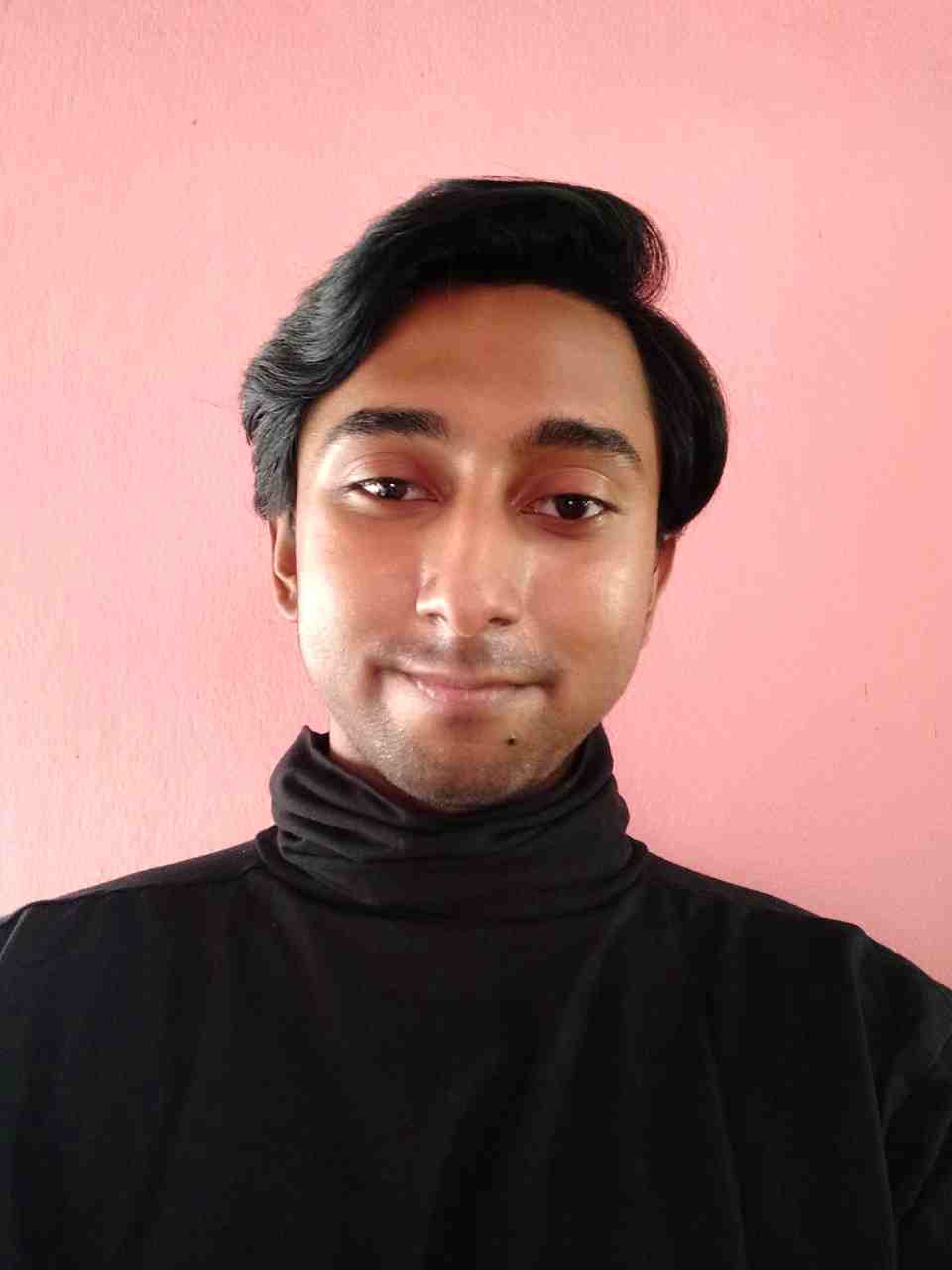 Life took a sudden turn for me when I finally decided to watch Kimi no nawa & Clannad. While both of them made me cry and introduced me to this vast world of anime. The Anime and Manga world is an escape for me from this complicated real world and serves as a relief. Being a content writer for OtakusNotes still feels like a dream and has been one of the best things to happen to me this year. It has been a productive distraction for me and I am loving every moment of it.