There is no doubt that Oshi no Ko is one of the most addictive anime of 2023, filled with a bunch of beautiful idol girls. Ruby Hoshino in Oshi no Ko is one of them who got most of our attention.
She had everything to become a fan-favorite character in the series, whether it be an attractive look, a captivating personality, or a tragic backstory. As a result, fans keep searching to know everything about her in detail and find out the reason behind her huge popularity.
So you don't have to search further; you finally arrive at the right place. In this post, we will share everything about Ruby Hoshino in Oshi no Ko that you need to know. So let's get started!
Ruby Hoshino in Oshi no Ko: Wiki
Name

Ruby Hoshino

Sarina (in a previous life)

Age 

18

Hair Color

Blonde

Eye Color

Pink-Ruby

Occupation 

Idol, Actress, Tv Personality and Youtuber 

Status

Alive
---
Past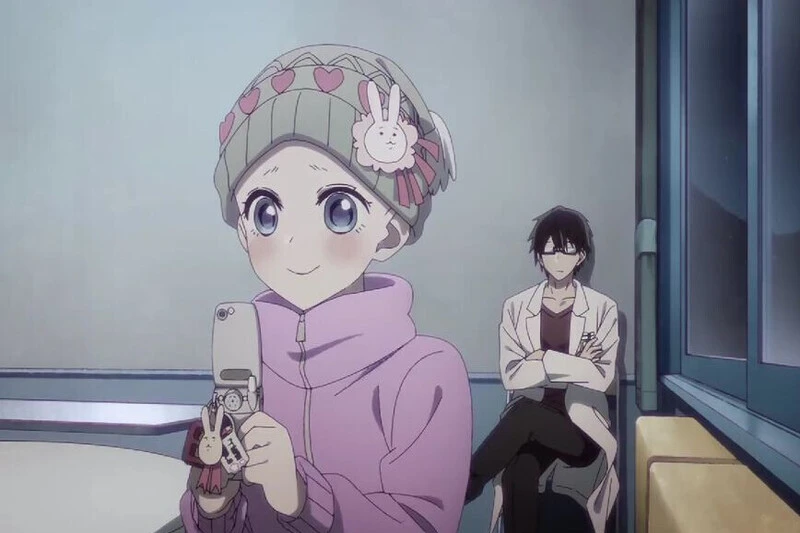 Before being reincarnated as the daughter of Ai Hoshino, Ruby Hoshino was a cute 12 years old cute girl named Sarina Tendouji. She has an incurable disease and does not have much time to live.
Moreover, she also gradually loses her hair due to her incurable disease and cannot walk properly. As a result, she regularly visits her doctor, Gorou Amamiya, to get some more time to live.
Despite having such a terrible disease, she still carried her energetic persona very well. The only reason for her energy and excitement is Ai Hoshino, whom she regards as her idol. She is the greatest fan of Ai Hoshino and has watched all of her performance recordings and memorized all of her choreographies to the tiniest detail.
Even though she fought to the fullest against her incurable diseases with her unbreakable willpower, she still couldn't change her destiny. In the end, she finally reached her end and eventually died from her incurable disease.
---
Role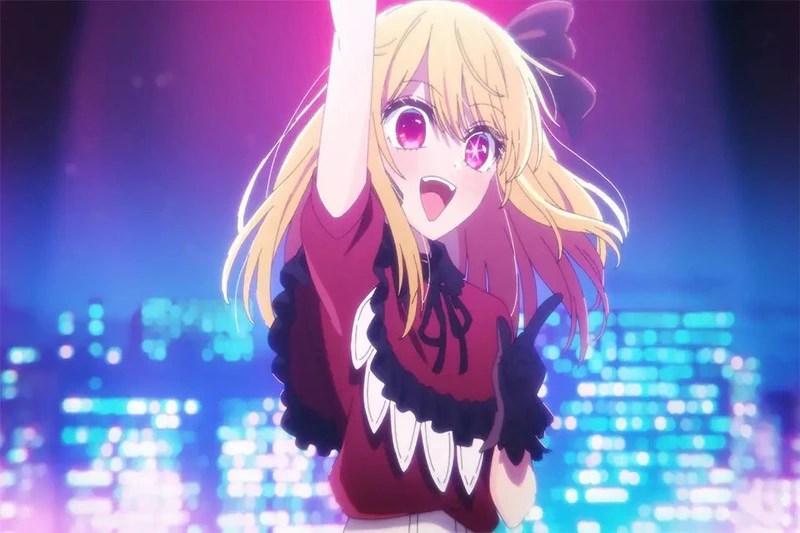 Despite going to heaven or hell, Sarina got reincarnated into a new body. She is reborn as Ruby Hoshino, the child of Ai Hoshino, with all of her past-life memories. Now, she doesn't want to lose this opportunity to do all the things that she always wanted to do.
Ruby decides to become a popular idol just like her mother and favorite idol, whom she always looks for. From an early age, she gradually learned all of the idol things and how to be an idol from her mother, Ai.
However, her life takes a tragic turn when her mother is murdered and she is left to live alone with her twin brother, Aqua. Now, Ruby decides to fulfill her mother's dream to become the greatest idol and reach the top, where her mother belongs.
In order to fulfill this dream, she reformed the idol group B Komachi with her friends. This is the same idol group where her mother began her idol career, along with six other female idols.
---
Twin brother of Ruby Hoshino: Aqua Hoshino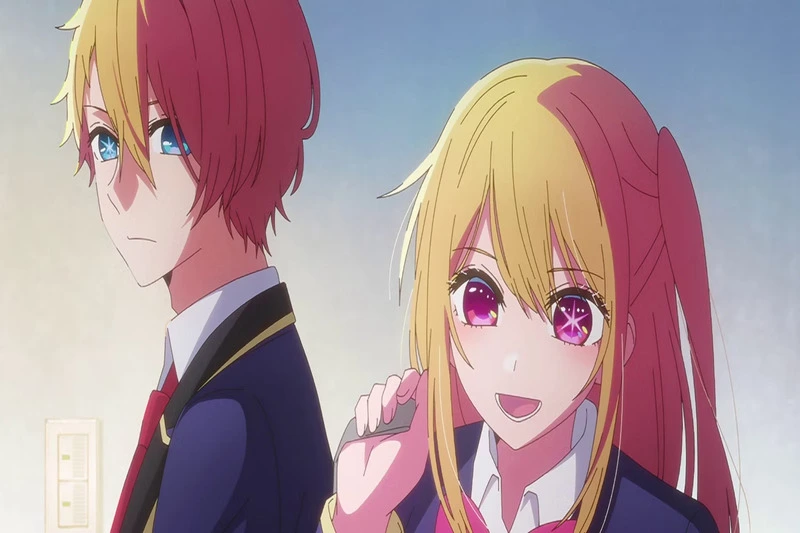 Just like Ruby Hoshino, Aqua Hoshino is also a reincarnated soul who has a new body. He is an extremely attractive young guy, blessed with attractive facial features and a captivating personality. Just like his sister, he is a TV actor and also does modeling in his free time.
However, his goals and objectives in life are completely different from Ruby's. Despite enjoying the bright side of the entertainment industry like his sister, he decided to uncover the dark side of the industry.
---
Other Facts: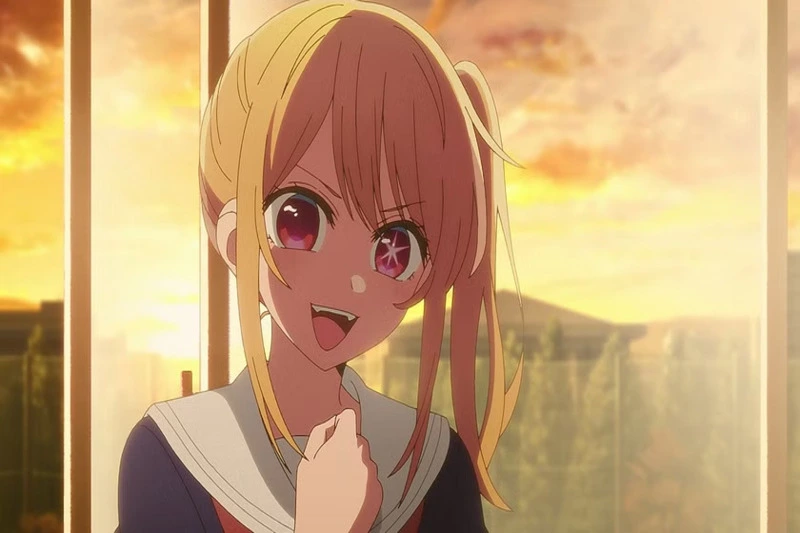 The meaning of her first name, Ruby, is "Lapis Lazuli's beautiful clothes," in which Lapis Lazuli is a beautiful dark blue gemstone. On the other hand, the meaning of her last name, Hoshino, is similar to her mother's, which is "wild star".
Ruby first applied to become an idol at the age of 14. However, she got rejected from the association for being too young to be an idol. As a result, she waited two more years and finally became an idol at the age of 16.
She is the tallest member of her idol group, New Reformed B Komachi, with a height of 158 cm. The other two members of the group, Kana Arima is just 150 cm tall and Mem Cho is 155 cm tall.
After reforming the B Komachi idol group with Kana Arima and Mem Cho, Ruby Hoshino performed several songs. Some of their popular songs are STARTRAIN, Our Sign Is B, Heart's Kiss, and Pop in 2.
Aside from her idol career, she also took a big step in the entertainment industry by doing a TV series and a movie. "Dig Deep! One Chance" is her first TV series, while "15 Year Lie" is her first film.
Ruby Hoshino is completely different from her twin brother, Aqua. She is extremely extroverted and more friendly than Aqua, which excellently helps her make connections in the industry.
---
Conclusion
That's it for the post! We hope you found this informative post about Ruby Hoshino in Oshi no Ko useful and liked it. Just like her mother, she had everything to be considered one of the best idol anime characters.
Whether you talk about cute looks, charming personalities, or captivating performance skills, she is excellent in all of these aspects of the idol. So, if you want to know about her mother, Ai Hoshino, then you should proceed to our post below.
---
Do small things with great love.
Follow us on Twitter for more post updates.
Also Read:
I am Sahil Khan and I was born in Dhanbad and raised in New Delhi, India. I am currently pursuing my graduation while also pursuing my passion for writing about anime. This is because I have been an otaku since I was 7 and writing about anime helps me overcome my stress while also honing my writing skills. Aside from writing, I am a filmmaker and an actor.