The end of the year is approaching soon, along with the new year special. On this special date of the new year, we will look at some of the top 10 best anime on Hidive to watch with your friends, family, and kids.
All of the anime in these lists are family-friendly and do not have any mature rating, and can be easily watched along with kids for spending a fun time with family on a special day.
Now, let us look at the top 10 best anime on Hidive to watch this new year.
Best Anime on Hidive
10) Tamako Market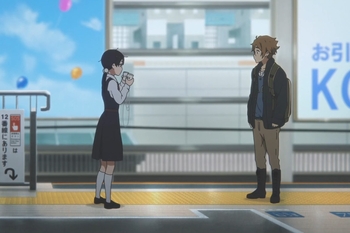 This anime is the epitome of wholesomeness and comedy, possessing a plethora of comical and funny character moments between the main pair; this is an anime that does not disappoint your special new year's watching session with your family.
Not having any crude or unnecessary jokes or comments, this anime follows the story of a clumsy and cute teenage girl who goes through the hardships of trying to live a normal life and the pain of hiding true feelings for her friend.
Tamako Market's watchable nature is amplified by the comical moments with the main cast, as well as the sweet and young love story that is depicted in the series. There is also a short version of this series, Tamako Love Story, in a movie format.
IMDB Rating:

6.9/10

Number of Episodes:

12 episodes or 1hr 23min for the movie

Studio:

Kyoto Animation 

Genres:

Slice of Life, Comedy, Romance
---
9) Haven't you heard I'm Sakamoto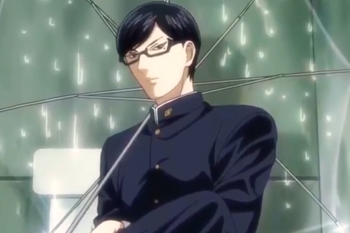 A perfect anime to kickstart a perfect new year, this is a fun-filled anime that is one of the best at what it does, making people laugh with its funny and serious situations involving the main character, Sakamoto.
The main character of this anime is Sakamoto, a prodigy who is fawned over by the girls and hated by the guys. This is sure to make people laugh at any age, with how serious and comical sense of humor.
The story follows the daily adventures of this character, as he finds himself in unreasonable situations and how he still manages to cleverly get out of those tricky situations.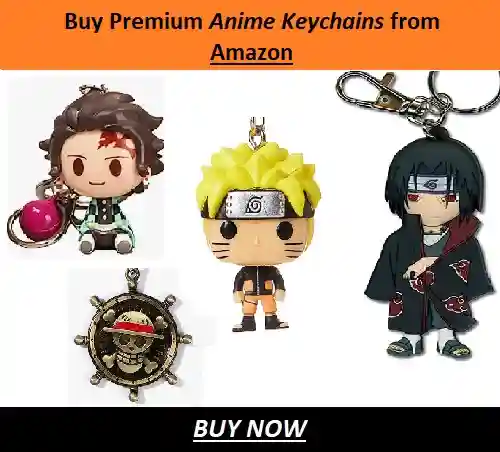 IMDB Rating:

7.1/10 

Number of Episodes:

12

Studio:

Studio Deen

Genres:

Comedy 
---
8) Golden Time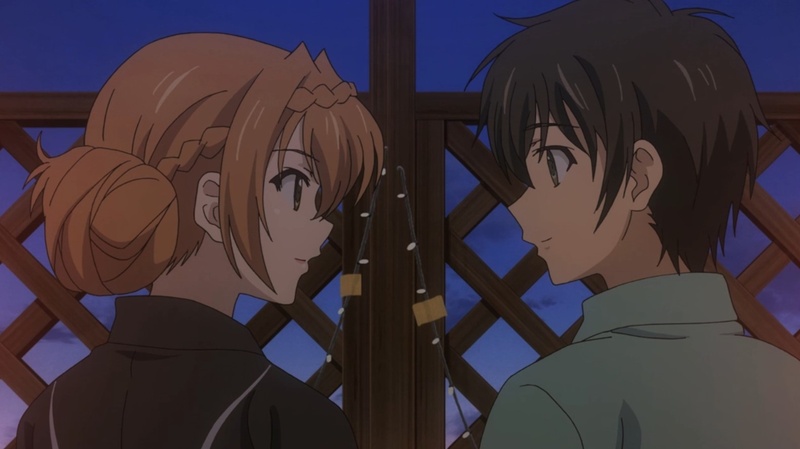 One of the most wholesome and beautiful anime of all time, Golden time is a wonderful watch for the perfect new year occasion; it is an anime that has the new year spirit embedded in it.
This is a beautiful coming to age romance anime with many funny character interactions and other comedic moments, and it is the perfect way to kickstart the new year.
Golden time anime does not have a mature rating nor any adult jokes and can be watched alongside kids too. This anime undoubtedly steals the top place for the best anime on Hidive to watch on New year's Eve.
The story follows the life of Tada Banri after he forgot his past after getting involved in an accident. After this incident, he tries to start a new life in Tokyo, but fateful encounters and a long-forgotten past await the now Tada Banri.
IMDB Ratings:

7.6/10

Number of Episodes:

24

Studio:

J.C.Staff

Genres:

Comedy, Romance, Drama
---
7) Ya Boy Kongming!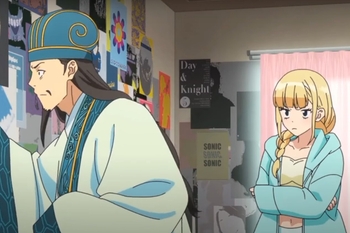 The story of a girl named Eiko realizing her dreams, and actively pursuing them, is the crux of the whole story. The twist in this story is that Kongming Zhuge, a famous and brilliant military strategist accompanies Eiko in her dream after getting entranced with her songs.
This anime has plenty of comedy, with a touch of fine music and military strategies being applied to the growth of Eiko. The clever and sly technician Kongming shows a superior display of intelligence, which will be loved by any age group.
This is a perfect musical start to a new year for a fun-filled watch with your family, and it is safe for kids as well.
IMDB Rating:

7.6/10

Number of Episodes:

12

Studio:

P.A.Works

Genres:

Music, Comedy
---
6) K-On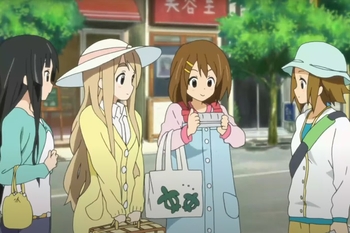 Another wholesome anime on the list, this is a good watch for the new year, a fun series having a lot of comedy and music, which is the perfect watch if you are looking for family-friendly anime or anime which are suitable for kids.
K-on can be enjoyed by anyone regardless of age and will be a fun and wholesome anime to watch with your family. This anime will not disappoint the viewers and will be a fresh watch marking the start of a fresh year.
The story of this anime follows Yui Hirasawa in her daily life and her interactions with her friends at the music club, filled with parts of the music and a lot of comedy scattered throughout the whole series.
IMDB Rating:

7.8/10

Number of Episodes: 38

(12 in Season 1, and 26 in Season 2)

Studio:

Kyoto Animation 

Genres:

Comedy, Family, Drama, Music
---
5) Non-Non Biyori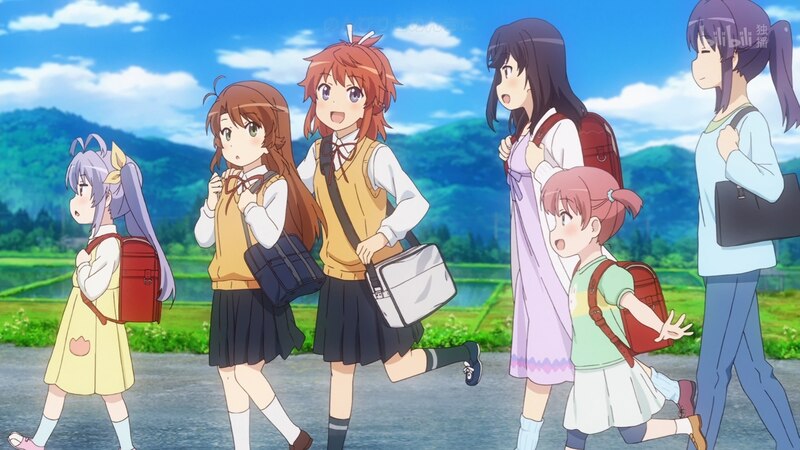 What more to watch in the new year other than the green and pleasant scenery of the countryside, loaded with a good amount of fresh comedy and wholesomeness?
This anime is the story of a girl and her friends about their laid-back life in the countryside and their fun and enjoyable moments as a group.
This anime is suitable for any kind of audience and has the perfect ambiance for a New year's watch with your family and kids. The best part about Non-Non Biyori is the character moments and interactions, which highlight this anime.
It will surely connect with other audiences who possess the same train of thought and love to see some lush and green landscapes of a beautiful village free from pollution.
IMDB Rating:

7.8/10 

Number of Episodes: 36

(12 each in 3 Seasons)

Studio:

Silverlink

Genres:

Slice of Life, Comedy, Drama, Adventure
---
4) Clannad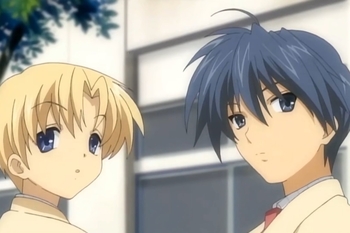 A heartwarming story about a few high school characters, who go through changes in their life, rejection, and love, all the while understanding what is best for them and what is not.
Clannad has one of the best storytelling in anime, and it holds a unique place in our hearts due to the realistic portrayal of the character and their situations and showing how they get past hurdles.
Everyone will somehow relate to this character, and it is a perfect anime depicting change to start our resolutions for the next new year.
Clannad's story follows the chaotic life of Tomoyo Okazaki, a delinquent, and his friends, of how they fall and tumble in life at certain points and get past everything sad, to create a beautiful future.
IMDB Rating:

7.8/10

Number of Episodes:

23 

Studio:

Kyoto Animation 

Genres:

Comedy, Drama, Fantasy, Romance, Slice of Life
---
3) My Teen Romantic Comedy Snafu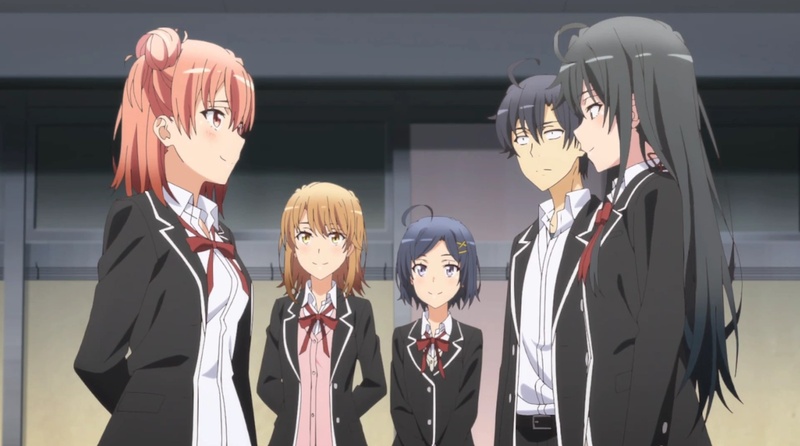 A quirky anime that proficiently uses a mix of serious and comical character moments to highlight the character's personal growth and the underlying story, this will be a perfect watch for youngsters and elderly people alike.
Not hiding behind any age restriction, this story follows the daily life of a narcissistic Hachiman Hikigaya, who believes happiness cannot be attained. This might look like a depressing start, but it starts getting better pretty fast and early into the first season.
The character progression of the main cast throughout the whole series, due to their experiences and character interactions, is a delight to watch, as it ignites our hidden new year resolutions.
IMDB Rating:

7.9/10 

Episodes: 25

(Season 1 of 13, and Season 2 of 12)

Studio:

Brain's Base

Genres:

Comedy, Romance, Drama
---
2) Bloom Into You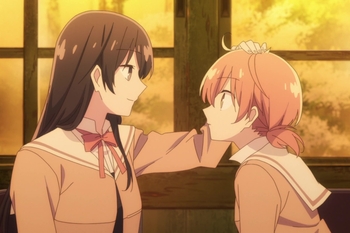 One of the most peculiar additions to this list, this anime is the story of Yuu discovering love and friendships, with Nanami, just like the dreamy love she read of.
This anime sends a strong message of self-realization, love, and friendship, portrayed beautifully throughout the anime, with the use of the main cast, Yuu and Nanami. It deals with many social issues and tackles the concept of the word called love at its core.
Going through a beautiful story of realizing love, this anime has some of the most realistic character portrayals, with an apt portrayal of the emotions of the characters as well as explaining their insecurities.
It has some gorgeous art, which talks and depicts the characters' moods exactly in the form of metaphors. Everything, from the start to the end of the story, as well as the character interactions, is so realistic.
Every character had a certain level of depth imbued into their personality, which we can all relate to. This anime never steps down from its core values and the bar it had set.
The story has some of the most emotional value and connection, which will hit a note to the audience watching it. Bloom Into you is definitely worth a watch, befitting a blooming new year with all of the magic it does.
IMDB Rating:

7.9/10 

Episodes:

13

Studio:

TROYCA

Genres:

Drama, Romance 
---
1) Chihayafuru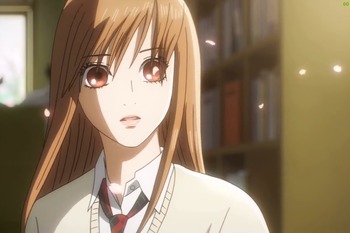 This anime is the story of a girl called Chihaya on her journey to become Japan's best Karuta player. One of the good sports anime to finish drafting your new year's resolutions, this anime is a safe bet to watch with your family and kids.
Chihayafuru showcases the rise and life of Chihaya, who has finally found something she would like to achieve and her attempt to keep pursuing it.
Taking the classic idea of Karuta out of the park, this anime does a wonderful job with realistic character portrayals and fun-filled games and interactions.
IMDB Rating:

8.1/10 

Number of Episodes:

74 (25 for Seasons 1 and 2, and 24 for Season 3)

Studio:

Madhouse

Genres:

Sports, Comedy, Drama
Here, we will conclude the list of the top 10 best anime to watch on Hidive for a perfect New year's Eve occasion that can be watched with a family irrespective of the age group requirement, as all of these anime are safe for kids to watch too.
---
Do small things with great love.
Follow us on Twitter for more post updates.
Also Read: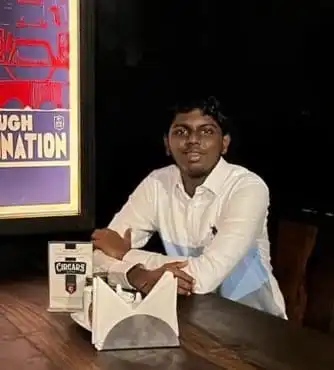 Eswar Keshav is an ardent anime fan for more than a decade. Along with this, he also has been following anime and manga updates for years. He is also enthusiastic and passionate when it comes to writing about his favorite things. Combining his love for writing and his love for anime and manga, his articles speak of his love for the genre.