Last updated on May 24th, 2023 at 04:17 pm
Black Clover Chapter 359 should be released soon, after a long-awaited wait. The last chapter ended with showing a glimpse of Mereoleona's fight and her resolve to defeat the Paladin.
She got her arm burned, but she is still fighting thanks to the help of other Magic Knights. A lot more sacrifices and deaths are yet to come, as we are in the last arc of Black Clover manga.
Black Clover Chapter 359 Spoilers & Raw Scans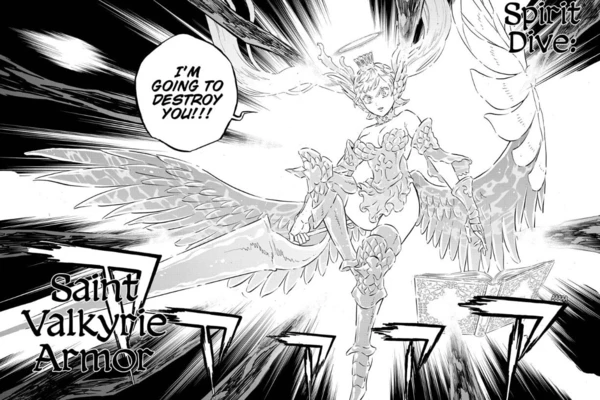 This chapter is more focused on Noelle, saving Mereoleona's remaining fight for a later time. Since Acier had returned as a Paladin, it was a given that there would be a confrontation between her and Noelle.
Acier commends Nozel for becoming strong, but he still can't defeat her.
Nebra is crying that she can't fight against her mother, and Acier scolds her and Solid for remaining powerless.
Acier apologizes for her death, and that she still loved all of them even if they are weak.
She falls curse to the visions of the peaceful and equal world that Lucius will create after this battle.
Acier also explains Lucius's goals and that he is trying to fix the error of mankind.
And Lucius further says Silva Clan is a representation of this and is the most crooked and corrupt clan in all of Clover Kingdom.
Lucius considers all of them perfect examples of the errors of humanity.
While Acier says that now they can be together after this happens, Noelle enters the battlefield.
Noelle asks her siblings to stay strong and confronts Acier.
Acier says that her young version is also just like Noelle.
Noelle knows that even if she met only Acier's spirit, this wasn't the Acier Silva they knew.
She has to defeat and surpass this Acier Silva to prove her strength.
Nozel says that Noelle has grown strong, but Noelle doesn't have Undine now.
We go into a flashback of Noelle, and we see how she is depressed that she could do nothing to save Asta.
She understands that she has to become stronger to face Lucius, and she can't stay the way she is.
She still isn't going to give up and is 100% sure that Asta is alive.
Noelle promised herself that she would defend and protect this country till Asta returns.
Meanwhile, Kahono shows up and tells that there is trouble at the Underwater Temple and that needs Noelle's help.
Kahono then takes her to the gigantic Dragon Sea God, which was worshipped since ancient times.
The Sea God has also been searching for a water mage so that it can assimilate into a spirit form.
Once, it makes a contract with Noelle, and enters into a spirit form, she calls him Leviathan.
Coming back to the present fight, Noelle unleashes her new spell, Valkyrie dress: Dragon Form.
She declares that she would surpass her mother right now.
Acier also looks happy that Noelle has grown this strong.
---
Black Clover Chapter 359 Release Date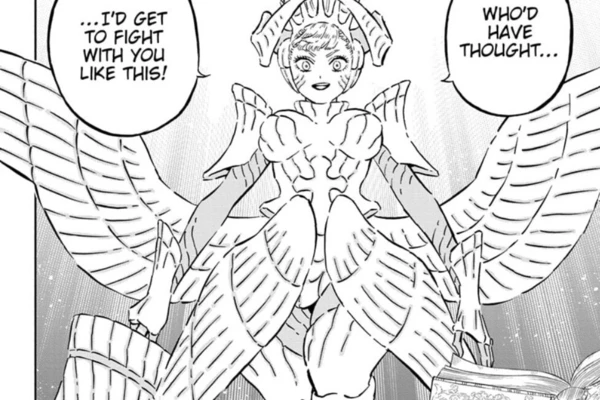 Black Clover Chapter 359 should release on May 21st. Since the raw scans and full spoilers have been released, the official chapter release would also follow suit.
The title of this chapter is The Dancing Princess of the Battlefield, again. And we can also see how this title fits this chapter aptly, describing the events in this chapter with the title alone.
This marks the end of our article on Black Clover Chapter 359 Spoilers & Raw Scans. We also follow all the weekly updates of Black Clover, so make sure to check those here.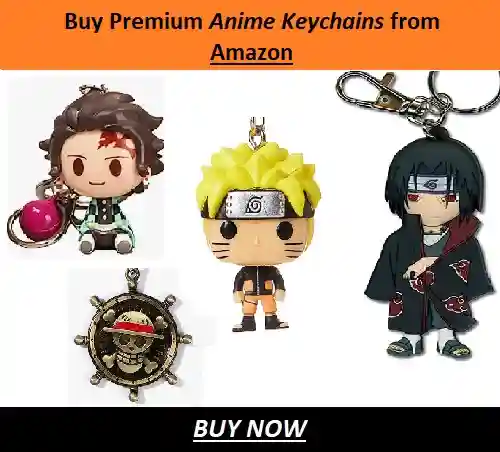 ---
Do small things with great love.
Follow us on Twitter for more post updates.
Also Read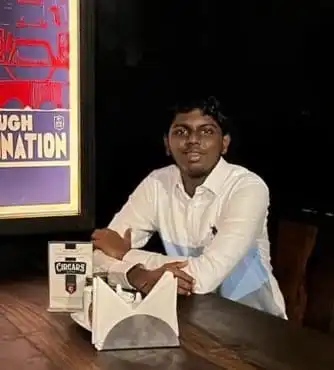 Eswar Keshav is an ardent anime fan for more than a decade. Along with this, he also has been following anime and manga updates for years. He is also enthusiastic and passionate when it comes to writing about his favorite things. Combining his love for writing and his love for anime and manga, his articles speak of his love for the genre.