Black Clover series written and illustrated by Yūki Tabata is a world full of magic and diverse characters, each unique in its way. The series easily grasped the audience's heart and climbed to the top of everyone's watchlist. The story revolves around Yuno and Asta and their journey while aiming to become the Magic Emperor.
The franchise has easily broken its norm by introducing many complex, strong, and independent women who are powerful enough to defeat their foe as well as allures the readers with their captivating appearance. So, in this post, according to my research and thoughts, we are going to discuss 15 beautiful female characters of the ongoing series. 
Top 15 Most Beautiful Females in Black Clover-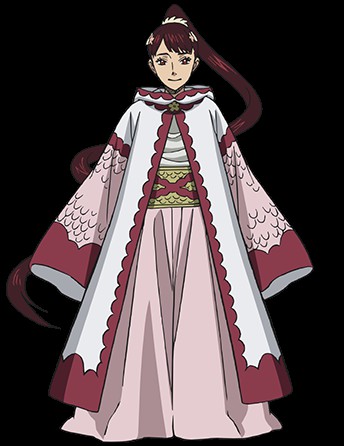 Kahono, a priestess of the Seabed Temple, is one of the beautiful female characters in the series. She was first seen in Chapter 57 and later became one of Asta and Noelle's good friends. Her dolphin mask and gold chain necklace with the whale pendant make her stand out. She has dark red hair decorated with seashells and red eyes which further adds to her elegance. So, we have placed her in the 15th position.

---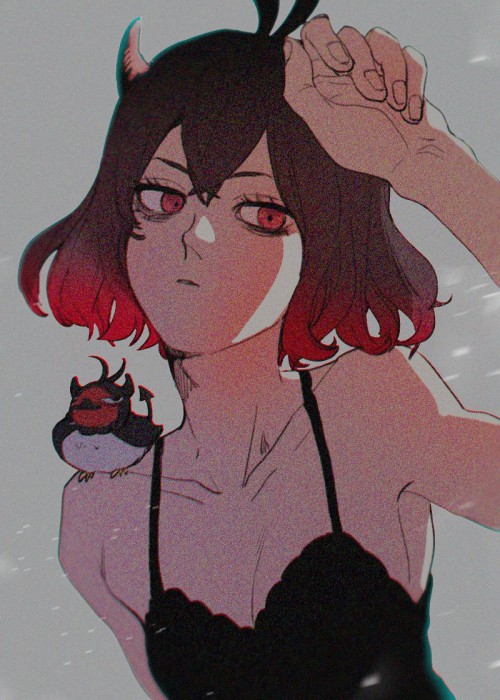 Secre Swallowtail was first seen in the form of an Anti-Bird named Nero and was later revealed that she was a former servant of the first Magic Emperor Lemiel Silvamillion Clover. She is also a member of the Black Bull squad. She was already one of the fans' favorites due to her comedic interaction with Asta and in her human form, she could be seen in a gothic outfit and appearance. Overall fans tend to find her devil horns, panda eyes along with distinct slanted eyes quite charming so we have placed her in the 14th position. 
---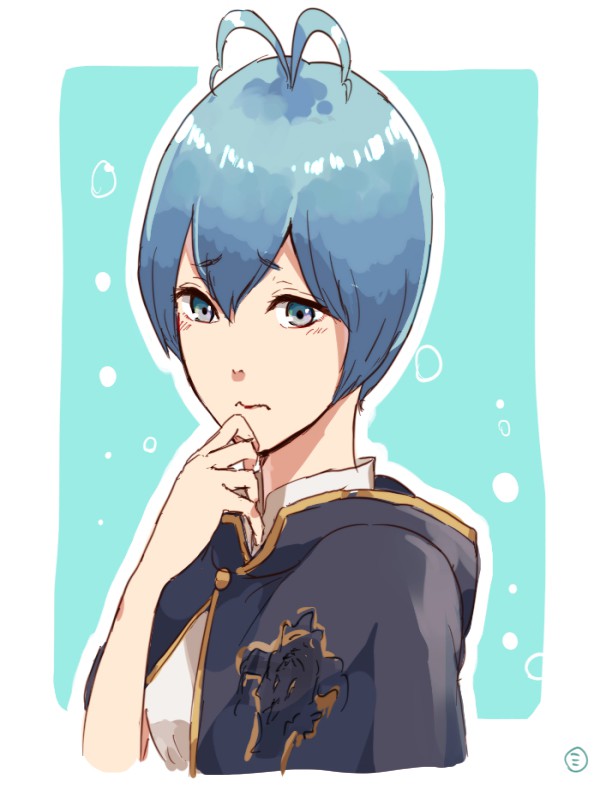 Grey is a Class 3 Junior Magic Knight of the Black Bull Squad and her real appearance was revealed in the Seabed Temple Arc. She sports light blue hair in a bob cut and wears a white sleeveless shirt with blue high-waisted pants. Besides being beautiful she is also considered cute by the fans, hence she is in 13th rank.
---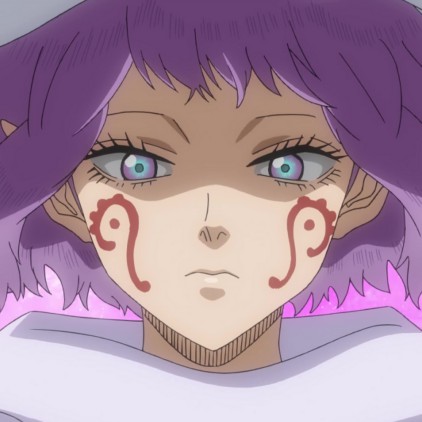 Dorothy Unsworth is the captain of the Coral Peacock Squad and also a witch. She wears a pointy hat and an outer cloak clasped by a peacock feather brooch over her normal attire. Even though she has a small stature she is quite cute and graceful with her fair skin and lilac-colored hair. Therefore, we have placed her in 12th rank.
---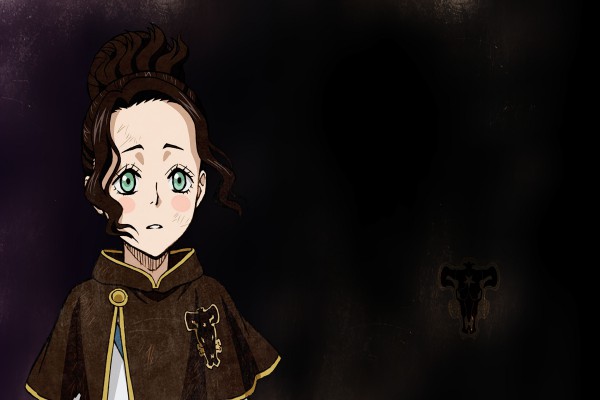 Charmy Pappitson is a 1st Class Junior Magic Knight of the Clover Kingdom's Black Bull squad and dwarf-human hybrid. Her voracious eating often dampens the mood of the people around her but her fans find her lovable with her chibi-like appearance. And in her adult form, she has a sharp feature and even put Ril in a daze, so we have positioned her in the 11th rank. 
---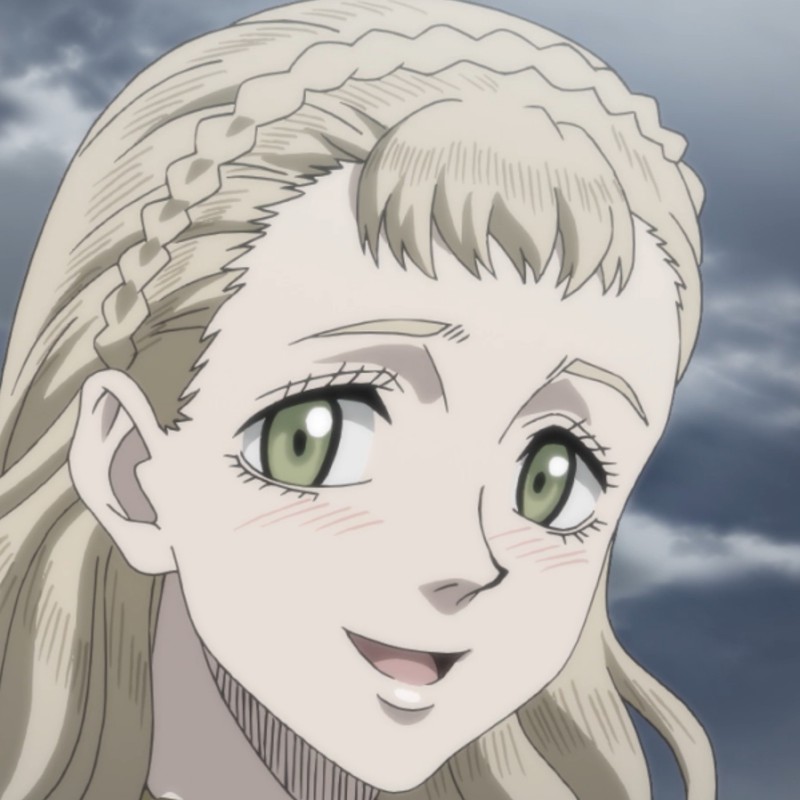 Tetia first debuted in Chapter 68 and was seen as the wife of Licht and younger sister of Lemiel Silvamillion Clover. Besides being kind and cheerful she is also alluring with her long ash-blonde hair and unique green-colored eyes. She easily captured the reader's attention with her looks and story so without a doubt she was placed in the 10th position.
---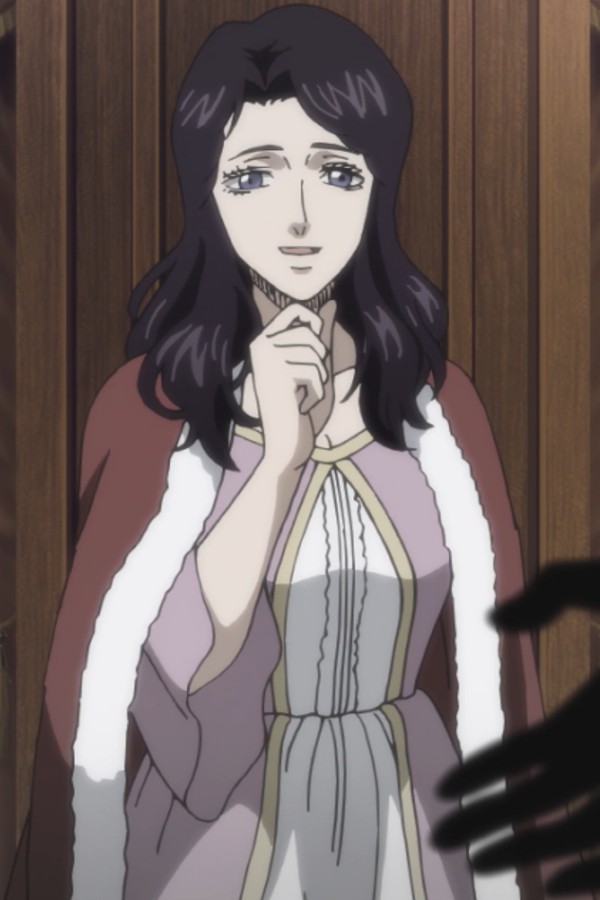 Finesse Calmreich is a noblewoman from the House Kora of the Clover Kingdom and also betrothed to Langris Vaude and was introduced in Chapter 117. She has shoulder-length black hair with bangs swept to the left side and often wears a gown but her purple eyes make her more appealing. So, she is placed in the 9th rank.
---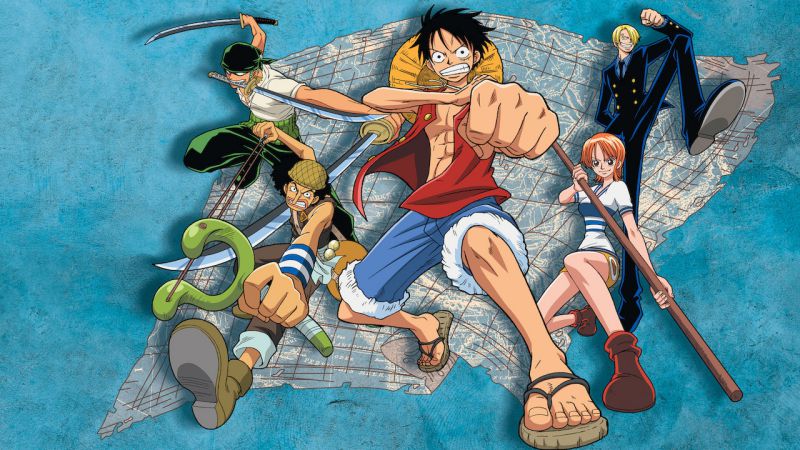 Must Read: Top 15 Hottest Male Characters in One Piece (Ranked)
---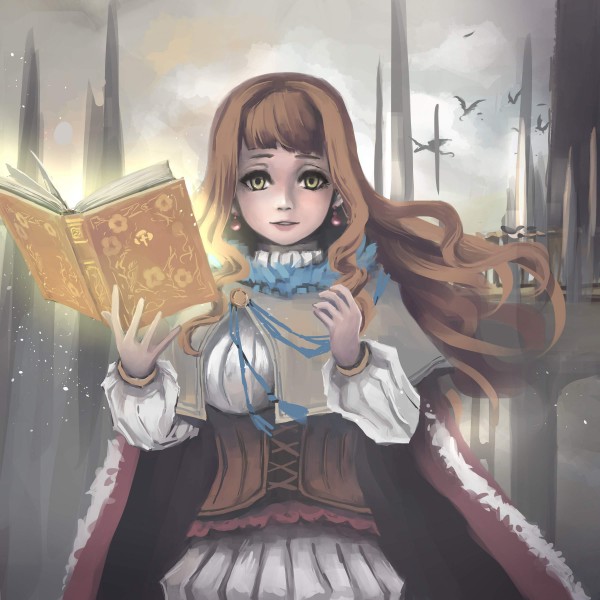 Mimosa Vermillion is a noblewoman of the Clover Kingdom's House Vermillion and a 8th Class Intermediate Magic Knight of the Golden Dawn squad. Her polite appearance yet speaking bluntly makes her well-liked. We have ranked her in the 8th position as her yellow eyes, long wavy vermillion hair, and naive personality easily charms the audiences.
---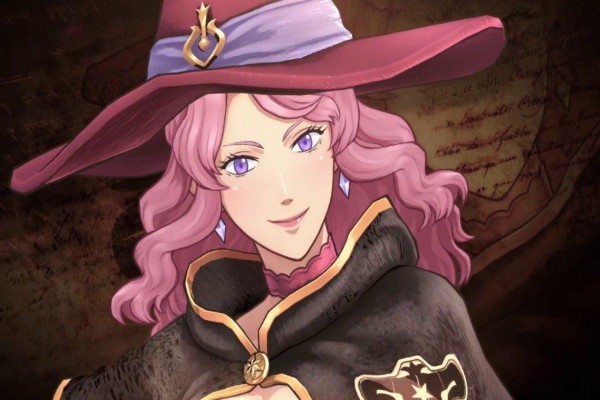 Vanessa Enoteca is a 3rd Class Junior Magic Knight of the Black Bull Squad and also a witch from the Witches' Forest. She sports her mid-back wavy pink hair in a loose lob hairstyle and is tall. She has sharp facial features and purple eyes. Besides her power, she is also popular in the fan community for her looks. Hence we have placed her in the 7th position. 
---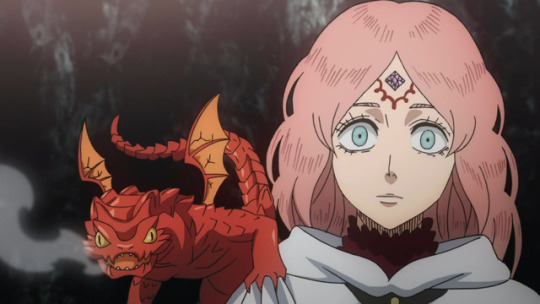 Fana is a rogue mage from the Diamond Kingdom as well as former host of the elf Fana, one of the Eye of the Midnight Sun's Third Eye. Even though she was one of the antagonists in Eye of the Midnight Sun Arc she is also quite beautiful. She has shoulder-length pink wavy hair, sea-green eyes which makes her one of the unique characters in terms of appearance, hence she is positioned in the 6th rank.
---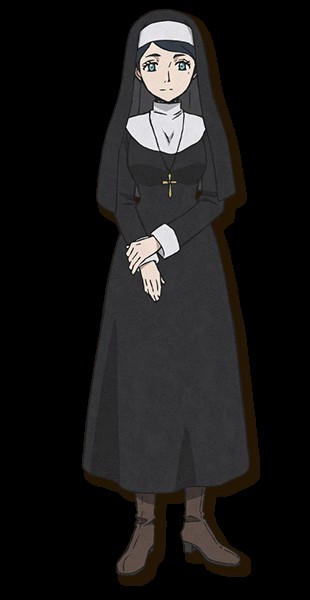 Lily Aquaria was first seen as a nun in the opening chapter of the series and she is also the one who took care of Yuno and Asta at the orphanage in Hage. Her dark blue hair and long eyelashes easily place her in the 5th position. Moreover, the dark beauty spot under her left eye adds more points to her charm.
---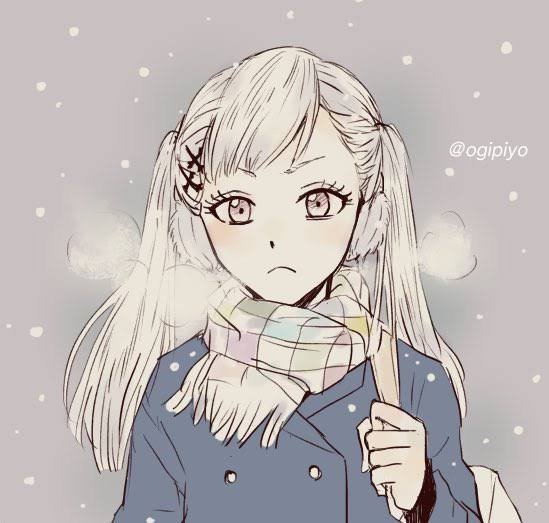 Noelle Silva is a noblewoman and also a 3rd Class Junior Magic Knight of the Black Bull. Noelle often seems arrogant and vain but that doesn't stop people from thinking she is one of the most beautiful female characters. Her unique features like long silver-colored hair often tied in pigtails, purple stud earrings, and pink eyes easily place her in the 4th rank.
---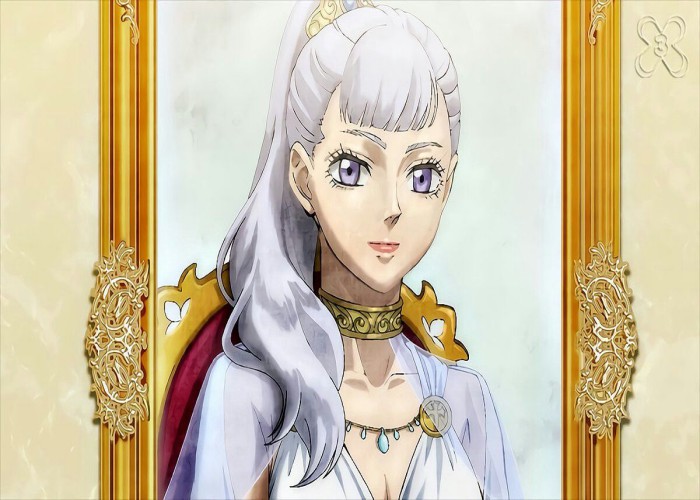 Acier Silva, the mother of Noelle, belonged from the House Silva of the Clover Kingdom and former captain of the Silver Eagle Squad. Besides being a fierce, strong-willed woman she was also known for her beauty. She had sharp facial features, long silver hair along with distinct purple eyes. So, without a doubt, she places in the 3rd rank.
---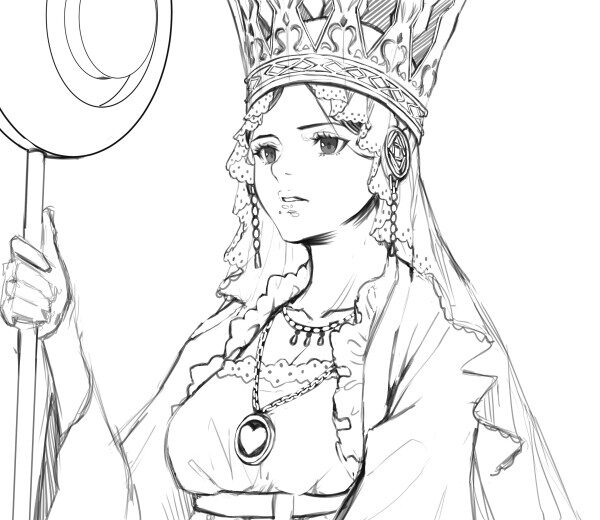 Lolopechka is the priestess of Undine, the spirit of water, and besides being a princess she is the ruler of the Heart Kingdom. Even though she is easily distracted and clumsy she is certainly one of the fair characters with her long dark hair which she often wears in a pulled-back hairstyle behind her white veils. And her small beauty mark under the right corner of her mouth makes her more alluring. So, we have placed her above Vaness and in the 2nd rank. 
---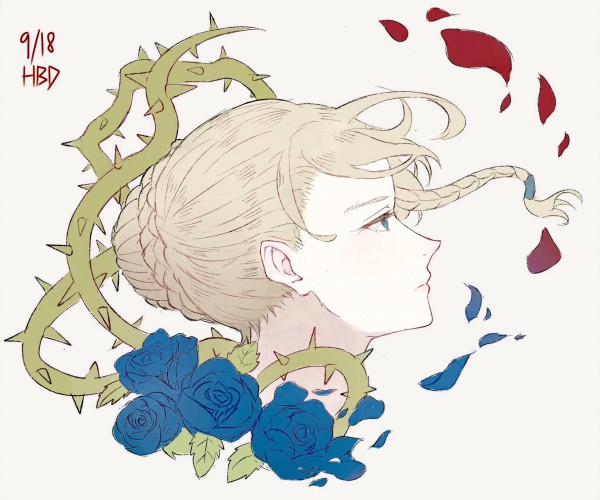 Charlotte Roselei is the captain of the Blue Rose squad of the Clover Kingdom and comes off as a cold, indifferent person despite having an inner monologue around Yami Sukehiro. She has a tall stature and keeps her blonde hair in a bun while sporting a single braid on the left side of her face. She has light blue eyes and long eyelashes and is renowned as the most beautiful woman throughout the Clover Kingdom, i.e, when not wearing her helmet. So, without a doubt, she is placed in the 1st position. 
Read the Black Clover series on VIZ Media or any paid sites. The ranking has been done based on my research and assumptions, some may agree and some may not so let us know your thoughts in the comment section. We will be back with more Top 10 articles till then stay tuned with us.
---
Follow us on Twitter for more post-updates.
Also Read-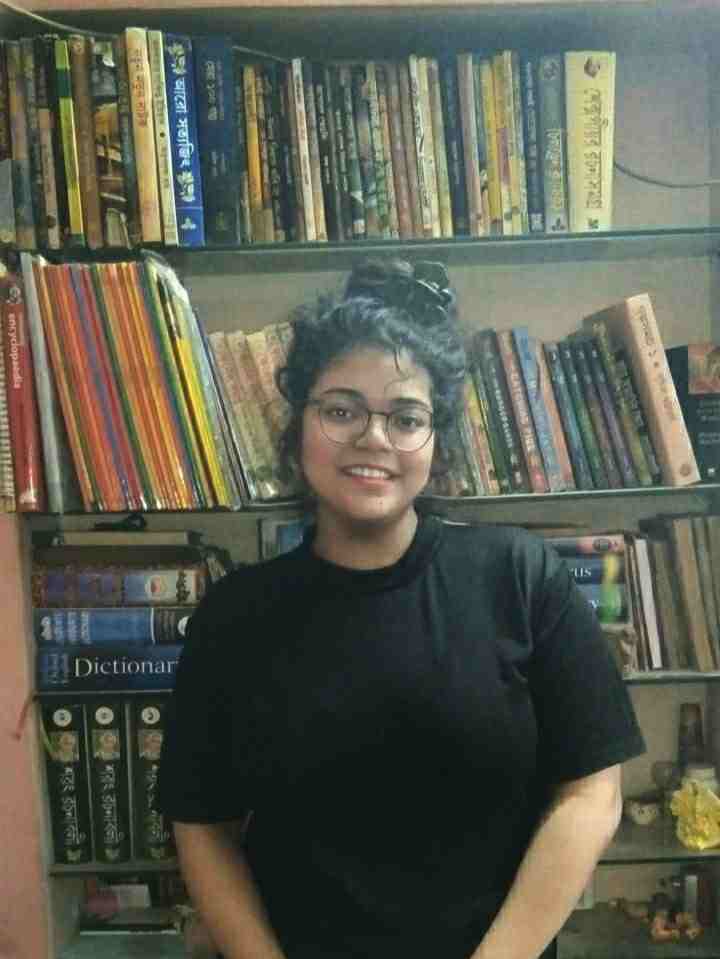 Namrata is a nature lover and frequently spends their time making elaborate plans of settling near the banks of Manasarovar lake with their best friend. If not, then they can be found reading mangas, books, comics, or science journals. Quite interested in science and will start talking about its endless theories if given the opportunity.