Last Chapter, we saw Damnatio's return as a Paladin, and it seems we have a new fight on our hands. On the other hand, it seems that Asta is ready to go back to Clover Kingdom along with his friends.
But, it seems that Ryuya Ryudo had sensed something different entirely. Even though the Ryuzen 7 was all set for battle, Ryuya was very shocked after using his power. This might imply that he sensed a huge problem that might be appearing soon.
Black Clover Chapter 363 Spoilers & Raw Scans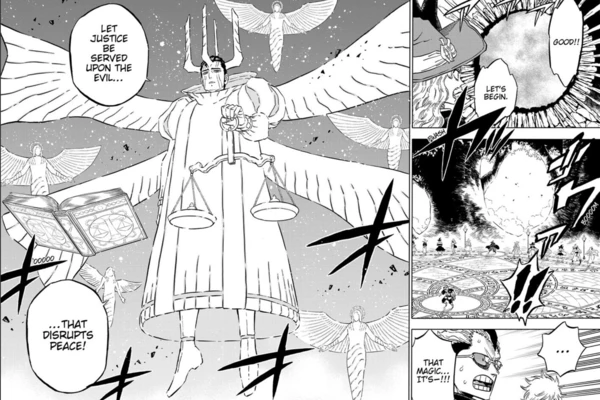 Damnatio had returned as a Paladin, to only stop the spell of the Black Bulls and the witches. Clover Kingdom is also in a pretty vulnerable state right now, given how we saw multiple Lucius all around.
The chapter starts with Lucius talking to Yuno and saying that Yuno was very attached to Asta.
He further says that even if Asta was alive, he will not come here, as he had already taken some precautions.
Next we see the Black Bulls attacking Damnatio, as they ask him not to interfere with this spell.
Damnatio pays no heed to this and uses Scale Magic: Scale Dominate.
He says that the future of the devil which disturbs the peace must be eradicated.
All of this is done to make sure that Lucius's visions of a just and fair world come true.
With this, we also see some of the other legless angels, combining to attack with a huge beam.
The situation reverts to the Clover Kingdom, and this time we see Yami vs Morgen.
Morgen says that Lucius sees the peace in this world, but a distrustful movement in the Witches Forest might hinder it.
He further asks for Yami to be re-born, so that both of them can protect the peace of the new world.
Yami disagrees right away, as he got his Black Bulls squad right now.
The situation pans again to Damnatio vs Black Bulls.
The large combined beam attack of the Angels is easily prevented by Trap Magic.
Soon after this, some of the Black Bulls members show up, to fight against Damnatio.
Damnatio is very irritated with this, as these Black Bulls members are a hindrance to his present goal.
He thinks that all of them are foolish, for believing in this Demon.
With this, the Black Bulls vs Damnatio fight starts, and the chapter ends right there.
We can see Nacht, Gauche, Grey, Charmy, Luck, and Magna in this panel.
Yururu: "Every human fears something.. Even you.."

*Yuno appears as Asta's fear*

Yuno: "Wow.. You're amazing Asta. I've always thought that of you.. You really have what it takes to become Wizard King!"
Asta: "St-STOP ITT, YUNO WOULD NEVER SAY SOMETHING LIKE THAT!" pic.twitter.com/ZR33uiTAY0

— Pikku 感情的 – Jester Fanatic (@PikkuProgram) June 21, 2023
the way they both look so upset to be fighting each other im ruined #BCSpoilers pic.twitter.com/lW1YrKLMxW

— andy 💛 BLACK CLOVER MOVIE !!! (@spadeprincesss) June 21, 2023
---
Black Clover Chapter 363 Release Date
Black Clover Chapter 363 should be released on 25th June. Since the raw scans and full spoilers are released, we already know what to expect from the chapter. The Chapter's title is also revealed to be Standing In The Way.
This means that the Black Bulls are standing in the way of Damnatio and Lucius's goals. Also, it seems that Black Clover Chapter 334 will be on a break for a week. So, the raw scans for the next chapter will also be delayed.
This marks the end of our article on Black Clover Chapter 363 Spoilers & Raw Scans. We follow all updates regarding Black Clover closely, so make sure to check our other posts here.
---
Do small things with great love.
Follow us on Twitter for more post updates.
Also Read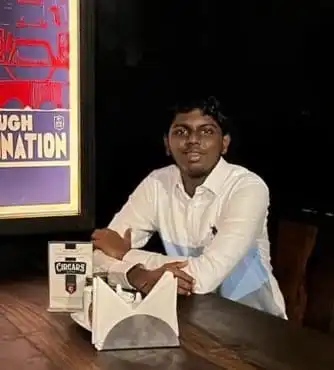 Eswar Keshav is an ardent anime fan for more than a decade. Along with this, he also has been following anime and manga updates for years. He is also enthusiastic and passionate when it comes to writing about his favorite things. Combining his love for writing and his love for anime and manga, his articles speak of his love for the genre.