Last updated on February 23rd, 2023 at 12:56 pm
Last, from Boruto chapter 76, we see a heated discussion with Kawaki, Boruto, Naruto, Amado, and Shikamaru involved. The events in this chapter set a huge cliffhanger for Boruto Chapter 77, as well as its upcoming chapters. We understand that the reincarnation Jutsu might come at a heavy toll which led to this situation.
Boruto also sees a vision, which might mean that one of our favorite characters might just die. Kawaki seems fine with the idea of reincarnating Amado's daughter, but he indirectly said that he would not do it if it just gave rise to another Otsutsuki.
The discussion ends with no matter getting resolved. At the end of this, we see a few slice-of-life moments with Kawaki, Boruto, and Eida. We all know by now that Eida is in love with Kawaki and will settle for no less than him.
After this, Sarada and Kakei also get summoned to the kid's discussion. Then, we get to see some girls' talk sessions between the three girls. This goes on for a bit, and we immediately see Shikamaru sending orders to dispose of Eida without the others knowing.
At the end of the chapter, we see Kawaki proclaiming that it was Momoshiki Otsutsuki that had been conversing with Boruto all along. Add these two huge reveals, and we get a good enough cliffhanger for this chapter.
Boruto Chapter 77 Spoilers & Raw Scans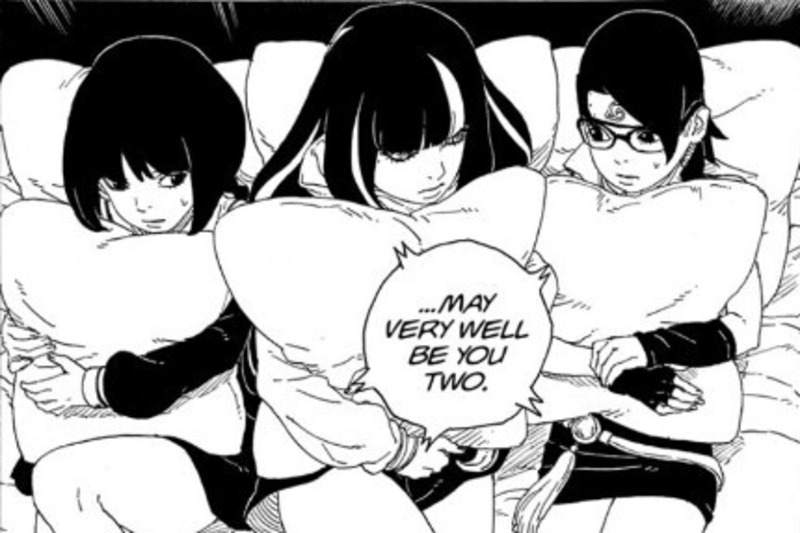 After Kawaki senses the presence of Otsutsuki, he aborts his mission and hides his chakra so his location will not be found. The only one who can sense Kawaki now is Boruto.
Even the other girl members also start leaving after Kawaki leaves. Finally, we get more information on Code, as Eida reveals that Code had been multiplying his army all along and is waiting for the perfect moment to strike.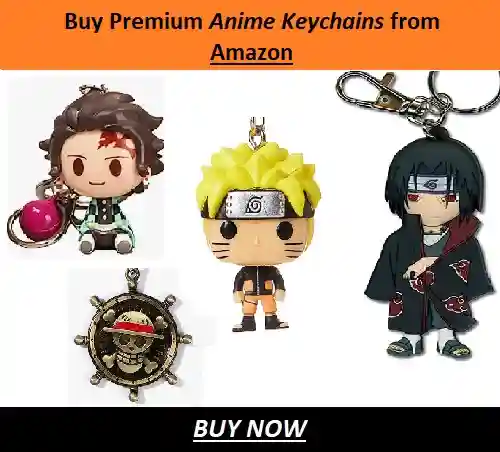 Meanwhile, we get to see the other side of the story as Daemon meets Himawari, Boruto's sister. These fun antics keep continuing for a bit till Kawaki goes to meet Naruto and Hinata.
He says that he wants to have a serious conversation with Naruto. He expresses his gratitude to Naruto and keeps talking with him for a while. From all this, he suddenly drops that he still wants to kill Boruto, despite everything that happened.
Hinata and Naruto ask him to change his decision, but he says that neither of them understands his motives. There ends the chapter with Kawaki sending Naruto and Hinata off to another dimension.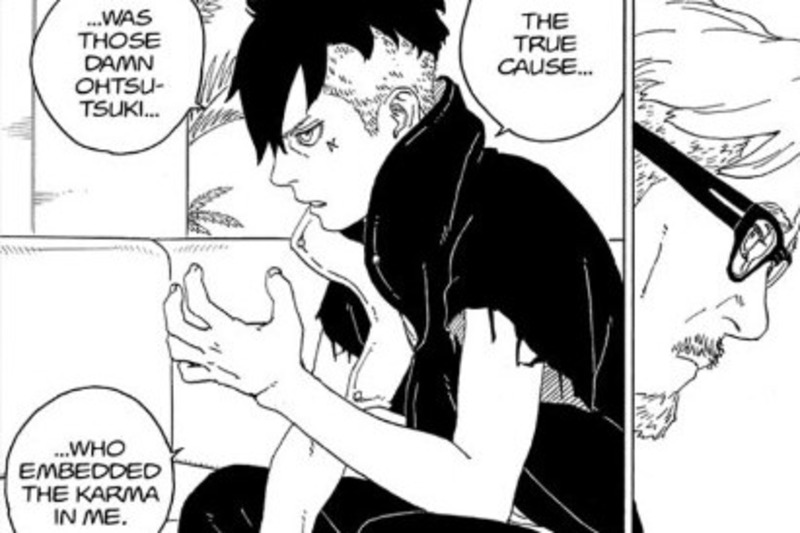 Kawaki asks for their forgiveness if they can and proclaims that he has to do this even if everyone hates him. This chapter ends on a huge cliffhanger, as we would love to read the next chapter right away. Below we have mentioned the spoilers and raw scans of Boruto Chapter 77.
---
Boruto Chapter 77 Release Date
Boruto Chapter 77's release date is set for January 20th. The raw scans and spoilers regarding the chapter are already uploaded, so we will update the same in this article.
There are various other sites where you can read the manga and where the release dates of the next chapter get updated accordingly. The spoilers are also updated on Reddit, which we will be attaching for our other articles.
Stay tuned as we keep following the updates on Boruto and keep releasing new articles frequently. Coming up next, we shall be talking about a few spoilers regarding Boruto Chapter 77.
We will end our article on Boruto Chapter 77 here; we wish to follow other series and manga, so make sure to check our other updates too. We shall return with the next chapter of Boruto, and till then, you can read some of our other articles.
---
Do small things with great love.
Follow us on Twitter for more post updates.
Also Read: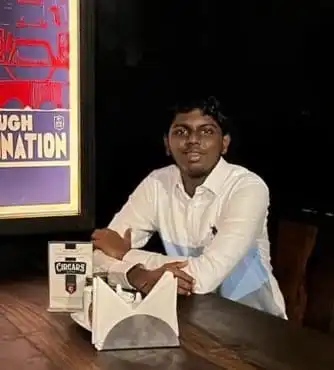 Eswar Keshav is an ardent anime fan for more than a decade. Along with this, he also has been following anime and manga updates for years. He is also enthusiastic and passionate when it comes to writing about his favorite things. Combining his love for writing and his love for anime and manga, his articles speak of his love for the genre.