Last updated on January 4th, 2023 at 12:27 am
If you're ready to dive into the magical World of Pirates, get on board with Thousands Sunny. One Piece is one of the legendary shounen series adored by millions of fans across the globe. It is still weekly airing with over 1031 episodes. Last year, the significant platforms made some major amendments to their library, and till then, many fans have been facing the same issue of where & how to watch One Piece in English dub.
However, before proceeding with this question, let's concentrate on the most popular anime platform, i.e., Crunchyroll. So, here we have come up with the answer to one of the most asked questions: "Does Crunchyroll have One Piece English dub?"
The answer to the question: No, Crunchyroll only has the English sub version of all One Piece episodes. It is the world's best platform when we consider watching the latest episodes of One Piece, but the catch is that Crunchyroll has the license to broadcast the anime only in the original Japanese version.
But the best part is fans can watch the latest episodes of One Piece on the same day of release every week on Crunchyroll. Now, jump to the first question, "where & how can we watch One Piece in English dub online?" Later in this post, we discussed the answer to this question along with a new guide regarding Crunchyroll & other sites. So, let's dive deep into it. 
Does Crunchyroll have One Piece English dub?
No, Crunchyroll only has episodes of the One Piece anime series in the English sub version or the original Japanese audio. Crunchyroll is the best platform to watch the latest episode of One Piece every Sunday, but those who wish to watch the English dub version should jump to the other official platforms like Funimation. 
One Piece began airing in October 1999 and is still ongoing in both anime and manga. There are 1058 chapters as of August 2022 and 1031 episodes. Currently, the story has concluded one of its most hyped arcs, the Wano Arc.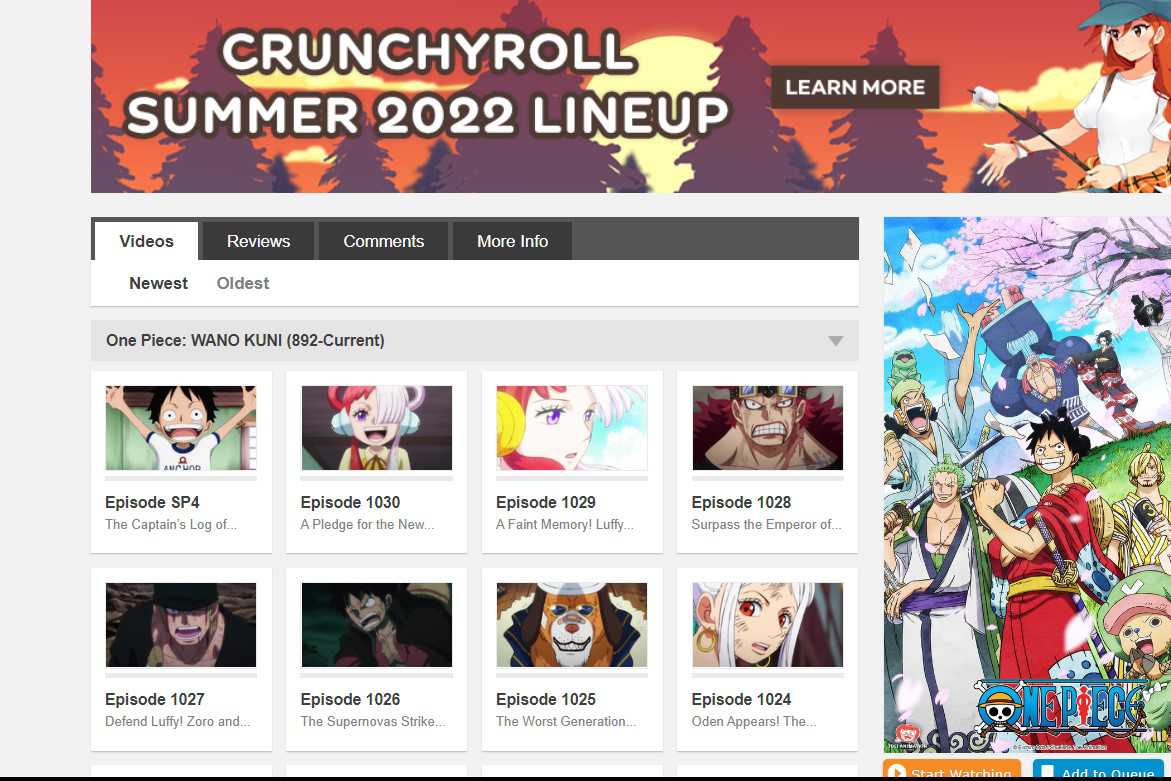 The animation, battle choreography, and OSTs are insane and do justice to Oda's artwork. Therefore, if you absolutely cannot wait, simply head over to Crunchyroll and watch the series in the English sub.
Alternatively, if you are a new fan and want to start the series from the beginning, we have more to tell you. One Piece has more content apart from the main series. To sum it up, we have listed it accordingly below: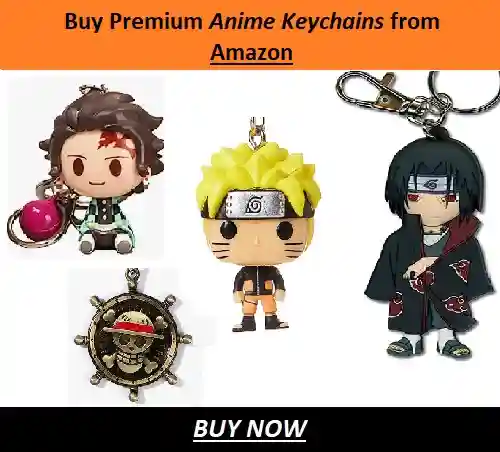 One Piece anime- 1031 episodes ongoing
One Piece manga- 1058 chapters ongoing
One Piece OVA- 6
One Piece TV Specials- 14
One Piece movies- 15
Now, if you wish to stream it on Crunchyroll, you can watch the anime and the movies based on the region you belong. One Piece anime is available in most regions, including the US, Canada, New Zealand, Australia, and Latin America. However, not all movies are licensed by Crunchyroll yet.
---
Is One Piece on Crunchyroll free?
Yes, One Piece falls under the ad-supported section of Crunchyroll. Therefore, if you don't have a subscription to Crunchyroll, you need not worry. You can simply head over to the platform and enjoy the English sub version.
Here we are referring to Crunchyroll of the United States. There is a probability that One Piece is not obtainable in your geographical region. For this, we recommend proceeding with a good VPN.  
Crunchyroll offers one free plan and three paid plans for its services. The free plan includes ads and allows you to access a good number of anime and manga to watch and read for free. Below we have mentioned steps to watch One Piece on Crunchyroll. 
For countries where One Piece is available
Step 1: Visit the Crunchyroll website or app.

Step 2: Search for One Piece on Crunchyroll.

Step 3: Select an episode and start watching it.
For countries where One Piece is not available:
Step 1: Purchase a good VPN.

Step 2: Register your email id on the VPN.

Step 3: Login and turn on the VPN.

Step 4: Change your location to the United States.

Step 5: Open incognito mode.

Step 6: Visit the Crunchyroll website or app.

Step 7: Search for One Piece on Crunchyroll. If it is showing not available, then refresh two or three times. It will update the library.

Step 8: Select an episode and start watching it.
Note: You don't need to register your email id or credit card on Crunchyroll to watch One Piece, as it is available under ad-support format. If you already have Crunchyroll premium subscription, then you can directly log in to your Crunchyroll app/website after changing your location. It will modify its library.
---
Where & How to watch One Piece English Dub?
Funimation has most One Piece episodes in English dub. Fans who desire to watch One Piece in English can proceed over Funimation. On the other hand, Hulu also has episodes of the first three One Piece arcs in English dub. So, if you are a beginner and want to start One Piece anime, then you can also choose Hulu for the time being. 
One Piece is one of the best-selling manga of all time. Therefore, as its popularity and demand grew, many official platforms rushed to obtain the license to stream it. Below are some of the top official platforms to watch One Piece in detail.
1) Funimation
Like Crunchyroll, Funimation is one of the oldest and most preferred sites to offer anime for streaming. And therefore, it is no surprise that this site has One Piece in most of the region, including the US and Canada.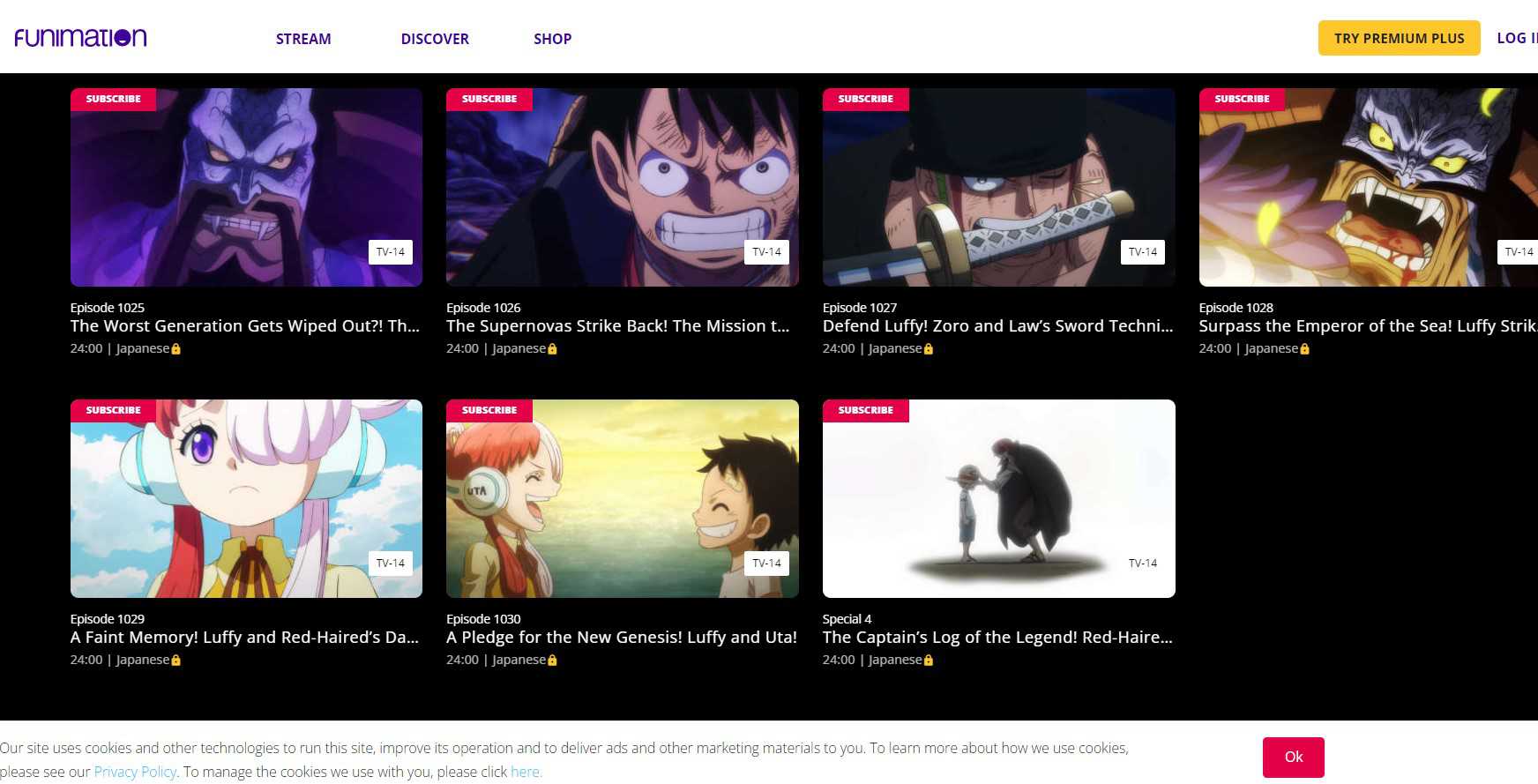 Not only this, but Funimation also has an official English dub part of One Piece anime, but presently only the first 830 episodes have been dubbed till now.
Maybe in the future, we will get more episodes in the English language, but right now, fans can watch the One Piece English dub up to Episode 830. Remember, only Funimation has the license to translate episodes into the English language.
Therefore it is the best choice to watch One Piece in English dub. Below we have mentioned other substantial statuses of the series on Funimation. Go through it before proceeding with it.
All One Piece episodes are available on Funimation (US & Canada) in the English sub. However, the latest 15 episodes are always under the premium section. It means to watch the latest episodes of One Piece, fans either have to purchase the premium subscription of Funimation or directly jump on to Crunchyroll to watch it with ads.
As of August 2022, we can watch up to One Piece Episode 830 on Funimation. But the most important part is only the first 430 episodes are under ad-support format. After that, you must pay for a Premium subscription to watch One Piece in English. 
And lastly, if the series is unavailable in your region, you have to proceed with a good VPN.
---
To know the step-by-step process on how to watch One Piece on Funimation globally, kindly refer to the article mentioned below.
Related: Does Funimation have One Piece in English? (2022) | Latest Updates
Moreover, fans can also avail the benefits of 14 days trial period on Funimation to cover up both One Piece series without any cost. All you need to do is register your credit card and remove it before the completion of the trial period.
---
2) Hulu
Hulu is known for the diverse range of content it offers for streaming, which also includes anime. Therefore, Hulu offers you to watch One Piece in its top quality hassle-free. However, not all episodes are available in the English Dub version. If you wish to watch the English Sub version of One Piece, Hulu is the best site for you. The current status of the series on Hulu is as follows:
698 Episodes available in English Sub
Up to Episode 152, the English Dub version is available
---
3) Netflix
Netflix is one of the giant streaming platforms and offers seamless streaming. Over the years, Netflix has absorbed various media content in several languages. Therefore, given the rapidly growing popularity of anime and manga worldwide, Netflix now has a wide range of anime to choose from, one of which is One Piece. So, if you already have a Netflix subscription, there's good news.
Now, since the content on Netflix varies from region to region, you will need to check if your country has One Piece available. In some regions, only a few seasons are available, and in some, all the seasons are in both English and Japanese Dub and Sub. The current status of One Piece on Netflix is as follows:
All seasons (1-1031) are available in English and Japanese Dub and Sub

Numbers of episodes and seasons may vary depending upon the arc break-up on Netflix
---
One Piece movies/shows in order
It is so no surprise that a long series has many spin-offs, ova, and movies. It may be confusing to get the sequence of the content right, especially for the new fans. Therefore, here's the watch order of One Piece episodes/arcs and where the movies fit.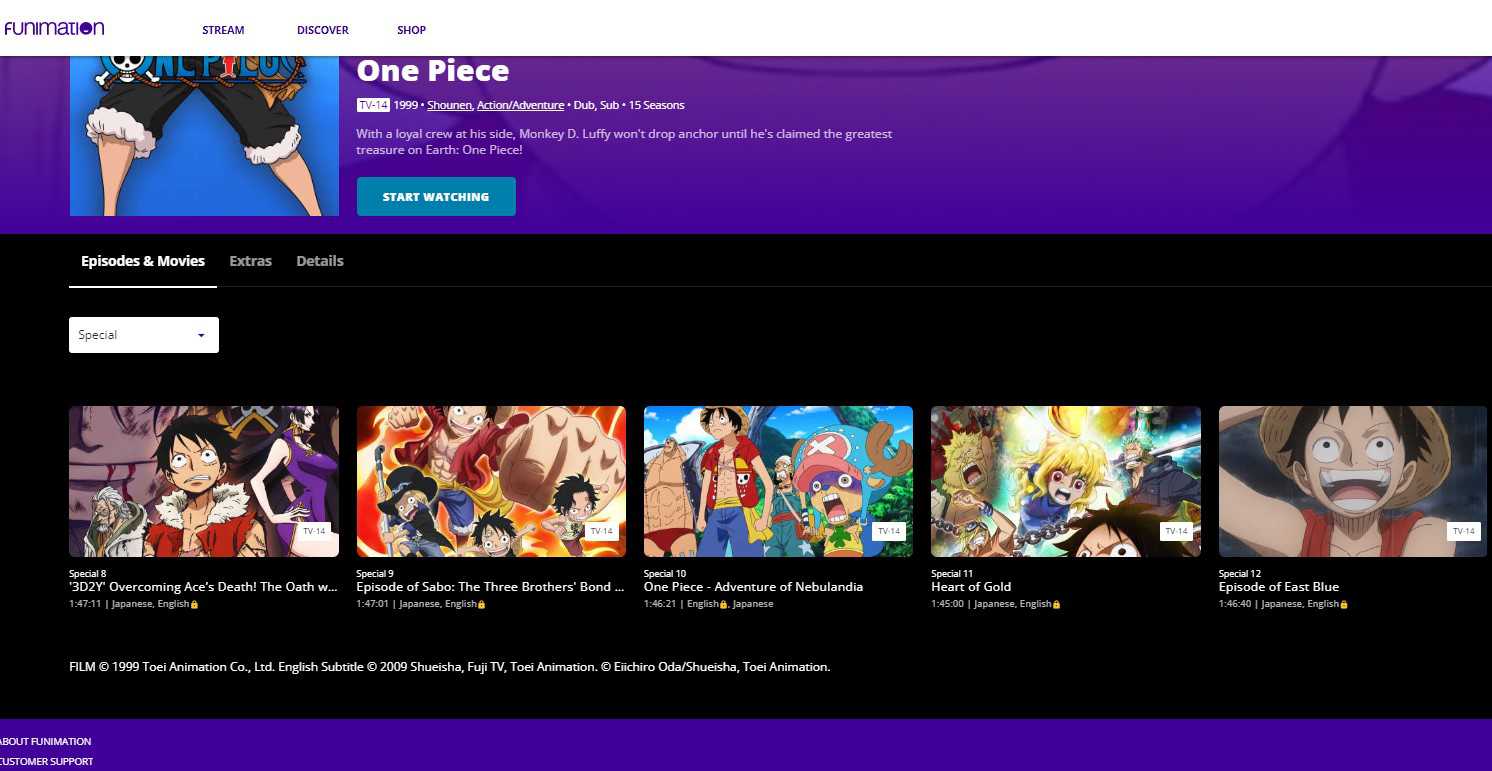 There is a total of 10 arcs and 15 movies as of now and the movies premiered whilst the episodes were airing:
1. East Blue Sea (1-61)

One Piece: The Movie after Episode 16

Clockwork Island Adventure after Episode 60

2. Arabasta Saga (62-135)

Chopper's Kingdom on the Island of Strange Animals after Episode 102

3. Sky Island Saga (136-206)

Dead End Adventure after Episode 146

The Cursed Holy Sword after Episode 183

4. Water 7 Saga (207-325)

Baron Omatsuri and the Secret Island after Episode 223

The Giant Mechanical Soldier of Karakuri Castle after Episode 257

Episode of Alabasta: The Desert Princess and the Pirates after Episode 298

5. Thriller Bark Saga (326-384)

Episode of Chopper Plus: Bloom in Winter, Miracle Sakura after Episode 344

6. Summit War Saga (385-516)

Strong World after Episode 429

One Piece 3D: Straw Hat Chase after Episode 489

7. Fish-Man Island Saga (517-574)

One Piece Film: Z after Episode 576

8. Dressrosa Saga (575-746)

9. Whole Cake Island Saga (747-889)

One Piece Film: Gold after Episode 750

10. Wano Country Saga (890-1032)

One Piece: Stampede after Episode 896

One Piece Film: Red after Episode 1027
---
One Piece Plot:
One Piece narrates the story of Monkey D. Luffy, who ends up eating the Devil Fruit. This fruit gives his body rubber-like properties but takes away his ability to swim. Luffy dreams of finding the greatest treasure of the world- One Piece. Just like Luffy, the world has been dreaming of finding the said treasure, and therefore, the world in the series is the Great Age of Pirates.
Following this, when Luffy turns 17, he forms his group of pirates, the Straw Hat Pirates, and begins his journey following the Grand Line. Now this line runs around the globe in a straight line from North to South and South to North. However, this path contains countless mysterious regions and beings that the Straw Hats must overcome/survive to continue their journey.
The plot has epic battles and introduces unique regions and characters that never fail to pique your interest. Therefore, just rush over to your desired platform to watch One Piece, and you'll know what we mean.
So, now that we have covered all your questions, we conclude the article here. Feel free to browse through and check out some more interesting articles below.
Image Source | Crunchyroll, Funimation
---
Do small things with great love.
Follow us on Twitter for more post updates.
Also Read: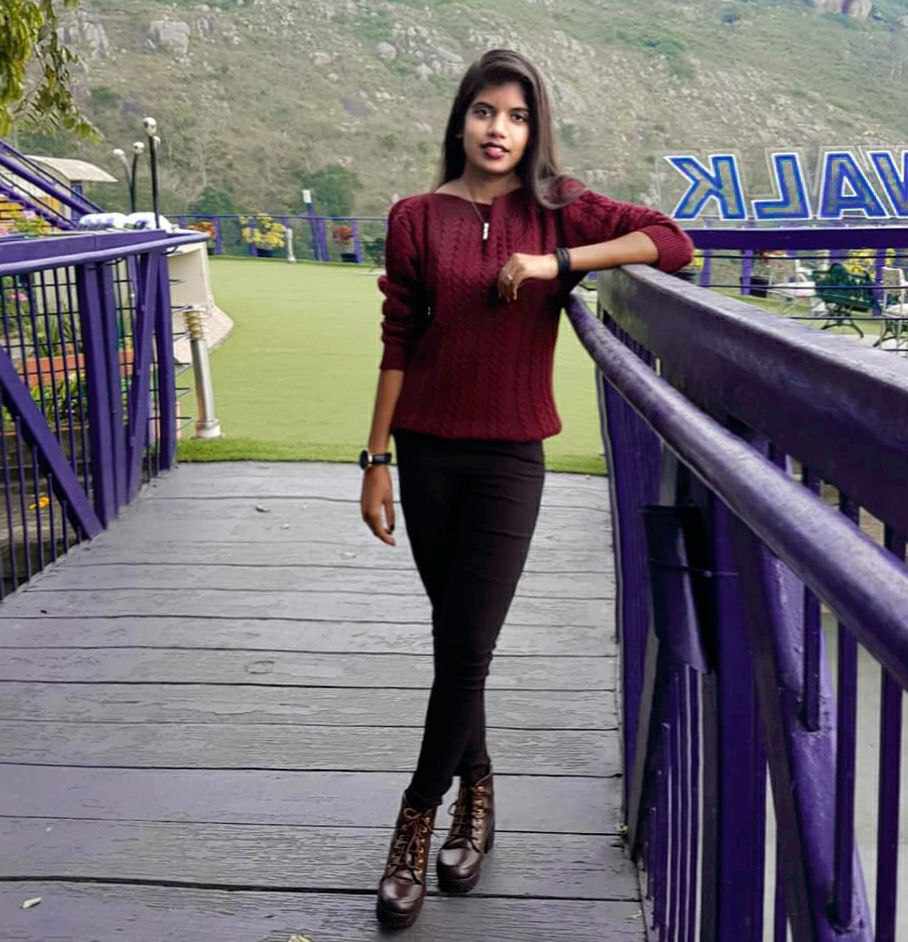 Starting off with love for medicine and plans for pursuing it, I found myself drawn to a mismatched career in Hospitality & Tourism. Little did I know that my passion and love for literature had always been by my side. Therefore, here I am now, sharing my words on multiple amazing platforms, one of which is Otakus Notes. What better way to put my abundance of love and knowledge of anime, manga, k-drama and webtoons, to use!