The spoilers of Jujutsu Kaisen Chapter 240 show that the chapter features the most unserious and ridiculous fight in the whole series. It's to be expected, honestly, given that one participant in the fight is the failing comedian Takaba. But it's really a surprise to see Kenjaku in such a fight and it's the very point that makes this fight so interesting.
Ready for it? Here are the spoilers and release date of Jujutsu Kaisen Chapter 240.
Jujutsu Kaisen Chapter 240 Spoilers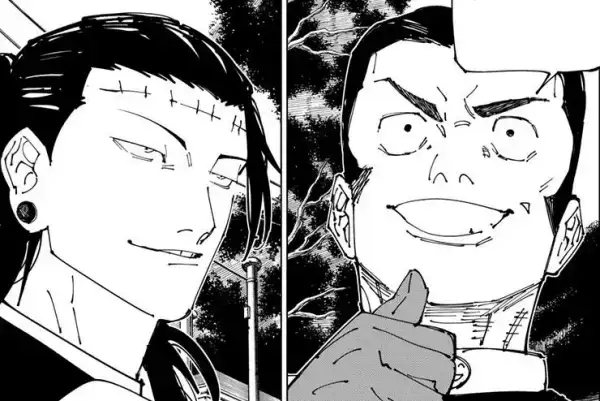 According to the spoilers, the title of Jujutsu Kaisen Chapter 240 is "Stupid Survivor – Survive!" The chapter starts with the jujutsu sorcerers having a discussion while Gojo is fighting Sukuna.
They think they should ambush Kenjaku while the Gojo vs. Sukuna fight is going on and not give Kenjaku the chance to ambush them if Gojo loses since then they'd have their hands full with Sukuna.
Kusakabe says they can launch an ambush on Kenjaku with Maki to catch him off-guard but it'll be foolish to split their forces in case they have to fight Sukuna. Angel suggests that they send Takaba instead.
Hakari and Kusakabe are doubtful about this but Angel suggests that there is more to Takaba than previously realized. Angel says, "There might be a bad influence on Takaba's Cursed technique on what I'm about to say so, please don't say this to anyone, even Takaba. His cursed technique is…"

Back to Kenjaku vs. Takaba, Kenjaku attacks Takaba with a bunch of centipede curses and realizes that his Cursed Technique is completely rejected. He theorizes that Takaba's Cursed Technique is to materialize things into existence simply by his imagination.

As the fight continues and nothing works on Takaba, Kenjaku states that every Cursed Technique has a weak point. After clashing a few more times, he realizes that the condition of Takaba's Cursed Technique is his confidence.

After that, he deliberately criticizes Takaba's jokes and comic timing to destroy his confidence. The chapter ends with Takaba's confidence crashing down, asking himself why he is a comedian in the first place as Kenjaku looks down at him.
Must Read: Fumihiko Takaba in Jujutsu Kaisen: Powers and Abilities Explained
Raw Scans:
WAAAAAITTTTT #jjk240 #jjk240spoiler pic.twitter.com/1oEiBDKvoc

— JJK (Mya) (@batman4sa) October 25, 2023
#JJK240 WHAT THE FUCK IS A KILOMET🦅🦅🦅🦅🦅🇺🇸🇺🇸🇺🇸🇺🇸🇺🇸🇺🇸🇺🇸 pic.twitter.com/pWLwubQ5kp

— mizu⛩️⛓️ (@tojishole) October 25, 2023
"takaba and kenjaku are fighting"
the fight: #jjk240 #JJKSpoilers pic.twitter.com/jKqJQaFCwb

— riri ✰ (@angellgojo) October 25, 2023
---
Jujutsu Kaisen Chapter 240 Release Date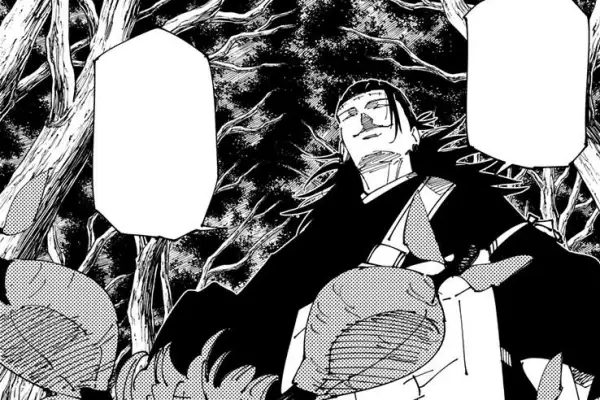 Chapter 240 of Jujutsu Kaisen will be released on Sunday, October 29, 2023. The chapter can be found on Shueisha's official platforms, Manga Plus and Viz Media, with its official English translation for free from the day onwards.
For fans all around the world who are hoping to catch the chapter the moment it drops, keep in mind that the exact time of the release of Jujutsu Kaisen Chapter 240 will be different in different parts of the world, depending on the time zones. Here's the schedule for the release time of the upcoming chapter in various time zones:
Pacific Standard Time: 7 AM, Sunday, October 29, 2023
Eastern Standard Time: 10 AM, Sunday, October 29, 2023
Greenwich Mean Time: 3 PM, Sunday, October 29, 2023
Central European Time: 4 PM, Sunday, October 29, 2023
Indian Standard Time: 8.30 PM, Sunday, October 29, 2023
Philippine Standard Time: 11 PM, Sunday, October 29, 2023
Japanese Standard Time: 12 AM, Monday, October 30, 2023
Australia Central Standard Time: 12.30 AM, Monday, October 30, 2023
As reported by the spoilers, there will be no break next week. So, fans can expect to get Chapter 241 on November 5, 2023. For more updates and content on Jujutsu Kaisen, keep reading Otakus' Notes.
---
Do small things with great love.
Follow us on Twitter for more post-updates. 
Also Read
Anamika loves words and stories and putting them to pages. She also loves anime, manga, books, movies and everything fantasy. She has been a fan of anime since childhood and her admiration for it only grew with years. Her passion for writing is even more elevated by writing about the things she loves.