Last updated on September 15th, 2023 at 10:35 pm
Continuing with the Final War Arc, My Hero Academia manga is currently focusing on the conclusive show-down between Uraraka and Toga.
The two have been each other's nemesis ever since the Forest Training Arc, and their dynamic is about to find its conclusion. With this, let's dive straight into My Hero Academia Chapter 392 spoilers and release date.
My Hero Academia Chapter 392 Spoilers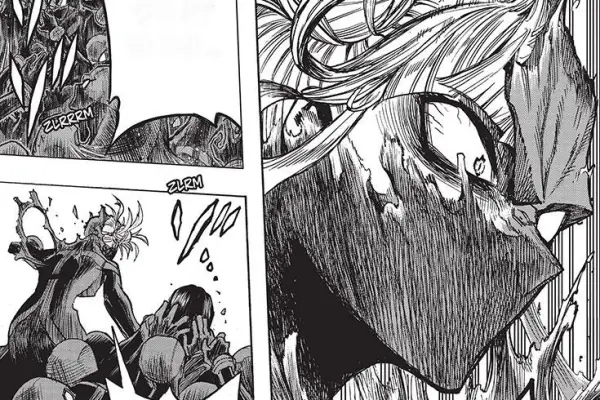 The spoilers of My Hero Academia Chapter 392 reveals that the title of the chapter is "Villain Name."
At the beginning of the chapter, we see Tsuyu caught by the Twice clones, thanks to the injury she suffered at Okuto Island. As Uraraka desperately calls for her friend, a frustrated Toga yells that Uraraka can act so high and mighty only because she's had a normal childhood, unlike her.
A flashback to Toga's past begins. Her parents find her sitting next to a dead bird with blood around her mouth and ask her whether she killed it to drink its blood. Though she denies it, they take her to a Quirk counselor who promises to make her "normal".

As she grows up, Toga observes various forms of love among people who are normal. She sees a couple holding hands and a man playing with his dog. Toga remembers her own lack of normalcy, and how she's always had to repress herself to act normal. She frustratedly bites her hands bloody.

In the next panel, Toga's parents ask her whether she sucked the blood from her classmate. She denies it, claiming she only kissed his bruise. When her parents are horrified, she cries, lamenting why she's so different from others and why others don't feel the need to drink blood like her. Toga cries about how she can't turn into everybody.

Back in the present, we see a form of Curious appearing out of Toga and telling her that she's had to repress her emotions all these time, putting on the mask of someone who isn't her.
Next we see Jiro and Kamui Woods trying to rescue Tsuyu but they are being attacked by Tsuyu clones. As things get more complicated in the battle, Uraraka catches Toga with her strings.

Tsuyu tells Toga how Uraraka has been trying to understand her instead of just planning to stop or imprison her, and to at least hear her out. But in the next panel, Uraraka is stabbed in the stomach, with Toga exclaiming that they are fundamentally different from each other.

At the end of the chapter, a short flashback of Twice appears where he asks Toga if she's chosen a villain name for herself.
https://twitter.com/sherurose/status/1671573170053079040?s=20
---
My Hero Academia Chapter 392 Release Date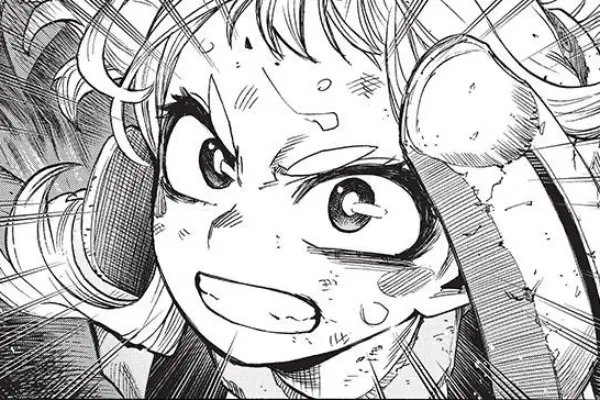 My Hero Academia Chapter 392 is scheduled to be released on Sunday, June 25, 2023. The chapter will be dropping worldwide at various times, depending on the time zone. The schedule of the time of release for Chapter 392 in different time zones is as the following:
Pacific Standard Time: 7 am, Sunday, June 25, 2023
Eastern Standard Time: 10 am, Sunday, June 25, 2023
Greenwich Mean Time: 3 pm, Sunday, June 25, 2023
Central European Time: 4 pm, Sunday, June 25, 2023
Indian Standard Time: 8.30 pm, Sunday, June 25, 2023
Philippine Standard Time: 11 pm, Sunday, June 25, 2023
Japanese Standard Time: 12 am, Monday, June 26, 2023
Australia Central Standard Time: 12.30 am, Monday, June 26, 2023
The English translation of the chapter will be available on the Shueisha affiliated manga platforms, MANGA Plus and VIZ Media from the date of release and onwards.
The spoilers of My Hero Academia Chapter 392 also announced a break for next week. So, Chapter 393 will not be arriving until Sunday, July 9, 2023.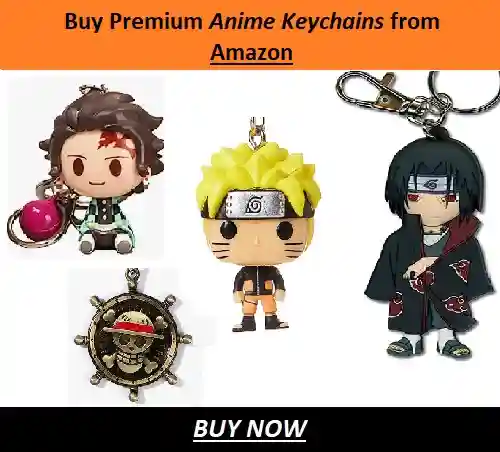 For more updates on My Hero Academia, keep following Otakus' Notes.
---
Do small things with great love.
Follow us on Twitter for more post updates.
Also Read:
Anamika loves words and stories and putting them to pages. She also loves anime, manga, books, movies and everything fantasy. She has been a fan of anime since childhood and her admiration for it only grew with years. Her passion for writing is even more elevated by writing about the things she loves.