After getting many memorable roles, anime characters with deep voices have always been a thing. From the king of a country to some unforgettable villains, we have seen a lot of anime characters having very deep voices that can shiver you.
Voices can make or break anime characters, making them famous or ranking them in forgettable cliched roles. Voice actors also show a lot of variations, depending on their roles, which is a pretty good thing.
In this post, we are gonna take a lot at some of the top Anime Characters with Deep Voices.
15 Anime Characters with Deep Voices
1) Dio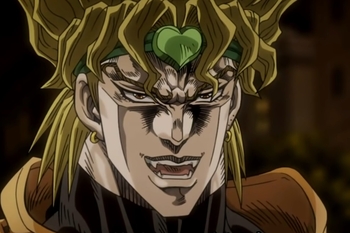 Anime: Jojo's Bizarre Adventure
Voice Actor: Takehito Koyasu
One of the most notorious antagonists of all time, Dio has an astoundingly deep voice that brings a sense of superiority to his character. He is a mighty and brave man who is over-confident in his abilities and strengths.
Dio is most remembered for his deep voice as well as his villainous traits. His character set a benchmark for Anime Villains, which started the trend of antagonists having Deep voices to give off a superior vibe.
The prolific Voice Actor is a major reason for this character's success, bringing in a lot of shades with a touch of his deep voice. He elevated the villain to a different entity, making his Anime counterpart more famous.
---
2) Lelouch vi Britannia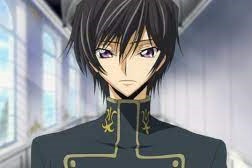 Anime: Code Geass
Voice Actor: Jun Fukuyama
Another remarkable character known for his intelligence and his mighty nature, Lelouch is one of the most intelligent Anime protagonists for a reason.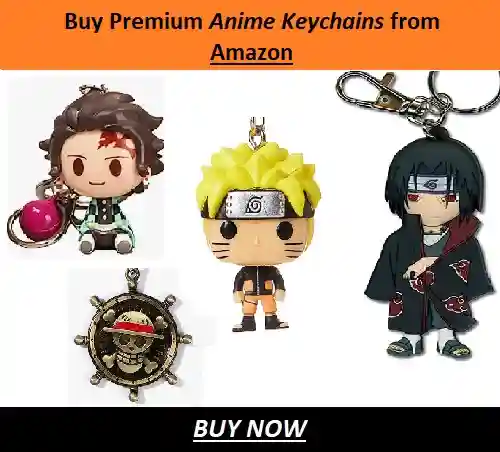 Backing his attributes with a deep voice, we get an unforgettable character who remained one of the best Anime protagonists for decades. Striding further on the line of a hero and an anti-hero, this was a unique attribute to him.
Jun Fukuyama did a wonderful job at escalating this character and giving him a deep voice for his unforgettable personality.
---
3) Shinsuke Takasugi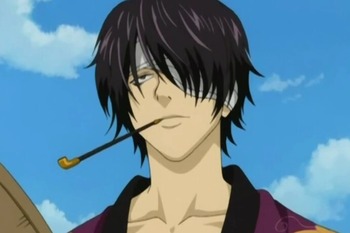 Anime: Gintama
Voice Actor: Takehito Koyasu
One of the major antagonists in Gintama, Takasugi, does not hold back anytime while sparring against his former friends and allies. Voiced by the famous Takehito Koyasu, we got another unforgettable villain whose presence was etched in our hearts.
He also followed the niche of a deep voice, which fit aptly for him, further elevating his screen presence. His deep voice further conveyed his feelings and emotions best, along with giving a high-caliber Samurai vibe from the villain.
Even if he was not the final antagonist, he remained the best villain in Gintama for his character dynamics and menacing voice.
---
4) Yami Sukehiro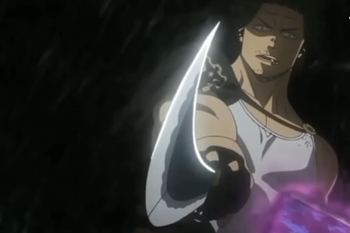 Anime: Black Clover
Voice Actor: Junichi Suwabe
A befitting deep voice to the unique dark magic user and Captain of Black Bulls in Clover Kingdom. Yami Sukehiro is one of the strongest and most admired captains by many fans.
A strong character embedded with a powerful presence and a deep voice is the best combo for a perfect character, and that is perfectly condensed in Yami's character.
Junichi Suwabe did a wonderful job at portraying this character in a way that we could never think of, making him an irreplaceable addition to this fan-favorite character.
---
5) Alice
Anime: Sword Art Online: Alicization
Voice Actor: Ai Kayano
Coming off strong on our female deep-voiced characters, Alice has the best deep voice for a female character out of all of them. Alice is a strong character with an unwavering personality that has found the perfect way to convey it through a deep voice.
Her personality traits were further exalted by Ai Kayano's addition of a deep voice, which left a long-lasting impression on the character.
It can also be said that the character was a lot better portrayed in the Anime than in the original Light Novel. This is all thanks to Ai Kayano for taking up her role and making her an unforgettable character with her portrayal.
---
6) Kanbaru Suruga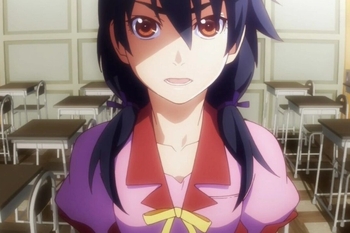 Anime: Monogatari Series
Voice Actor: Miyuki Sawashiro
One of the characters from the Monogatari series, Suruga, has a very bold personality and a unique character. Her character was one of the hardest to portray, and Miyuki Sawashiro does this with ease and perfection, adding a layer of deep voice to her.
Kanbaru has never been portrayed as a strong character but of a more realistic nature who always wavered in her decisions. She also had a beautiful portrayal on-screen more than her Light Novel counterpart.
Her character took a different route than associating the strong characters with the deep voice niche and succeeded in pulling that off.
---
7) Akaza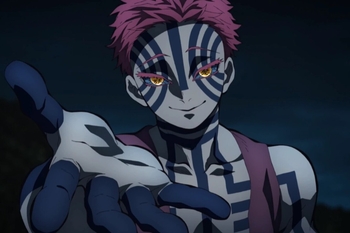 Anime: Demon Slayer
Voice Actor: Akira Ishida
One of the antagonists in Demon slayer, Upper Moon 3 Akaza, is a powerful foe who dealt a major blow to the Hashiras and managed to defeat Rengoku.
Akaza is a strong character, who has a menacing aura all around him, which was amplified with the addition of Akira Ishida's deep voice. This showed the character in a whole new limelight, making him a cruel as well as an unforgettable villain.
Akaza was a character loved by many fans for his traits and presence in the manga. The portrayal of him on-screen increases his menacing aura and his strong disposition.
---
8) Erza Scarlet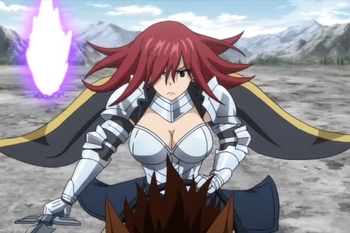 Anime: Fairy Tail 
Voice Actor: Sayaka Ohara
A member of Team Natsu and a powerful Spatial Magic user, she is strict and has a very demanding personality. She also has one of the best portrayals of a great sense of justice in the series.
Erza is an emotional character who grows stronger to protect her friends and hide her real personality. Sayaka Ohara showcased this character and highlighted all of her attributes with her deep voice.
Ezra's portrayal made an ever-lasting impact on fans of the series and made her a fan-favorite character.
---
9) Edogawa Ranpo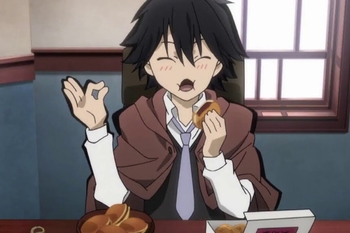 Anime: Bungo Stray Dogs
Voice Actor: Hiroshi Kamiya
One of the most intriguing characters and personality traits in Bungo Stray Dogs, Ranpo has a full-fledged detective personality in short. He is witty, calculative, and a man of great intellect, and his ability further enhances his perfected skills.
Ranpo is an extremely prideful character whose abilities justify his confidence and give him a strong demeanor. He can be both serious and comical, according to the situation.
Ranpo's extreme character traits have been measured and conveyed perfectly by Hiroshi Kamiya's strong and deep voice. This is one of the best additions for a character, on top of Ranpo being a fan favorite.
---
10) Jolyne Cujoh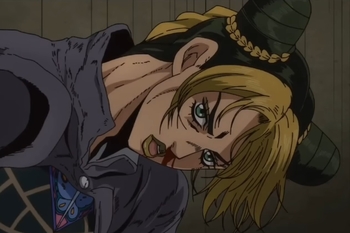 Anime: Jojo's Bizarre Adventure Part 6: Stone Ocean
Voice Actor: Ai Farouz
Coming up to another powerful Jojo protagonist, we have the strong and beautiful female protagonist from Stone Ocean with a strong attitude and is a sedulous person.
Her voice actor was the perfect addition to all of her traits, and Ai Farouz did a marvelous job at making an impact with this character with her deep voice. She also has a bonus of a witty and quick-thinking nature that fortifies her strong personality.
---
11) Shigure Sohma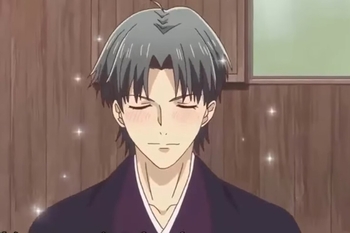 Anime: Fruits Basket
Voice Actor: Yuichi Nakamura
A sly, cunning as well as a witty character, the deep voice suits the perfect person who does all the cunning schemes behind the scenes. Initially coming off as a harmless and comical character, Shigure is an example of how appearances can be deceiving.
Yuichi Nakamura, a prolific voice actor, who had a lot of good roles under his bag, created a certain magic for this character with his voice. He added a certain depth to this character, portraying all of his hidden natures perfectly and captivating the audience.
---
12) Himeko Inaba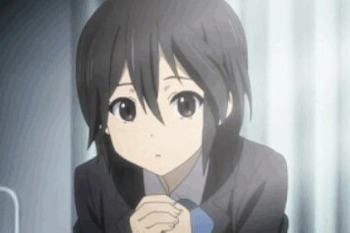 Anime: Kokoro Connect
Voice Actor: Miyuki Sawashiro
Giving another extraordinary performance for the main character in this series, Miyuki Sawashiro does well to portray a short-tempered and arrogant attitude for a character.
Himeko is a rough girl-boss kind of character and is one of the most relatable in the series due to her issues. She also hides out her true feelings about anyone and keeps a fake personality to deceive everyone.
This realistic portrayal of her character, backed up by a deep voice, was a perfect addition to her character traits.
---
13) Obito Uchiha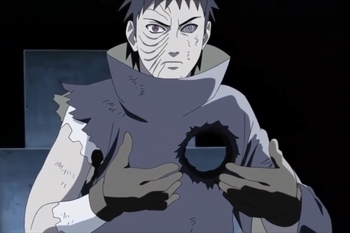 Anime: Naruto Shippuden (English dub)
Voice Actor: Michael Yurchak
One of the best deep voices for an English dub, Obito has a voice rivaling that of his Japanese voice, which was already perfect. Obito is a complex and heartbroken character with a perfect portrayal.
Obito is a character that has both weak and strong attributes, and it was showcased perfectly with his deep voice in the English dub. His portrayal garnered a lot of praise from the fans of the series.
---
14) Levi Ackerman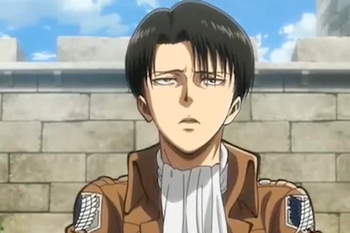 Anime: Attack on Titan 
Voice Actor: Hiroshi Kamiya
Another perfect portrayal by the famous Hiroshi Kamiya we have another strong person with a deep voice that shows off his superiority. Levi is humanity's strongest soldier, and his words, as well as his actions, prove everything about him.
A deadly opponent in battle, who can almost kill any titan, also has his way with words with his deep and commanding voice. His voice speaks a lot about how demanding, strong and cold personality he has.
---
15) Sir Crocodile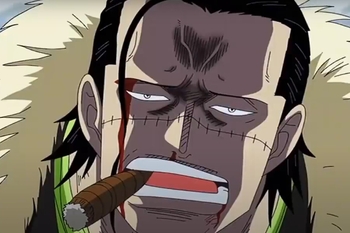 Anime: One Piece
Voice Actor: Ryuzaburo Otomo
Another famous voice actor, this time, we have a villain turned anti-hero from the beloved One Piece franchise. Sir Crocodile was a fan-favorite villain, and his character was loved even after becoming an anti-hero.
A strong character who defeated Luffy on a couple of occasions, he is a sadistic character with a high ego and pride. He is still considered one of the best One Piece villains because of his nature and his deep, assertive voice.
Here, we will conclude our article on the top 15 Anime Characters with Deep Voices. There are still a lot more characters out there with deep voices, but these characters have made a big impact, and we cannot imagine any one of them with a different voice.
---
Do small things with great love.
Follow us on Twitter for more post updates.
Also Read: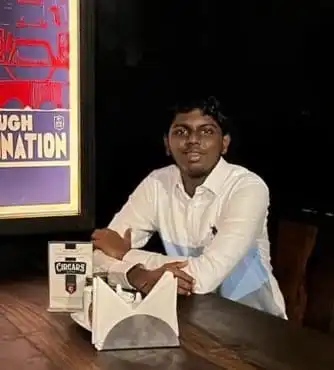 Eswar Keshav is an ardent anime fan for more than a decade. Along with this, he also has been following anime and manga updates for years. He is also enthusiastic and passionate when it comes to writing about his favorite things. Combining his love for writing and his love for anime and manga, his articles speak of his love for the genre.