Boruto Two Blue Vortex Chapter 2 has more hype surrounding it because of the return of Boruto after the time skip. We are interested to see what abilities Naruto has now achieved in these four years. 
On top of this, he also got a considerable design and look change. Boruto now looks more mature, and it also looks like he has better control over his Otsutsuki abilities. Code and Kawaki have also leveled up quite a bit, and we are getting a few answers to some mysteries in the last chapter. 
Boruto Two Blue Vortex Chapter 2 Spoilers & Raw Scans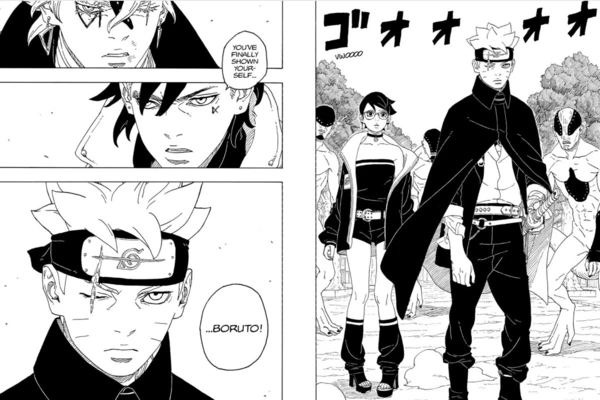 ome of the spoilers for this Chapter have been released, which might hint at a bad ending for one of the favorite characters of the series. Sasuke still needs to be seen, which can be a concerning factor. 
The Chapter starts with Boruto's conversation, as Code didn't expect to find Boruto this easily. 

Boruto says he will spare Code's life if he withdraws all his monsters from Konoha. 

Code talks about the past and says Boruto ran away from him two years ago without doing anything. 

Boruto says he won't get away with a left eye this time and threatens Code.
He asks Sarada to take care of the other people and asks her to leave this matter to him. 

The scene shifts to Shikadai and Cho-Cho trying to care for Code's minions. 

Himawari also enters into the battle, and Kawaki also comes rushing. 
Shikadai says that these guys are superior to the other Claw Grimes. 

They keep on regenerating and multiplying after they are destroyed. 

Kawaki says he will take care of all of them, no matter what. 

Boruto also starts fighting against these newer and upgraded Claw Grimes. 

This battle continues for a few pages until Boruto kills all surrounding Code. 

Code still thinks Boruto is bluffing and asks for Boruto not to get too cocky. 

Boruto says that Code needs to understand the full horrors of the Ten-Tails. 

Meanwhile, the scene shifts to Sarada quickly taking care of some of Code's minions using her abilities. 

Code says that he knows about Ten-Tails and says that it feeds on Otsutsukis. 

Boruto says this is true, but this Ten-Tails works oddly since Code added a few more transformations along the way. 

He asks for Code to dispose of them all before they head to the worst possible future. 
Code says that this is his true motive. 

Boruto changes his stance and says that he will let Code live in exchange for the location of the Ten-Tails. 

He thinks killing Code is easy and starts the fight by unleashing his Rasengan. 
Nah, this panel cold asf pic.twitter.com/tg0hdSRTlq

— 𝘽𝙤𝙧𝙪𝙋𝙖𝙧𝙠𝙚𝙧 🥷 (@BoruParker) September 15, 2023
Hol up, Boruto is the one that gave Code the scar?!

#BorutoTwoBlueVortexCh2spoilers pic.twitter.com/W17HkIsplQ

— 𝘽𝙤𝙧𝙪𝙋𝙖𝙧𝙠𝙚𝙧 🥷 (@BoruParker) September 15, 2023
Base Boruto slicing these claw grimes like it's nothing. Boruto has gotten ridiculously strong. The same claw grimes that caught a certain someone off guard pic.twitter.com/4hzNH3DGaF

— 𝘽𝙤𝙧𝙪𝙋𝙖𝙧𝙠𝙚𝙧 🥷 (@BoruParker) September 15, 2023
Talk yo shit Boruto. After living three years with the likes of Sasuke and Momoshiki there's no way he pulling a talk no jutsu. pic.twitter.com/1CiZjxKEre

— 𝘽𝙤𝙧𝙪𝙋𝙖𝙧𝙠𝙚𝙧 🥷 (@BoruParker) September 16, 2023
---
Boruto Two Blue Vortex Chapter 2 Release Date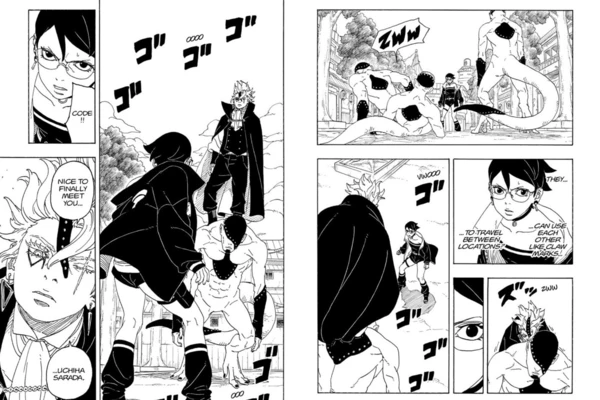 Boruto Two Blue Vortex Chapter 2 will be released in 5 more days. The release time, however, may change depending on your region. The Chapter should be released on September 20th, regardless. 
The raw scans and full spoilers for this Chapter are still being updated. We will update them once the full spoilers summary and translation are available on other platforms. 
These are all the fully confirmed spoilers and raw scans for Boruto Two Blue Vortex Chapter 2. Check out some other articles here while we update the spoilers corner. 
---
Do small things with great love.
Follow us on Twitter for more updates.
Also Read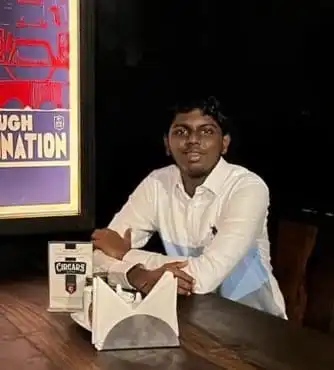 Eswar Keshav is an ardent anime fan for more than a decade. Along with this, he also has been following anime and manga updates for years. He is also enthusiastic and passionate when it comes to writing about his favorite things. Combining his love for writing and his love for anime and manga, his articles speak of his love for the genre.