The Hunter x Hunter series illustrated and written by Yoshihiro Togashi began in 1998. Since then it has gained a huge fanbase that awaits the good health of the author in hopes of a continuation. And since we're sure you miss it as much as we do, here's a list of the Top 10 Hottest Hunter x Hunter Female Characters Ranked.
With a total of over 140 episodes, it's safe to say that the character list seems unending. However, it's safe to say that the quality of the plot is consistent throughout. 
The series revolves around Gon Freecs, a young boy living in a magically realistic world. As the boy grows and decides to become a Hunter like his absentee father, he takes us on an adventure.
It has a beautifully crafted plot and a variety of characters with different powers spanned across interesting arcs. And so we hope you enjoy this article that lists the amazing Hunter x Hunter Female Characters.
Top 10 Hottest Hunter x Hunter Female Characters- 
10. Neon Nostrade (Hunter x Hunter) –
This blue-haired youngster is the sole daughter of the Nostrade family. Coated with childlike innocence she has the ability of Lovely Ghostwriter which allows her to predict the future through poems. 
Although spoiled by her immensely rich father, she is a sweet girl who cares deeply for family and friends. However, she does have a weird fascination with flesh collection and can be inconsiderate which lands her at number 10.
---
9. Spinner Clow (Hunter x Hunter) –
In the Chimera Ant Arc, this magenta-haired beauty was introduced as an associate of Kite and as a member of the Kakin Empire Wildlife Exploration Team. Often found chewing gum and with a camera at hand, she is seen as serious by most acquaintances. 
However, she is also immensely smart and caring and as an amateur hunter, is self-dependent. Another attractive quality of hers is that she can make difficult choices for the greater good with confidence.
---
8. Menchi (Hunter x Hunter) –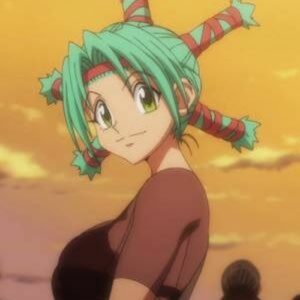 Menchi is a Single-Star Gourmet Hunter and was the examiner in the 287th Hunter Exam. She is characterized by turquoise hair that is held up in five top knots and green eyes. This character is one of the finest, physically fit, and independent Gourmet Hunters. 
While we knew her for a very short time, she displayed a picky attitude for which she apologized later. Further, she also helpfully demonstrated how to discover and collect ingredients from dangerous places as a part of the exam.
---
7. Gel (Hunter x Hunter) –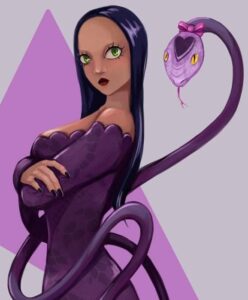 Gel is a member of the Hunters Association's Zodiacs. She is characterized by black hair and teal-blue eyes and is known to be a famous Poison Hunter. Due to her large eyes, her codename is Snake. 
Gel is not only confident in her abilities but also bold and reasonable. In times of conflict, she displays not only her knowledge in medicine but also makes others aware of risks. And it is her superior intellect and appeal that makes her worthy to be listed as one of the hottest Hunter x Hunter women.
---
6. Machi Komacine (Hunter x Hunter) –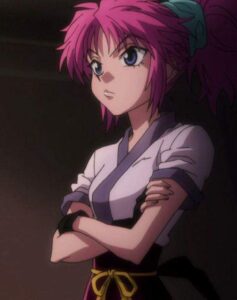 Machi is a member of the Phantom Troupe and is characterized by pink hair and blue eyes. She specializes in transmutation and can use Nen threads much like Hisoka's Bungee Gum. 
With her threads, she can practice multiple stitching abilities and even can stitch back severed body parts. Further, she is the 6th strongest woman in the Troupe and is especially known for loyalty, confidence, and sharp intuition.
---
5. Zazan (Hunter x Hunter) –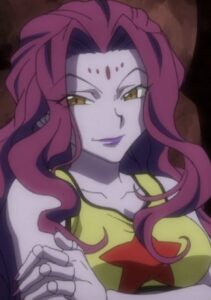 Zazan is a stunning product of the Chimera Ant Arc. She was a Squadron Leader who had the Nen ability to be a manipulator. Based on her pale purple appearance she was most probably of fusion of a scorpion and a Nen user. 
Although egocentric, vain, and power-hungry she is also smart and can easily convince people to follow her. However, she does get a little overconfident which ultimately leads to her downfall.
---
4. Baise (Hunter x Hunter) –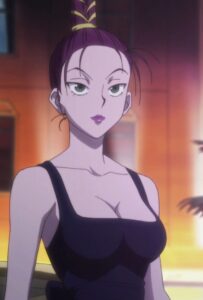 Originally met Baise through Kurapika as he was introduced to the Nostrade family. She is characterized by dark pink hair and green eyes and has the ability of Instant Lover. Being a Nen manipulator she can control anyone she kisses. 
However, the execution of her ability does tend to draw out her alluring dominatrix side that is laced with sadism. And she is not one of the stronger people as she can only control people when she kisses them without which she is rendered useless.
---
3. Cluck (Hunter x Hunter) –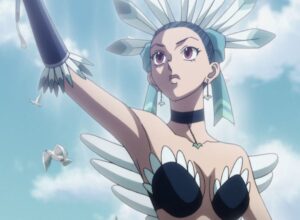 Cluck is a Botanical Hunter of the Hunter Association's Zodiacs. This pink-eyed beauty belongs to the flora and fauna team and has the codename Chicken. She is seen wearing feather-themed clothing that accentuates her slim body and complements her blue hair.
However, she is short-tempered, blunt, and bold which makes it difficult to handle when she disagrees with others. She is also considered powerful as she can control pigeons and possibly other birds.
---
2. Palm Siberia (Hunter x Hunter) –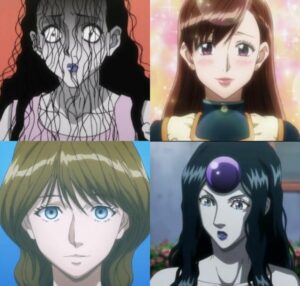 Palm originally started off as a young girl with brown hair and fuchsia eyes. She was introduced to us as an apprentice of Knov from the Hunters Association Chimera Ant Extermination Team.
Being extremely dedicated and hard-working she's persistent, loyal, and willing to go to great lengths to accomplish her goals. 
This was displayed when she snuck into the Chimera Ant base and sacrificed herself to help her comrades. Even after her transformation into a Chimera Ant, she was powerful enough to retain her intelligence and feelings that amplified her clairvoyance.
---
Hottest Hunter x Hunter Female Character
–
1. Shizuku Murasaki (Hunter x Hunter) –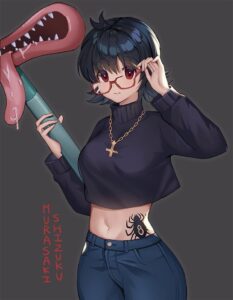 Shizuka is the eighth member of the Phantom Troupe and was introduced to us in the Greed Island Arc. She is a Conjurer and the 12 strongest in the Troupe. This petite curvy lady wears glasses and is characterized by a spider tattoo of the Troupe on her left midsection. 
Although mostly seen as calm and collected she can also be a little ditzy and forgetful. However, she is immensely loyal, agile and definitely gets the job done with Blinky her vacuum cleaner.
---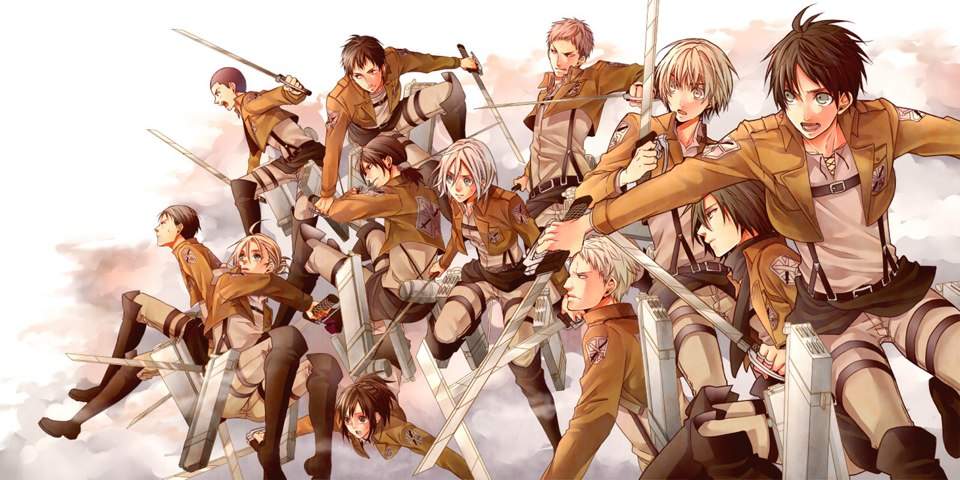 Must read- 20+ Best Attack on Titan Pick Up Lines (2021)
---
Well, this concludes our listing of the Top 10 Hottest Hunter x Hunter Female Characters Ranked. And if you're thinking that this article includes some of the most beautiful HunterxHunter women, we'll be glad to know that our goal is accomplished.
---
FAQ- 
Q1- Who is the prettiest girl in Hunter x Hunter?

Ans- Although opinions may differ, the title of the prettiest girl is passed between Machi, Shizuku, Kite, and Palm Siberia all of whom are mentioned in the above list.

Q2- Is Killua a girl?

Ans- No, Killua is not a girl. However, his character is voiced by a female voice actor.

Q3- Is Killua stronger than Gon?

Ans- Considering the amount of training and experience the Zoldyks have, it is obvious that Killua is much stronger than Gon. However, it is also important to note that Gon displayed growth in a very short time and therefore as the plot resumes we might be shown a different answer.

Q4- Who is Gon's mom?

Ans- Throughout the series, we haven't had many mentions of Gon's mother. The only time she was mentioned was when Gon possessed the tape passed onto him by Ging. However, he refused to find out the identity of his mother as he already had Mito.

Q5- How did a kite become a girl?

Ans- After Kite died in the Chimera Ant Arc, Kite's body was taken to the Queen Ant. Since he was absorbed and then rebirthed, his features and abilities are now seen in the Queen's child.
Well, we'll be back again with another article to hit you with a touch of nostalgia so until then stay safe, stay tuned, and stay hyped
---
Follow us on Twitter for more post-updates.
Also Read:
(2021) Top 15 Most Beautiful Seven Deadly Sins Girls Ranked

(2021) Top 20 Sexiest Naruto Characters: Female

(2021) Dr. Stone: Hottest Female Characters Ranked (Top 15)

Top 10 Cutest MHA Girl Characters: My Hero Academia

Top 15+ Sexiest One Piece Characters (Female)

(2021) Top 15 Best Yuri Anime of all Time: Girls' Love Anime

Top 20 Best Succubus Anime of all Time (2021)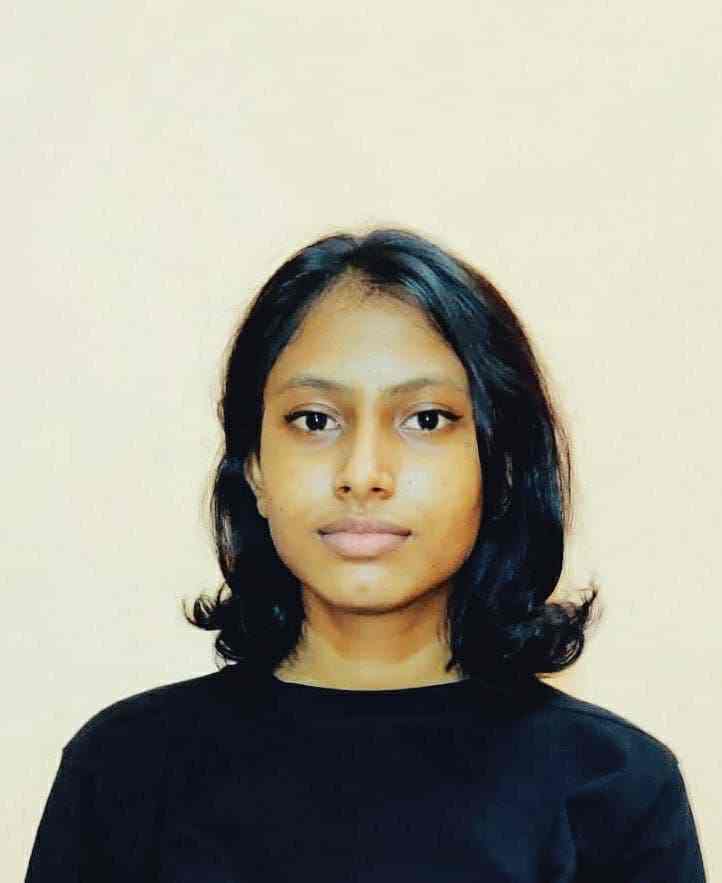 A simple wanderer in both actions and thoughts. Daydreaming is what they do best when they're not watching anime or obsessing over fictional characters. Open to all kinds of debates except those including ranking their love for their favourite fictional characters.