Halloween is literally a few weeks away, and so today, we bring to you the Top 10 Best Demon Slayer Halloween Costumes to Buy at the lowest price. The EzCosplay website, whose motto is "Everyone Can Cosplay," and with their size customizable cosplays, indeed make it happen.
In this article, we've notated for you some of the best, most recognizable cosplays on the website. The price range of most of them can go as low as around $9 to $200, depending on the type.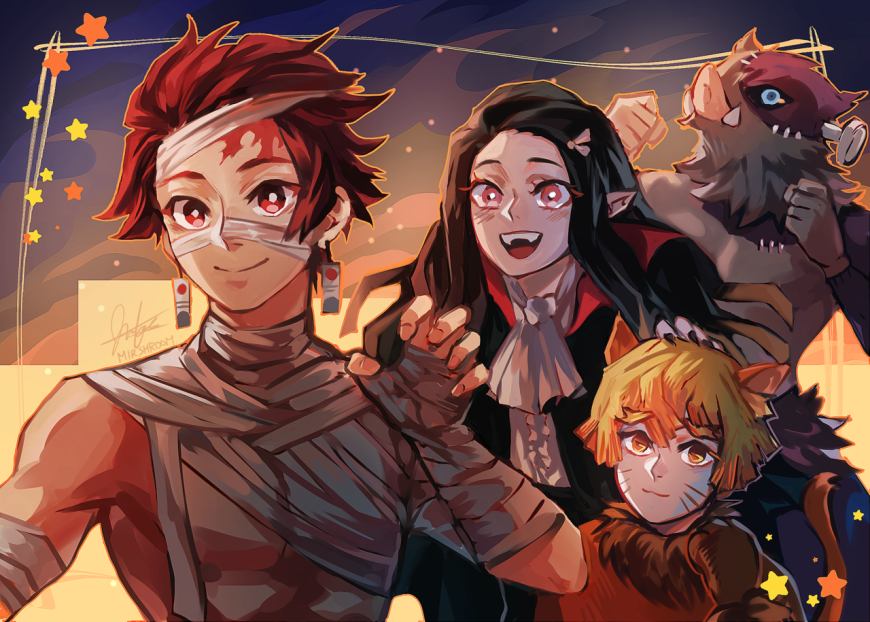 However, kindly note that all the cosplays are of high quality, comfortable, vibrant, and have multiple satisfied customer reviews. And since the cosplays are definitely made with care, they can be worn multiple times and are thus a great otaku investment.
So now, without any further ado, let's get into the Top 10 Best Demon Slayer Halloween Costumes to Buy at the lowest price.
Note- Due to heavy traffic on the store, it will take time to open. Therefore, kindly wait at least 30 seconds to open the site.
Top 10 Best Demon Slayer Halloween Costumes – 
10. Rengoku Kyoujurou Cosplay –   
BUY NOW
This Rengoku cosplay costume is made of polyester and thus is exceptionally light. Most reviews mention that the colors used are vibrant and do not fade. Further, if you plan on going trick-or-treating in this cosplay, feel reassured to know that it is elementary to move in. Lastly, this Halloween Demon Slayer costume can also be matched with a wig from the same website.
---
9. Obanai Iguro White Cosplay –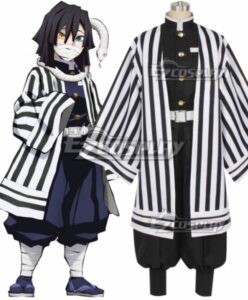 BUY NOW
The Black & White Obanai Iguro cosplay consists of 5 parts that are even customizable with a little extra payment. Most other similar cosplays for sale sell each part as separate clothes on other websites.
Thus buying the entire thing here makes it easier and even saves you the trouble of having to search. Being made of polyester, it also allows free movement, which is perfect for Demon Slayer fans.
Lastly, each of the five parts can be added to your daily wardrobe. Especially the inner black uniform, which is common among other anime like Jujutsu Kaisen and Tokyo Revengers, can be used for their cosplay.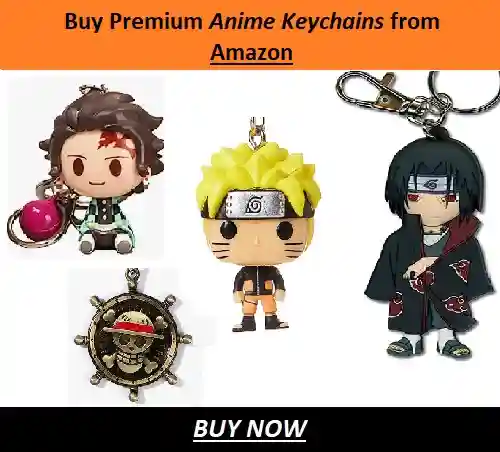 ---
8. Kamado Tanjirou Cosplay – 
BUY NOW
The Tanjiro Demon Slayer Halloween Costume is one that is undoubtedly widely seen and in high demand. Thus if you're looking to cosplay as Tanjiro, it's best if you get shopping asap.
In fact, this costume, unlike most others, also includes the required leg wraps. Thus this vibrant costume, in particular, is sure to grant a proper experience.
---
7. Agatsuma Zenitsu Cosplay –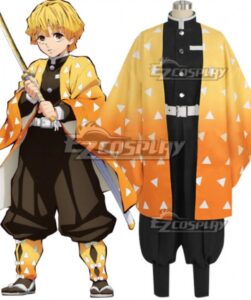 BUY NOW
The Zenitsu cosplay has a rich bright yellow that is sure to be an eye-catcher. If you've practiced all of Zenitsu's moves for this Halloween, you're sure to be pleased.
This is because the polyester material and the costume design grant free movement and allow you to be as active as you wish.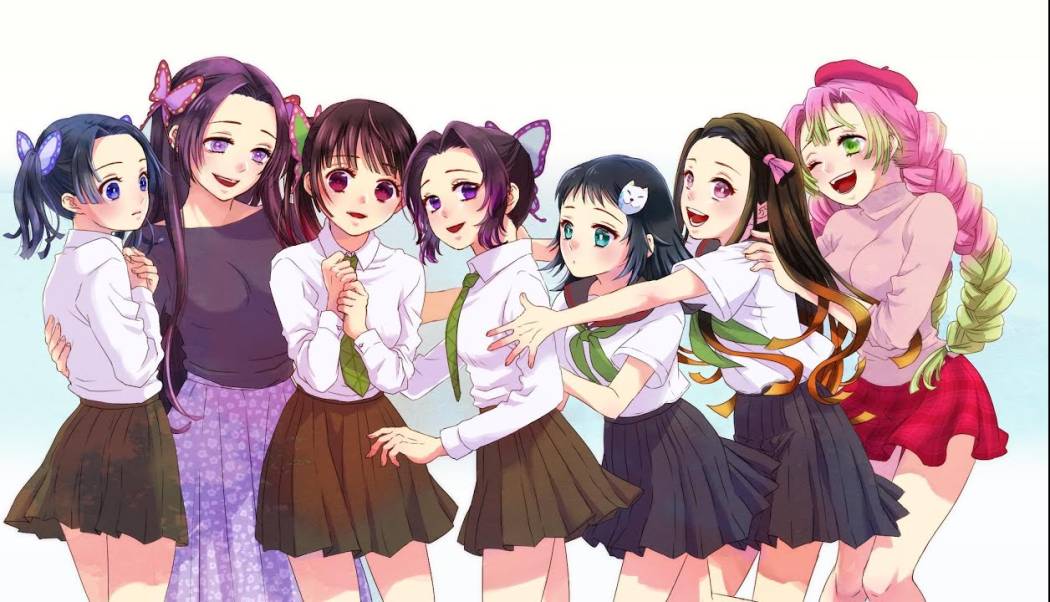 Also Read – (2021) Top 10 Cute Demon Slayer Girls Ranked
---
6. Giyuu Tomioka Cosplay –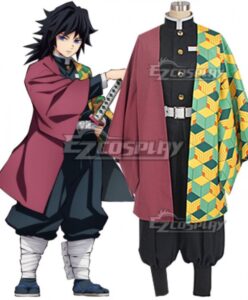 BUY NOW
If you're a fan of the Water Hashira, you've got to get this Giyuu Tomioka cosplay costume. According to reviews, this costume stays true to the color scheme of the Demon Slayer series.
And since you also get the clothing detached, you can even use the same base and only change the outer coat for other Hashira cosplays. Thus, this purchase will save you money and ensure that you make the utmost use of it.
And if you're really dedicated to it, you can even purchase the Giyuu wig and katana prop from the same website.
---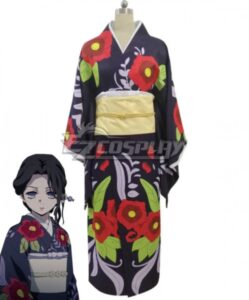 BUY NOW
If you've watched the Demon Slayer anime, one glance at this cosplay will tell you that it's a really close copy of Tamayo's clothes. Thus, you can easily flaunt this Kimetsu no Yaiba Halloween costume with all your otaku friends. 
The above-displayed costume is made of satin and consists of two parts: the kimono and the waist cummerbund. 
---
4. Nezuko Kamado Cosplay –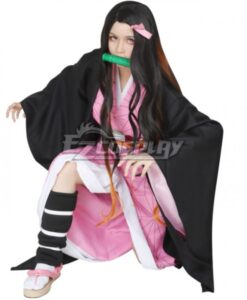 BUY NOW
This Nezuko cosplay costume is sure to make an adorable Nezuko cosplay. The entire costume is made of polyester and has a total of 8 separate clothing. 
Thus it stays true to the animation, right from the bright pink kimono to the pretty toe socks. Although the price here is a little higher, the care put into each of the cosplays is showcased brilliantly. 
---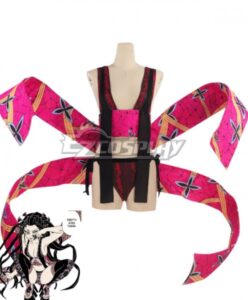 BUY NOW
Daki's cosplay costume is one of the few that actually stays true to the Demon Slayer series. This Halloween Demon Slayer costume is made of polyester and, as seen, has vibrant colors.
The sashes can be supported by thin wires inside them, which keep them upright and thus make the cosplay look more appealing. While other sites do offer the same cosplay, this website only includes the thigh-high socks in the package.
Further, you can even use the same base, the top and bottom, and re-vamp it and create a Kill la Kill cosplay.
---
2. Gyomei Himejima Cosplay –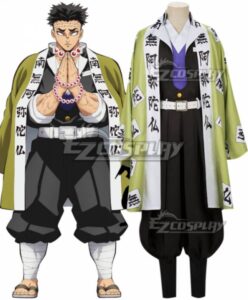 BUY NOW
The Himejima cosplay, as shown, is an exact copy of the actual clothes in the series. The fabric used here is polyester and thus is fade-proof and lightweight.
Further, the reviews mention that fans can order the cosplay in any size since the cosplay is customizable and made per order.
---
1. Shinobu Kochou Cosplay –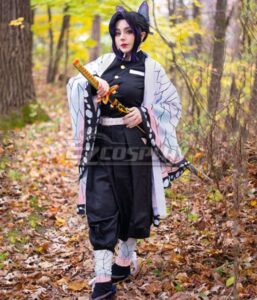 BUY NOW
The reason why this Halloween Demon Slayer costume ranks number one is that it is the most visually appealing one. The Shinobu coat is well-detailed and also has the same shine as the original due to the polyester material.
The order, once placed, will be received within 7-8 days. Lastly, the customizable size makes it an incredibly comfortable cosplay, and this is displayed clearly in the reviews.
And if you're dedicated to this cosplay, you can purchase the Shinobu wig, headgear, footwear, and the katana.
---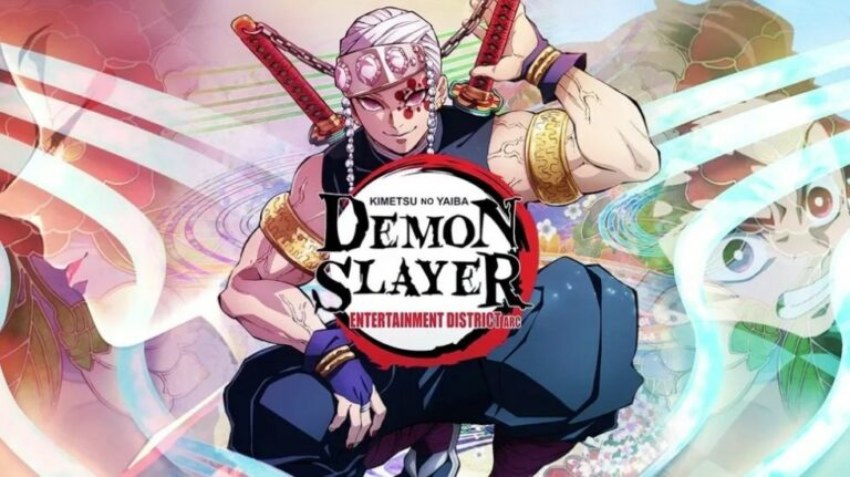 Must Read – (2021) How to Watch Demon Slayer Season 2 For Free?
---
Special Mentions – 
While we all love cosplays, especially this Halloween season, we also love minimum effort. And so, here we've noted for you a few cosplays that require minimum effort and will take just a few minutes to get into. 
1. Kanroji Mitsuri Pink Green Cosplay Wig –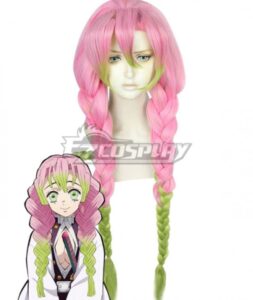 BUY NOW
Just by looking at the wig, you can tell that Mitsuri's matcha blossom hair is recognizable by anyone. To complete the cosplay, all you would need is a solid black deep-neck shirt and a black tennis skirt.
If you wish to take the cosplay a step forward, you can just pull on a white lab coat and adjust the rest as you please.
---
2. Kamado Tanjirou Three Tattoo Stickers –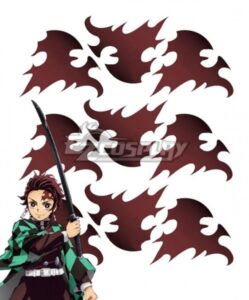 BUY NOW
This tattoo pack has a total of three tattoos in it, which makes for a fun group cosplay. Further, since the Demon Slayer Mark is well-known, you can pick cosplaying between Yoriichi, Kokushibo, and Tanjiro.
The only difference between them is the placement of the tattoos. So if you pair the Kokushibo or Yorichii cosplay with a dark-colored base kimono, you're all set for the day.
---
3. Inosuke Hashibira the Boar Head Mask Cosplay –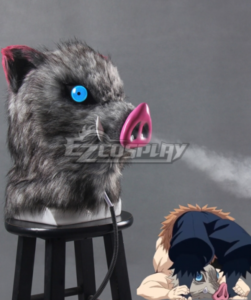 BUY NOW
This cosplay is literally the definition of minimal effort, high success. All you need to do is wear the head mask and pair it with literally anything you want.
Your choice of clothing will not matter as the main focus will be your head, thus making it one of the best Kimetsu no Yaiba Halloween costumes.
With this, we conclude with our article on the Top 10 Best Demon Slayer Halloween Costumes to Buy at the lowest price. We wish you a very Happy Halloween in advance and hope you have a spooky, fun time with your cosplays.
Do be sure to stay safe, tuned, and hyped for our upcoming articles that'll surely be of help.
---
Do small things with great love.
Follow us on Twitter for more post updates.
Also Read-
(2021) Top 15 Strongest Demon Slayers in Corps Ranked

Power of Tengen Uzui (Sound Hashira) in Demon Slayer 2021

(2021) Power of Tanjiro Kamado in Demon Slayer Explained

History of Sun Breathing Technique (Demon Slayer) Explained

(2021) Top 20 Strongest Demon Slayer Characters Ranked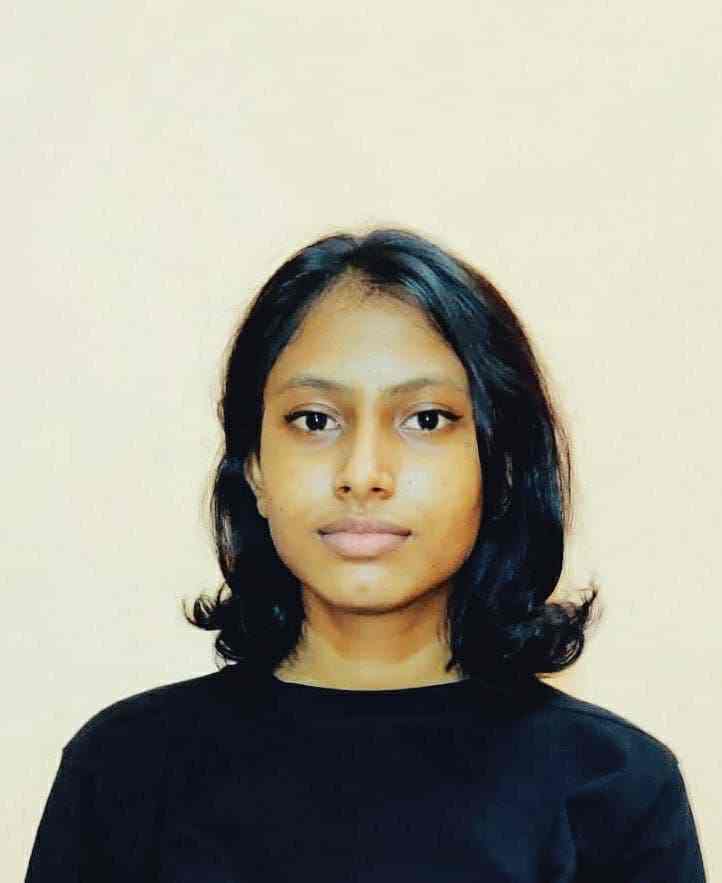 A simple wanderer in both actions and thoughts. Daydreaming is what they do best when they're not watching anime or obsessing over fictional characters. Open to all kinds of debates except those including ranking their love for their favourite fictional characters.