Sports anime have the best-written plots and intriguing characters. Not only do these characters have compelling backstories but also a motivating goal that seems impossible at first. But, their need to be the best at sports and their unwavering determination make it seem very achievable in the end.
If you are looking for any good sports anime to watch on Netflix, then you have come to the right place. We have compiled a list of the Top 15 Best Sports Anime on Netflix 2022. However, keep in mind that the ranking is based on MyAnimeList.
---
Must Read- Top 10 Best Sports Anime on Hulu 2021 Ranked
---
Top 15 Best Sports Anime on Netflix-
MAL Ratings- 

7.06



Studio- 

Madhouse, TMS Entertainment



Number of Episodes- 25

Availability- Netflix (France)
Both Kenji Gion and Sumiaki Iwashimizu, first-year high school students at Kanagawa High School, get an invitation to watch a rugby match after the school's opening ceremony. To Kenji, rugby turned out to be a sport where anyone can excel at it when they hold the ball. He immediately signs up for it because he's convinced that his short stature doesn't matter.
However, when the tall and timid Iwashimizu declines, Kenji forcefully makes him sign up for the sport. Soon, they find themselves training hard for the national high school rugby championships, Hanazono.
---
MAL Ratings- 7.30

Studio- 

Diomedéa



Number of Episodes- 50

Availability- Netflix (India, Pakistan)
Ever since Sora Kurumatani fell in love with basketball, his short height made him struggle. Despite this, he's determined to work hard to prove that he's capable.
Sora joins Kuzuryuu High School and enrolls in the basketball club in hopes of competing in tournaments. However, he's disappointed to find out that his teammates have no interest in the sports and put little effort into it.
But, Sora is determined. So, he challenges them into a match. Amazed by Sora's effort and impressive skills, the boys start to take the sport more seriously.
---
13) Captain Tsubasa: Season 1 –
MAL Ratings- 

7.31



Studio- 

Tsuchida Productions



Number of Episodes- 42

Availability - Netflix (Argentina, Costa Rica, Mexico, Panama)
Captain Tsubasa is a story of an 11-year-old who wants to represent Japan in the FIFA World Cup. Although soccer is just a game for the other kids, for Tsubasa Oozora, it was something that he loves.
Tsubasa embarks on a new journey when he moves to Nankatsu city. He finds that there is a great competition in soccer in Nankatsu. Thus, he is forced to hone his skills to step out of the crowd.
---
12) The Prince of Tennis –
MAL Ratings- 

7.55



Studio- 

 

Production I.G, M.S.C



Number of Episodes- 42

Availability- Netflix (Japan)
Ryoma Echizen receives an invitation to the Japan u – 17 tennis training camp. Despite being a middle schooler, He is a tennis prodigy and shows a play-to-win attitude. The competition is fierce between high schoolers and middle schoolers in the training camp to his delight. 
---
MAL Ratings- 7.63

Studio- OLM

Number of Episodes- 42

Availability- Netflix (Germany)
Raidmon Middle School's soccer club, Inazuma Eleven, was on the verge of disbandment when a cheerful goalkeeper, Mamoru Endou, took up the challenge of saving the old team.
Mamoru Endou is the grandson of Inazuma Eleven's first generation goalkeeper and captain of the team. Moreover, he is determined to restore the honor of Inazuma Eleven by defeating strong teams.
Mamoru Endou meets a talented player, Shuuya Gouenji, who has given up on soccer. Yet, Mamoru is determined to recruit him and the other players to save his club. Seems like his passion alone can't benefit the ailing club. However, with his determination and with the help of his friends, he might manage to fulfill his goal.
---
MAL Ratings- 

7.91



Studio- 

MAPPA



Number of Episodes- 12

Availability- Netflix (Japan)
Yuuri Katsuki, once known as Japan's promising figure skater, suffers a loss in his latest season. Victor Nikiforov, a five-time champion, offers to coach him. Yuuri accepts his offer readily as he's one of his biggest fans. However, the competition this season seems to be fiercer than before.
---
MAL Ratings- 

7.93



Studio- Gallop

Number of Episodes- 36

Availability- Netflix (Japan)
Kobayakawa Sena is an introverted high schooler who is constantly bullied. He was always an errand boy over the years. As a result, he developed insane speed and agility.
Hirumi Yoichi, captain of an American football team, The Devilbats, saves Sena when he witnesses the bullies picking on him. Coincidently, Hirumi was looking for a fast running back and took Sena in his team after seeing his incredible speed.
To prevent the other rival teams from recruiting him, Hiromi tries to hide Sena's identity. He enlists Sena as 'team secretary' and gives him a visored helmet that hides his face. Thus, his nickname was "Eyeshield 21."
The Devilbats will take part in an annual football tournament, Christmas Bowl. There, the team faces strong rivals but with their promising player 'Eyeshield 21'; there's a possibility that they might turn the matches in their favor.
---
MAL Ratings- 

7.96



Studio- 

TMS Entertainment



Number of Episodes- 38

Availability- Netflix (US)
A cheerful Otaku, Sakamichi Onoda looks forward to joining an anime club in his school. Unfortunately, he learns that it was disbanded. One day, he meets Shunsuke Imaizumi, who challenges him to a race. This is after Shunsuke notices Onoda's ability to climb a mountain even when his bicycle made it challenging to do so.
Shunsuke agrees to join the anime club if Onoda wins. This event unknowingly piques Onoda's interest in the world of Highschool Bicycle racing.
---
MAL Ratings- 

8.09



Studio- 

Production I.G



Number of Episodes- 25

Availability- Netflix (USA)

 
Kuroko no Basket is considered one of the best Netflix basketball anime out there. Each player in this anime displays terrific abilities in a match.
Thanks to their five exceptionally talented players, Teikou Junior High School's basketball team was always at the top. These players were known as "The Generation of Miracles." However, after graduation, they part their ways.
Taiga Kagami is a freshman at Seirin High School. He gets recruited into the basketball team, where he displays his unique skills to his teammates. Tetsuya Kuroko, who was also recruited into the team, seems to be a very ordinary player at first. However, his ability to move around unnoticed and pass around the ball surprises everyone. Interestingly, he previously played as the sixth phantom member in Teikou's basketball team.
---
MAL Ratings- 

8.24



Studio- 

Studio Hibari



Number of Episodes- 26

Availability- Netflix (Japan)
Gorou Honda held great admiration for his father, Shigeharu, who is a professional baseball player. After the death of his wife, Shigeharu is left with only baseball and his son, Gorou.
When an elbow accident forces Shigeru out of the team, he leaves his previous position as a pitcher. Instead, he takes up the role of a batter. Gorou is now even more motivated after seeing his father's hard work. As a result, Gorou works hard to get into the Japanese Little League.
---
MAL Ratings- 

8,40



Studio- 

SynergySP



Number of Episodes- 42

Availability- Netflix (Japan)
Even though their families are close friends, Kou Kitamura and Aoba Tsukishima always seem to be in disagreement. Aoba is a star baseball. Despite being an only child of the sports shop owner, Kou wasn't fond of the baseball game. However, Kou is exceptionally good at batting. Only a game of baseball might help them overcome their struggles.
---
MAL Ratings- 

8.41



Studio- 

Production I.G



Number of Episodes- 23

Availability- Netflix (Pakistan)
Kakeru Kurahara possesses exceptional talent in the running. He was a former ace runner back in his high school who lost his interest in the sports. One day, he is chased away from a convenience store after shoplifting. 
Haiji Kiyose, another student from his university, witnesses his incredible agility and speed and gets impressed by him. Haji tries to convince Kakeru and eight others into joining a ten-part run relay race – Hakone Ekiden.
---
MAL Ratings- 

8.46



Studio- 

Production I.G



Number of Episodes- 25

Availability- Netflix (Japan)
Haikyuu is undoubtedly one of the best Netflix volleyball anime and is very popular too. Every character has decent screen time and unbelievable development.
Hinata Shoyo was inspired by a volleyball player nicknamed 'little giant' in a championship played on TV. He decides to rekindle his middle school volleyball team. But, his team stood no chance against Kageyama Tobio, a prodigy from the rival team. Hinata vows to surpass Kageyama after his team's defeat.
However, he once again faces Kageyama when he enrolls in the Karasuno High Volleyball club. Turns out he belong to the same volleyball team. They surprisingly match well together and play on par against powerful volleyball rival teams.
---
MAL Ratings- 

8.53



Studio- 

Toei Animation



Number of Episodes- 101

Availability- Netflix (Japan)
Slam Dunk has to be one of the best sports anime on Netflix. Those who love basketball would enjoy this anime immensely.
Hanamichi Sakuragi of Shohoku High, grown to resent basketball. He desperately wishes to have a girlfriend and wants to break the record of being rejected 50 times in a row in middle school.
One day, a girl named Haruko Akagi asks him if he can do a 'slam dunk' when he admits he loves basketball to impress her. However, he doesn't manage to shoot the ball. Instead, he ends up slamming his head to the blackboard.  
Impressed by Hanamichi's extraordinary physical capabilities, Haruko tells the captain of the basketball team about him. Hanamichi ends up loving the sport he disliked in the first place.
---
1) Ping Pong The Animation –
MAL Ratings- 

8.62



Studio- Tatsunoko Productions

Number of Episodes- 11

Availability- Netflix (Japan)
Ping Pong The Animation might be one of the best sports anime on Netflix out there. Not only does it aim to give a realistic approach in sports, but it also has a unique animation. 
 Makota Tsukimoto and his childhood friend, Yutaka Hoshino, always played table tennis together. Both of them showed the promise of becoming capable players. However, Makoto, nicknamed Smile, shows little ambition. 
Unlike his friend Smile, Yukata, also known as Peco, is confident in himself and wants to become the best in table tennis. Despite the difference in their personalities, both friends share a mutual love for the sport.
If you can't seem to find an anime on Netflix from the above list, you can always use a VPN. What does a VPN do? Well, it changes the location of your region and allows you access to a country's show or movie. We hope you liked our article on the top 15 Best Sports Anime on Netflix 2022.
---
Do small things with great love.
Follow us on Twitter for more post-updates. 
Also Read –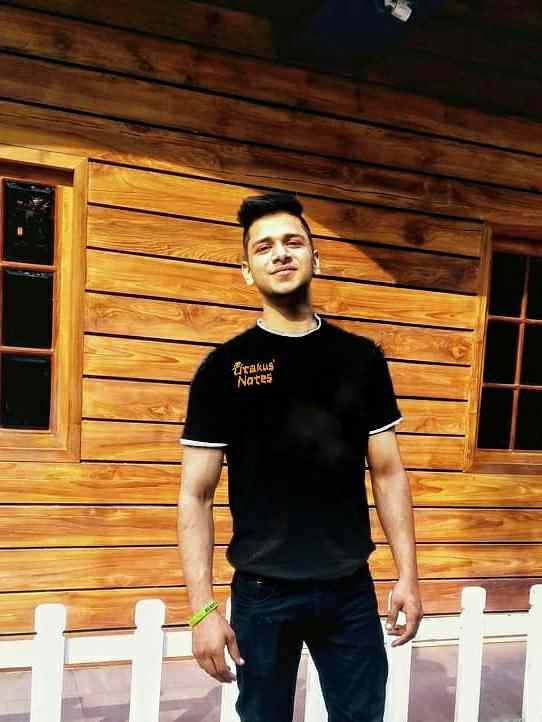 Sachin Kandwal is the newest member of the staff. And here in Otakus' Notes, he covers breaking stories of the Anime world. When he's not consuming content on Reddit, he can be seen exploring Bangalore city.