Last updated on January 4th, 2023 at 12:42 am
Note- This article is updated based on new knowledge.
The World of Anime is filled up with different genres ranging from Shonen, Shojo, Seinen, Isekai, Fantasy, and so on. Among them, one of the largest and most widely known genres is "Yuri or Shoujo-ai," which in fact is a Japanese term for describing intimate relationships between female characters.
Many might just assume that this form of media is just pretty much Hentai and disguised as love stories, full of dirty jokes and fanservice, and although some might fit all that descriptions, the whole genre is actually much more complex and beautiful.
Although being in a relationship with the same gender is still considered taboo in the Japanese culture. Yuri, In fact, for decades, have been pretty much showcased or portrait in the anime industry by young middle schoolers or high school girl.
And If you are a fanatic for dramas and complex relationships in your romance anime, then you might as well give Yuri a try. And just to make it easier for you on which one to start from, here are we have listed the Top 15 best Yuri Anime, or you can pronounce it as Girls' Love Anime. Also the ranking is done based on myanimelist ratings. 
---
Must Read- List of Upcoming Anime Series on Netflix (2022)
---
Top 15 Best Yuri Anime of all Time: Girls' Love Anime-
15) Netsuzou TRap –

Image Source: berserkionlv ( Pinterest)
MAL Rating– 5.36
Plot- The story is about two young high school girls who are childhood friends, Yuma Okazaki and Hotaru Mizushina. Finding herself her first new boyfriend, Yuma eventually turns up to Hotaru for relationship advice but ends up doing sensual experiments and developing feelings for each other. Perhaps they like each other more than their boyfriend, thus keeping their relationship a secret.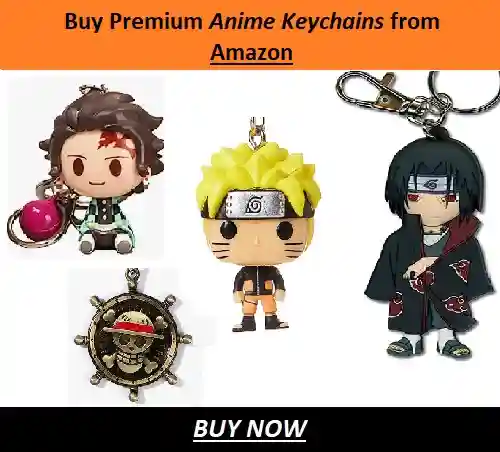 Total Number of Episodes- 12
---
14. Valkyrie Drive: Mermaid –

Image Source: IMDb
MAL Rating- 6.10 
Plot- Kidnapped and Drifted away Mamori Tokonome finds herself stranded and attacked on an exotic island of Mermaid. Luckily, an enigmatic new transfer student Mirei Shikishima saves her, however, the attacks don't stop and they find themselves being cornered. Just when they thought all hope is lost, Mirei takes the lead and kisses Mamori which in fact turns her into a sword unleashing her mermaid abilities giving them a chance to fight.
Total Number of Episodes- 12
---
13) Kämpfer –

Image Source: Aniflim
MAL Rating- 6.44
Plot- This whole story revolves around a Highschooler, Senou Natsuru who finds himself turned into a beautiful woman when he wakes up. A stuffed tiger, Harakiri Tora appears informing Natsuru that he was chosen to be a Kampfer and has to fight other Kampfers in this form using Swords or Magic. This whole turn of events becomes a living nightmare for Natsuru.
Total Number of Episodes- 12
---
12) Citrus –

Image Source: Crunchyroll
MAL Rating- 6.44
Plot- After her mother remarries, Yuzu Aihara is forced to transfer to an all-girls high school. Her dreams of experiencing love and getting a boyfriend don't come to be and being a fashionable socialite she finds it hard to fit in.
She catches the attention of the beautiful and imposing student council president, Mei Aihara who in the effort of confiscating her phone caress Yuzu body. Having a tough day at school, Yuzu goes home just to find out that Mei is her new stepsister. While clashing with Mei both in school and at home, Yuzu soon realises that her hatred for Mei is actually attraction.
Total Number of Episodes- 12
---
11) Otherside Picnic (Urasekai Picinic) –

Image Source: GeekNative ( Pinterest)
MAL Rating- 6.44
Plot- A faithful encounter on the "Otherside", Sarao Kamikoshi and Toriko Nishina find themselves fighting with dangerous beings like Kunekune and Hasshaku-sama that are spoken of only in ghost stories.
The "Otherside" is a vast and dangerous realm hidden from the knowledge of common folks. Friendship blossoms as they cross paths and to acquire more information about the other side, the two girls travel back and forth. For research, for-profit and to find an important person the two girls sets foot into the abnormal.
Total Number of Episodes- 12
---
Must Read- (2021) Top 50+ Cute Anime Girl Names
---
10) Inugami-san to Nekoyama-san –

Image Source: Soulreaperzone ( Pinterest)
MAL Rating- 6.56
Plot- The story revolves around two high school girls, Yachiyo Inugami a super masochist, air-headed cat-loving extrovert, and Suzu Nekoyama a timid shy tsundere who loves dog. Being attracted to their opposite personalities the two find themselves in an inexplicable relationship and quickly develops feelings for each other.
Total Number of Episodes- 12
---
9) Sakura Trick –

Image Source: Aminoapps
MAL Ranking- 7.01
Plot- This anime is about Haruka Takayama and Yuu Sonoda, who have been best friends since middle school and are now attending Misato West High school together. They are assigned to the same class in their first year but are given seats on the opposite side of the classroom, what even worst is that the school is getting shut down in three years but that doesn't bother them since they both plan on having lots of fun together during the high school years.
Haruka gets jealous of Yuu making new friends so the two decides to deepen their bonds by doing something that normal girls wouldn't. A kiss leads to another and they both realise that their relationship has changed completely.
Total Number of Episodes- 12
---
8) Sasameki Koto (Whispered Words) –

Image Source: whorezome ( Pinterest)
MAL Rating- 7.09
Plot- The story of this anime revolves around Murasame Sumika, a 15-year-old high school girl who is secretly in love with her best friend Kazama Ushio. Although Ushio also likes girls, Sumika just doesn't fit the bill and so the eccentric couple Tomoe Hachisuka and Miyako Taema who are from the same social groups tries to help them with their relationship problems.
Total Number of Episodes- 13
---
7) Sweet Blue Flowers (Aoi Hana) –

Image Source: TMDb
MAL Rating- 7.15
Plot- Being reunited after long 10 years, Fumi Manjoume and Akira Okudaira finally rekindle their childhood friendship at Matsuoka Girl's High School. Despite the reunion, they have to deal with their complex emotions and relationship.
Total Number of Episodes- 11
---
6) Adachi to Shimamura ( Adachi and Shimamura) –

Image Source: Anime-planet
MAL Rating- 7.17
Plot- This story revolves around two young high school girls, Sakura Adachi and Hougetsu Shimamura who stumbles upon each other on the second floor of the gymnasium. The two gradually fosters their friendship and becomes inseparable. When everything seems to be going well, one of them develops feeling for the other leading them to be closer to each other.
Total Number of Episodes- 12
---
5) Strawbery Panic –

Image Source: Anime-planet
MAL Rating- 7.30
Plot- Aoi Nagisa transfer to one of the three affiliated all-girl Catholic schools on Astra hills, St. Miator's Academy. Getting lost on her first day, she comes across a mysterious elegant beauty, Shizuma Hanazono who is also one of the Elites representing the Three Prestigious school. Both of them are later become friends and are confronted by hidden feelings for each other while experiencing their daily life in the academy.
Total Number of Episodes- 26
---
Must Read- (2021) Top 10 Hottest Female Characters in The God of High School Ranked
---
3) Maria-sama ga Miteru ( Maria Watch Over Us) –

Source: Nozomi entertainment
MAL Rating- 7.33
Plot- Yumi Fukuzawa entered a prestigious all-girls school in Tokyo, Lillian Girl's Academy where she meets Sachiko Ogasawara who is one of the most popular students in the Academy. Being A second-year student Sachiko offers Yumi to be her "souer or sister" and guide her through the years at the academy. Rumours start sprouting about the two of them leaving Yumi conflicted about her decision to accept Sachiko's offer.
Total Number of Episodes- 13
---
2) Yuru Yuri ( Yuru Yuri: Happy Go Lily) –

Source: animeonlinesubtv ( Pinterest)
MAL Rating- 7.59
Plot- The story of this anime revolves around four students, Akari, Yui, Kyouko and Chinatsu who forms the Amusement club whose main purpose is nothing but to entertain its members. While the student council tries its best to eliminate the club the four girls try to find ways to avoid it.
Total Number of Episodes- 12
---
1) Yagate Kimi Ni Naru (Bloom Into You) –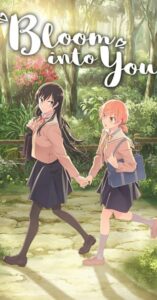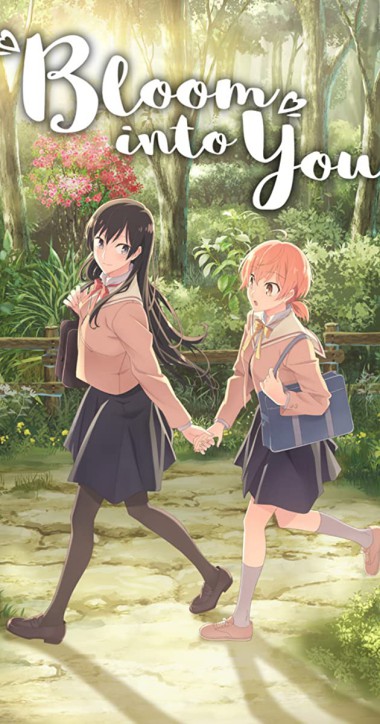 MAL Rating- 7.92
Plot- As a fan of Shoujo Manga, Yuu Koito wants to experience love in a way that getting confessed should feels explosive and sends her heart aflutter with blushes and yet when being confessed by one of her classmates she feels nothing.
Confused and unsure about her feelings Yuu encounters Touko Nanami, the flawless student council president and finds herself being drawn towards her and they slowly develop a relationship. Meanwhile, although Touko loves Yuu she is conflicted by issues of her feelings which needs to be resolve before their relationship goes any further.
Total Number of Episodes- 13
---
Related- (2021) Top 15 Best Yaoi Anime of all time Ranked
---
Special Mention-
Asagao to Kase-san ( Kase-san and Morning Glories) –
MAL Rating- 7.72
Plot- Asagao to Kase-san is a heartwarming tale between two girls, Yui Yamada and Tomoka Kase who starts dating each other. Yui is that shy kinda girl character whereas Tomoka is more of a tomboyish and carefree type.
Their journey includes the simple sweet and cute  Yuri relationship and despite all their indifference that they have, they both try to understand and support each other.
The OVA is an hour in length and doesn't cover the whole of the manga but they have highlighted the best moments from them. If you are into romance and wants a cute and sweet Yuri anime to watch with fewer side supporting characters, this one is definitely for you.
Total Number of Episodes-  1
---
MAL Ratings- 6.62
Plot- Akuma no Riddle or Riddle Story of Devil has a very interesting plot. The story revolves around a Tokaku Azuma who is recently transferred to a new school where she discovers that all of her batchmates are assigned a task to eliminate a sweet-natured girl named Haru Ichinose. The one who gets successful will be granted any wish, and the one who gets failed will be expelled from the Myoujou Academy.
But the twist comes when Tokaku Azuma starts to fall in love with her classmate Haru Ichinose. Now instead of eliminating, she decides to protect her from all batchmates. So, what will happen to Tokaku?
Total Number of Episodes- 12
And with this, we conclude our list for the Yuri anime of all time and although there is a lot of good anime in the Yuri genre, we have just handpicked some of the best ones and ranked them according to their ratings from MyAnimeList. You can also check out the platform and explore more from it, till then stay tuned.
---
Do small things with great love.
Follow us on Twitter for more post updates.
Also Read-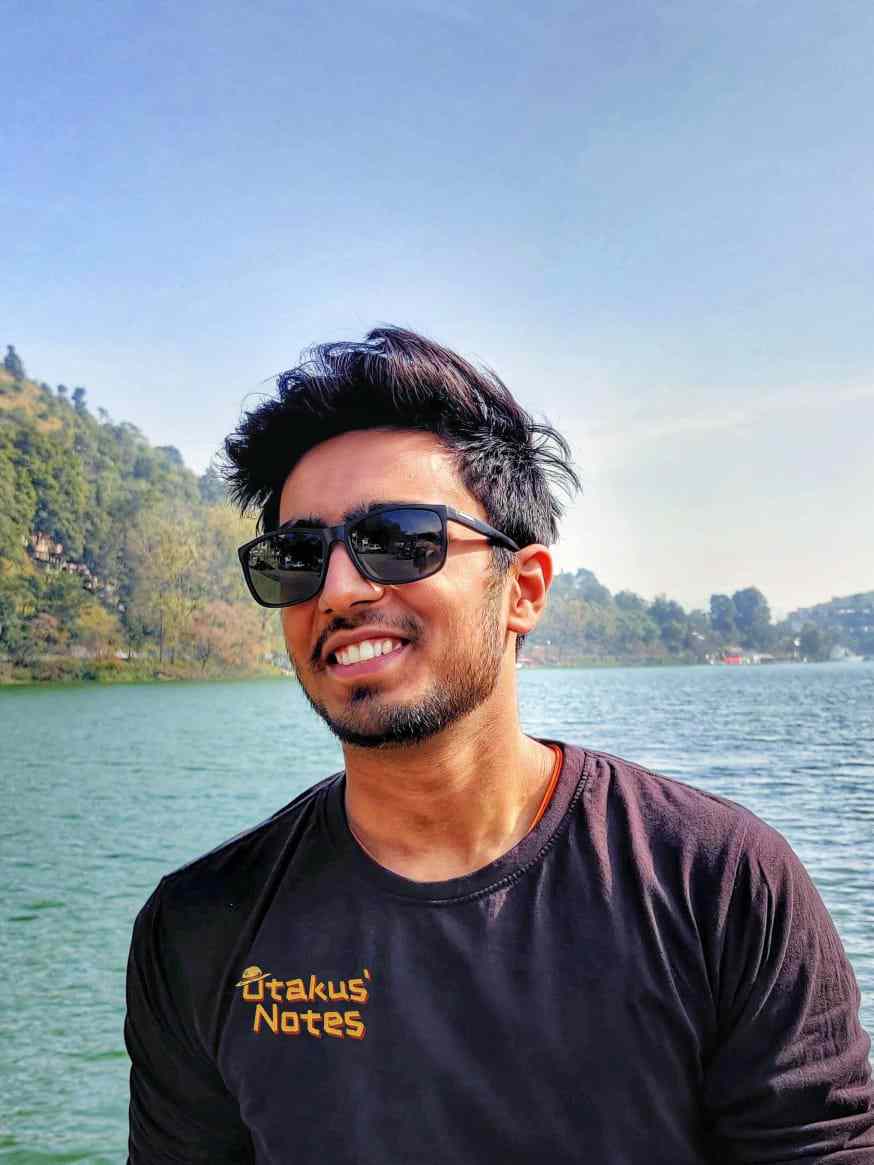 Engineering edified me dreams' propelling. And being an Otaku, a superlative dream of mine engulfs experiencing anime to its deepest quintessence and inditing my perspective towards it. Ultimately, anime blogging carved a path towards my desire and made me stand up to you.