For demons, their Blood Demon Art is their greatest strength, and it provides them with special abilities aside from the supernatural physical abilities they gain through becoming a demon.
The Blood Demon Art varies in every demon, giving them a variety of lethal abilities. The Blood Demon Art of Doma, the Upper Moon Two, is Cryokinesis and one of the deadliest in the series.
The Upper Moons are the strongest six members of the Twelve Kizuki, acting as major antagonists throughout the series. They are from one to six according to their power.
Doma is the Upper Moon Two demon, meaning he's the second strongest demon of the Twelve Kizuki, and the third strongest overall, right after Muzan Kibutsuji and Kokushibo.
In this article, we'll be discussing the Blood Demon Art of Doma: Cryokinesis. There are various techniques that Doma implements from this Blood Demon Art and we'll be talking about them all. But first, let's know all about the Upper Moon Two demon, Doma.
Who is Doma in Demon Slayer?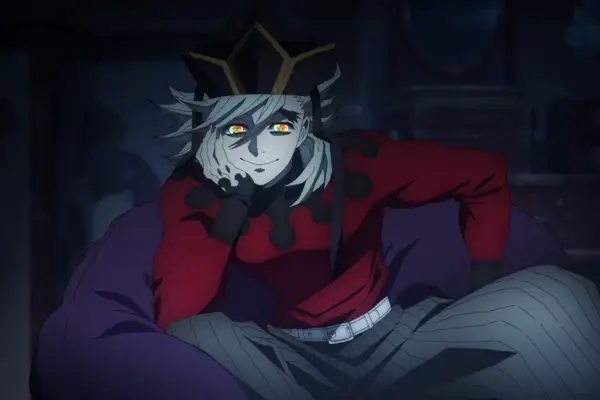 Name

Doma

Race

Demon

Human (former)

Age

More than 133 (chronologically)

20 (physically)

Eye Color

Rainbow

Hair Color

Platinum blond

Position

Upper Moon Two

Blood Demon Art

Cryokinesis

Strongest Demon

Third

Known Hashira Killed

Two

Likings

Eating young women

Shinobu Kocho
Doma, alongside his fellow Upper Moons, acts as a major antagonist in the Infinity Castle Arc. In this very arc, his past and his connection to some of the important characters are revealed.
His battles against the Insect Hashira, Shinobu Kocho, and then Kanao Tsuyuri and Inosuke Hashibira demonstrate exactly why he's ranked as the second strongest Upper Moon.
Two specific things that made Doma stand apart from his fellow demons are his charming way of speaking and his habit of eating only young women.
According to him, this is because young women are more nutritious since they are able to nurture babies in their bodies. 
More than a hundred years prior to the current timeline, when Doma was the Upper Moon Six, he met the dying Gyutaro and Daki, and turned them into demons.
Fifteen years ago, he took in Kotoha who stumbled upon his cult with an infant Inosuke. Doma later killed her, but she threw Inosuke into the water to save him before the demon could get to her.
Doma was also the demon who fought and ultimately killed Kanae Kocho, the former Flower Hashira and the sister of Shinobu Kocho. This led to Shinobu vowing to kill him in vengeance.
---
Doma Blood Demon Art: Cryokinesis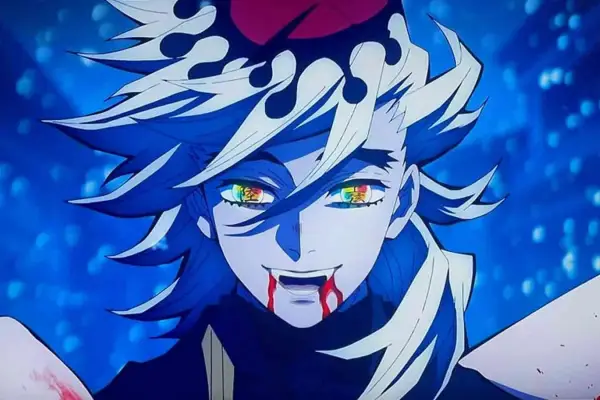 Doma's Blood Demon Art is Cryokinesis which gives him the ability to create and manipulate ice from his flesh and blood. He can manifest structures of ice all around and use them as weapons in battle through a number of techniques.
Not only is the various structures ice that he creates are dangerous but also the mere air blowing over it is lethal to everyone. 
Inhaling the air around the vicinity of Doma's Blood Demon Art makes the lungs of the inhaler freeze rapidly, leading to a ghastly death within a short period of time.
It's even colder than normal ice as just coming in contact with it causes Shinobu to feel as if her lungs would burst and almost freezes Kanao body at the barest contact.
While it's absolutely dangerous on its own, Doma increases its power through his Tessenjutsu that performs with a pair of war fans. The Upper Moon Two demon is very proficient in it, casually implementing intricate techniques with just a sweep of his fan.
The techniques Doma unleashes with his Blood Demon Art: Cryokinesis are the following:
---
Techniques
Lotus Ice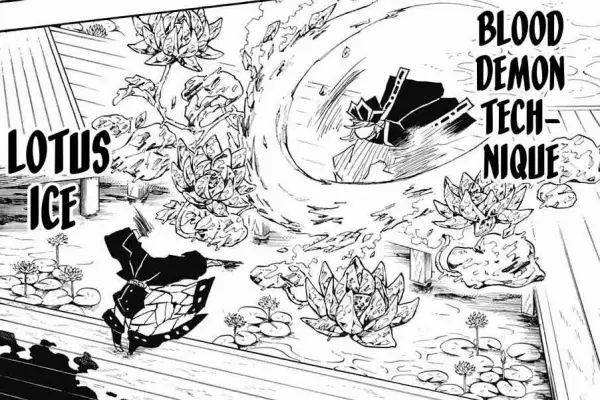 The first technique that we see Doma use with his Blood Demon Art. With this technique, a number of huge frozen lotuses manifest. Like his other techniques, Doma uses it by sweeping his war fan in the air.
---
Lotus Vines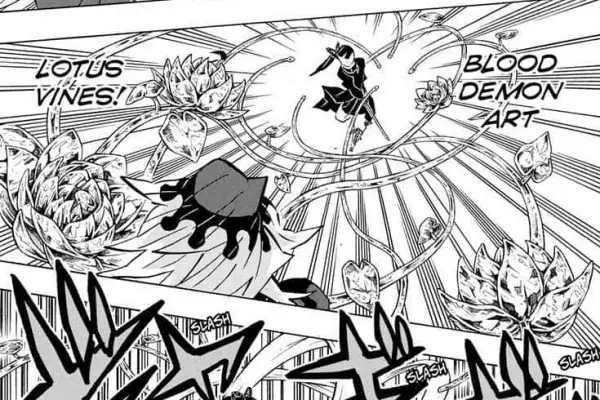 Lotus Vines is a technique similar to Lotus Ice. Here, huge ice lotuses appear, connected to each other through thin frozen vines. The vines can extend in length and reach towards the target. If caught, it can freeze the lungs and body of the target.
---
Freezing Clouds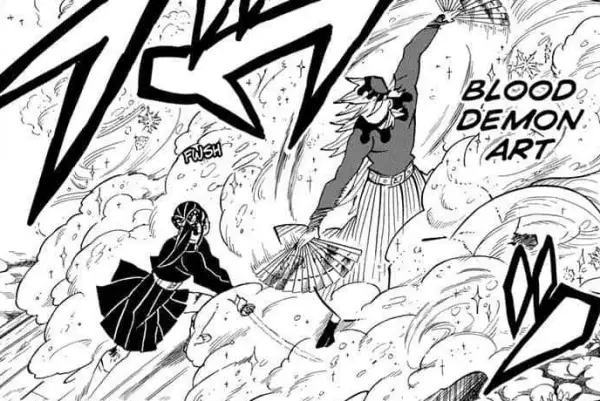 Just like the name implies, Freezing Clouds has Doma manifesting clouds that let out air chilly enough to freeze the lungs of anyone who inhales it. This technique brings the frozen air in such abundance that it's difficult to avoid.
---
Barren Hanging Garden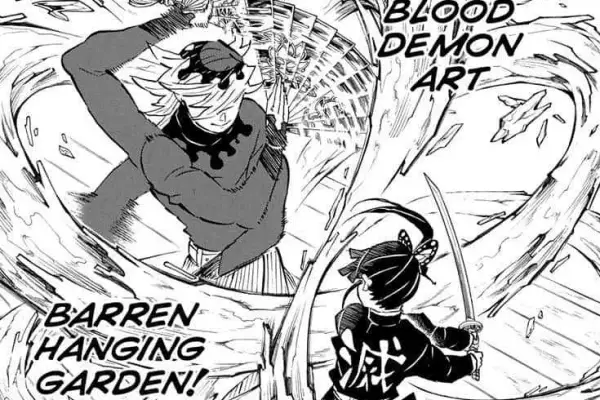 Unlike the other techniques, Barren Hanging Garden is a series of successive attacks, consisting of 8 to 10 sweeps of the war fan that generate sharp ice shards. When in contact, it can tear the target into pieces.
---
Cold White Princesses
This technique manifests two huge busts of women who blow deadly freezing air from their mouths. This is a long ranged attack and the air blown from the "princesses" will freeze anything it touches.
---
Winter Icicles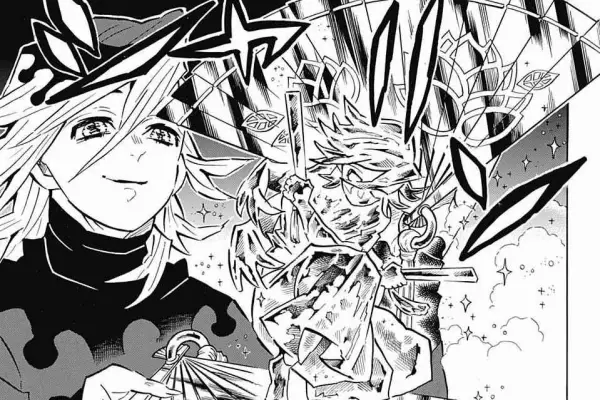 Winter Icicles creates a barrage of frozen icicles from each sweep of Doma's war fans.
---
Scattering Lotuses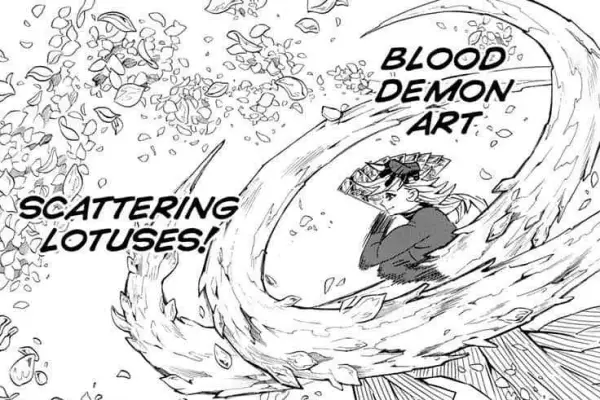 Despite how beautiful it appears, this technique is absolutely deadly. Doma sweeps his fan in the air to manifest a barrage of razor-sharp ice shards that look like the petals of lotus. 
---
Crystal Miko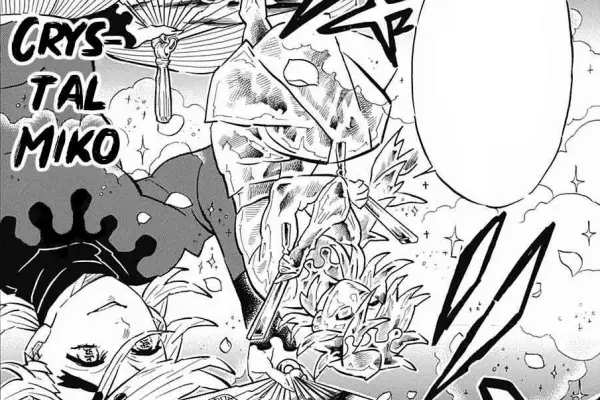 Arguably the most dangerous technique of Doma's Blood Demon Art, Crystal Miko has Doma creating small ice clones of himself from his fans.
The tiny clones can use his Blood Demon Art and perform all of its technique just like the real body. Doma can make quite a number of these clones effortlessly.
---
Hoar – Frost Lily Bodhisattva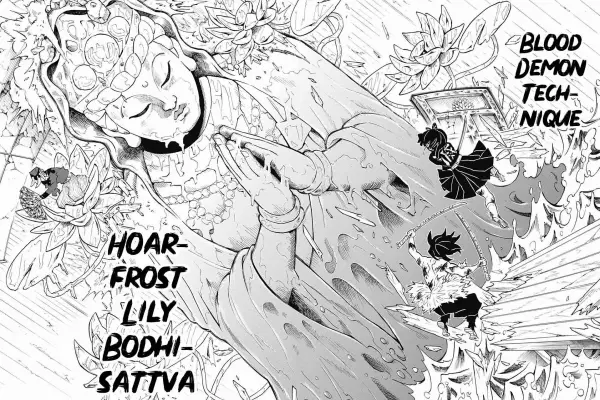 The last technique that Doma uses before he dies. In this technique, an enormous frozen Bodhisattva statue appears, surrounded by huge ice lotuses. The Bodhisattva statue lets out gusts of freezing air from its mouth and can attack or capture the target with its enormous hands.
---
Why Doma is So Powerful in Demon Slayer?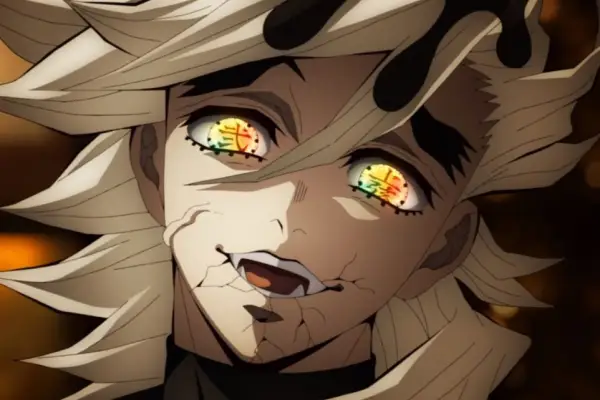 Being the Upper Moon Two demon, it's redundant to say that Doma is one of the most powerful characters in the series, having killed hundreds of demon slayers and at least two Hashira over the years.
He grabbed a spot for himself in Muzan's Twelve Kizuki relatively shortly after being turned into a demon. 
During the gathering of the Upper Moons, it's revealed that Akaza, the Upper Moon Three, was turned into a demon before Doma, yet the Upper Moon Two managed to outrank him in a short time.
He also confidently professes that there is no way Akaza can win against him, no matter how hard he tries.
It's difficult to determine how Doma is so powerful, but it might have something to do with both his natural talents and his diet.
According to him, young women are the most nutritious of all humans, and since his diet solely consists of young human women, he might get more nutrition and energy from them.
This is also the key difference between him and Akaza, and might explain why he's stronger than Akaza.
---
Conclusion
Doma and his Cryokinesis play a significant role and is the reason for the power-ups of two major characters. He's not only a strong character but also a very interesting one. Anime-only fans of Demon Slayers can look forward to seeing him in action in upcoming seasons.
---
Do small things with great love.
Follow us on Twitter for more post updates.
Also Read:
Anamika loves words and stories and putting them to pages. She also loves anime, manga, books, movies and everything fantasy. She has been a fan of anime since childhood and her admiration for it only grew with years. Her passion for writing is even more elevated by writing about the things she loves.