Last updated on October 18th, 2023 at 12:35 pm
After last week's break, the upcoming chapter of My Hero Academia is promised to bring about a storm as a fan-favorite character returns after many chapters of fans waiting and hoping. The spoilers for the chapter are out and we're not cruel enough to make you wait any longer. So, here are My Hero Academia Chapter 403 spoilers and release date.
My Hero Academia Chapter 403 Spoilers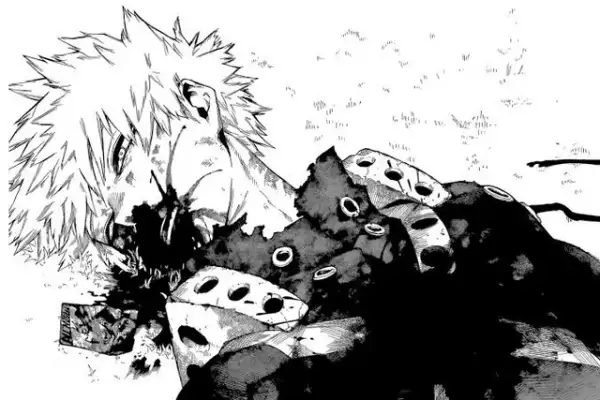 According to the spoilers, the title of My Hero Academia Chapter 403 is "The End of an Era and the Beginning." The chapter is the most hyped chapter in recent weeks as it not only puts All Might in a vulnerable position like never before but it also brings back a fan-favorite character after their fate being unclear for too many chapters.
My Hero Academia Chapter 403 starts with All Might's flashback of his time as a child. Back then, he used to love the Anpanman comics and wanted to be like his favorite Hero.
Back in the present, All For One has the upper hand with All Might terribly injured to fight. He destroys the gauntlets of the former No. 1 Hero and paralyzes him by using Stain's Quirk.

The Villain knows that cornered Heroes can be too dangerous, so he decides not to let his guard down.

After stabilizing U.A.'s floating, Gentle Criminal decides to help All Might but All For One shoots a laser in his direction, forcing him to remain with the school.
The pilots of the fighting jets also try to help All Might, not wanting to let the idol of Star and Stripe. But All For One easily shoots them down.

All Might is grabbed by All For One and his end seems near. People all over the world are watching the former Symbol of Peace about to be killed.

Just when all hope seems to be lost, a new figure enters the scene, clutching an All Might card in hand. Katsuki Bakugo is alive and about to join the fight!
The chapter ends here.
#MHASpoilers #MHA402 #MHA403
Me estáis diciendo que Yaoyorozu Momo se ha transformado en una máquina de guerra y sola se ha dado de hostias con miles de clones de Twice pero la pelea ha sido fuera de pantalla????
Jamás entenderé semejante ofensa pic.twitter.com/CcBUfx5JId

— AnimeVivi🦚🪶 (@AnimeNene_) October 5, 2023
This is a crazy page dawg sad asf #MHA402 pic.twitter.com/nqyKgyw9rV

— mcnugget meal (@antfunnyy) October 2, 2023
4/4

My Hero Academia 401

C'est bon comme d'habitude ! #MHA402 #MyHeroAcademia pic.twitter.com/m96JZF1PAV

— Jack The Jackal (@JackTheJackal1) October 8, 2023
---
My Hero Academia Chapter 403 Release Date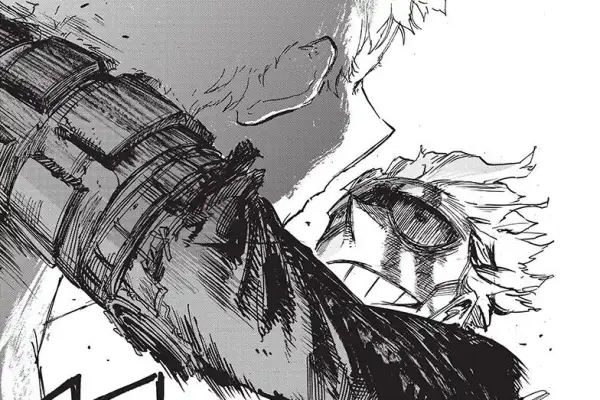 The much-awaited Chapter 403 of My Hero Academia will be released on Sunday, October 15, 2023. The chapter will be available on Manga Plus and Viz Media, two official platforms of Shueisha, from October 15 for free. 
Online readers will find that the exact time of the release of My Hero Academia Chapter 403 is different in different parts of the world, based on the time zones. If you're interested in getting the chapter the moment it is released, we advise you to check the schedule below to know the particular release time of the upcoming chapter:
Pacific Standard Time: 7 AM, Monday, October 15, 2023
Eastern Standard Time: 10 AM, Monday, October 15, 2023
Greenwich Mean Time: 3 PM, Monday, October 15, 2023
Central European Time: 4 PM, Monday, October 15, 2023
Indian Standard Time: 8.30 PM, Monday, October 15, 2023
Philippine Standard Time: 11 PM, Monday, October 15, 2023
Japanese Standard Time: 12 AM, Tuesday, October 16, 2023
Australia Central Standard Time: 12.30 AM, Tuesday, October 16, 2023
The spoilers report that there will be no break next week. So, Chapter 404 can be expected to be released on October 22, 2023. If there is any change to the schedule or if anything new comes up regarding My Hero Academia, you'll find the information on Otakus' Notes, so stay tuned with us.
---
Do small things with great love.
Follow us on Twitter for more post updates.
Also Read:
Anamika loves words and stories and putting them to pages. She also loves anime, manga, books, movies and everything fantasy. She has been a fan of anime since childhood and her admiration for it only grew with years. Her passion for writing is even more elevated by writing about the things she loves.