Chigiri Hyoma in Blue Lock is undoubtedly one of the most interesting side cast we have met till now. He has one of the most unique abilities in the whole series, which surpasses that of many others.
He gave a hard time to many opponents and defenders, due to his immense speed. We would also love to see Chigiri do a speed battle with Chris Prince, Noel Noa, or Julian Loki some other day in Blue Lock.
In this post, we will be talking about everything we know about Chigiri Hyoma in Blue Lock so far. Make sure to read this, to know more about one of the most liked and popular characters in Blue Lock.
Chigiri Hyoma in Blue Lock: Wiki 
| | |
| --- | --- |
| Japanese Name | 千切 豹馬 |
| Hair Color | Reddish-Pink |
| Eye Color | Pink |
| Archetype | Counterattacker |
| Position | Left Wing |
| Team | Manshine City |
Chigiri Hyoma was one of the initially introduced characters from Team Z, who achieved many feats during the series. From not revealing his skills to enhancing his abilities to the fullest, Chigiri slowly became one of the top players in Blue Lock.
He was also selected as the starting member of the Blue Lock eleven team. He even joined Manshine City, and played a match with Basterd Munchen, under Chris Prince's training.
Chigiri grew even stronger as a striker, after joining Manshine City and playing as a Left Wing. Thanks to Chris Prince and his training, he was able to devise a goal-scoring formula for himself.
---
History 
We all remember how Chigiri was reluctant to reveal his ability to the members of Team Z. He didn't reveal it for some of the major matches of Team Z, which might have turned out better for the team and Isagi.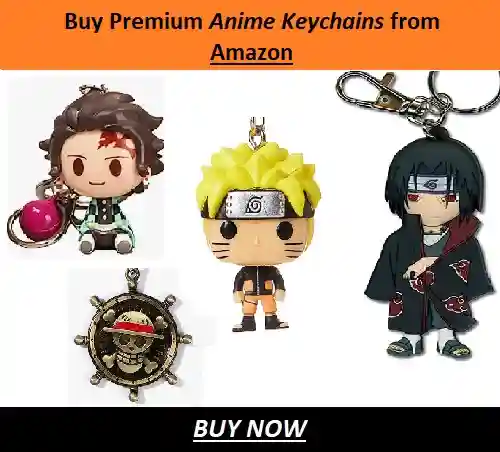 This is all due to his past. Chigiri Hyoma's ability and his play revolve around using his right leg, to accelerate at high speeds. This way, he can get rid of any opponent defenders.
His talent might be closer to Julian Loki, the Child Prodigy, Speedster as well as the Head Coach of the PxG team. But, one day, suddenly Chigiri tore through his ACL in his right leg in a match.
After an inspection, the doctor said that if this happens again, Chigiri will be unable to use his leg and also unable to play soccer. Due to this, Chigiri sealed his leg and became a low-level player.
After getting ridiculed by the Wanima Brothers, he completely lost sight of his future in soccer. The reason Chigiri joined Blue Lock, was also a reason to give up on his dreams.
But, after joining Blue Lock and meeting with Isagi he finally realized that he still loves to play soccer, despite his disability. This led Chigiri to realize his mission of becoming the world's best striker once again.
---
Stats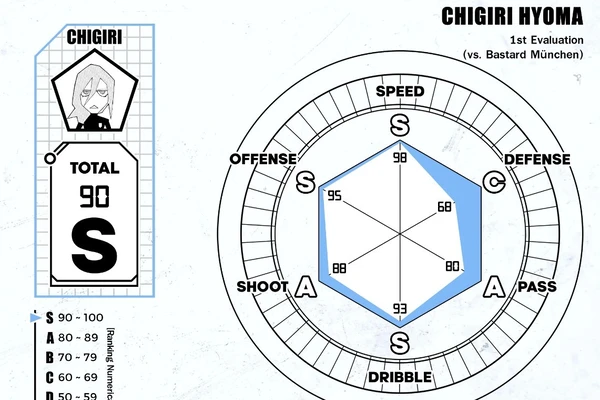 Chigiri had way better total stats, after joining Manshine City. He was successfully able to land in the S-Rank with 90 points. His best stats are his Speed, which has an almost perfect score of 98.
Talking about his other stats, he has an offense score of 95 and a dribbling ability of 93. His shooting ability is also pretty good, with a score of 88. His passing ability is also decent, with a score of 80.
Chigiri's defense is his worst skill, at 68 scores, since he is a striker. All of these stats make him one of the Top Strikers in Blue Lock, and the speed of Chigiri Hyoma in Blue Lock is the best.
Even Michael Kaiser had acknowledged his skill, as he wanted to crush Chigiri properly. Chigiri has even better stats in speed, even crossing Kaiser's score of 91.
Using his stats and goal-scoring formula, he beat Gagamaru's weapon and scored the opening goal in their game against Basterd Munchen.
---
Chigiri Hyoma's Skills and Abilities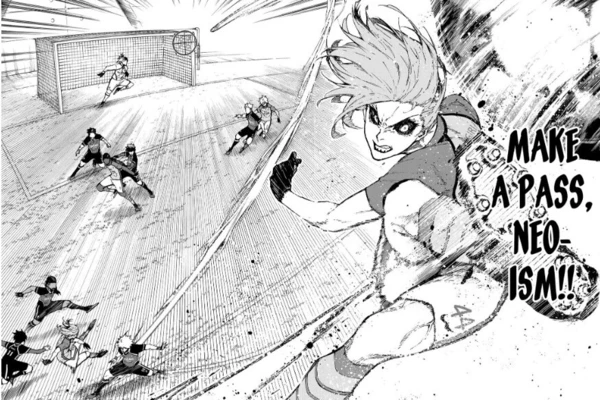 Controlled Shot, this is his best shot, which has almost 100% precision at the top left of the goal.
Mach Cut-In is his perfect ability, which does not drop his speed and gets past his opponents easily.
44 Panther Style, is a goal-scoring formula that he devised after training under Chris Prince.
With this, Chigiri has an ideal shooting zone, where he can score goals easily.
His stats with this are 44 degrees left, and 19m away from the goal.
With this distance, he surely can score a goal.
It is no exaggeration to say that Chigiri has the highest speed in Blue Lock.
No one in Blue Lock was able to beat Chigiri Hyoma in a speed contest.
Chigiri is mostly a Counterattacker, who uses his speed to beat defenders and create goal-scoring opportunities.
He can also run at incredible speed while holding possession of the ball.
---
Interesting Facts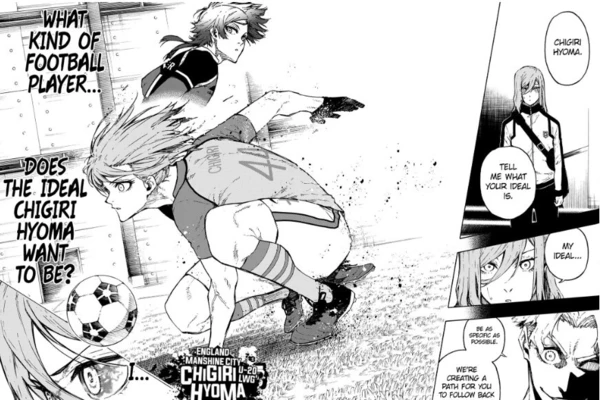 Chigiri always loves being praised for his skills and talents.
His favorite color is Purple-Red and his favorite animals are black cats.
Chigiri's ACL damage was in middle school.
His favorite player of all time is Eden Hazard.
He also has an Older Sister, who pretended to be Santa and send him gifts till he was 11 years.
Chigiri's favorite manga is Attack on Titan, and his favorite son is Blue Bird by Ikimono-Gadkari.
He first started playing football when he was 4, and that was when he discovered his love for the game.
His nickname Red Panther came after he was called that in a local newspaper.
---
Conclusion
This is everything we have on Chigiri Hyoma in Blue Lock. He leveled up as a player and a character many times in the series, to become a fan-favorite character.
Even against powerful opponents like Olivier Aiku, and Michael Kaiser, he still held his own and used his speed to get past everyone. There are little to no players in Blue Lock that can even match his speed.
Only players like Noel Noa, Chris Prince, World's Top 5 Strikers, and Julian Loki can rival and beat his speed. With this, we shall end our article on Chigiri Hyoma in Blue Lock. For more interesting content, read our other articles here.
---
Do small things with great love.
Follow us on Twitter for more post updates.
Also Read: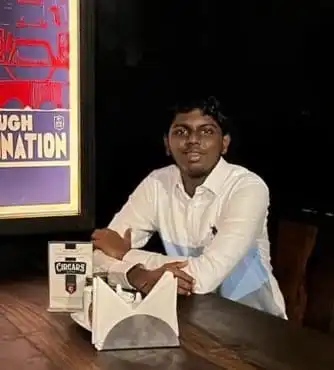 Eswar Keshav is an ardent anime fan for more than a decade. Along with this, he also has been following anime and manga updates for years. He is also enthusiastic and passionate when it comes to writing about his favorite things. Combining his love for writing and his love for anime and manga, his articles speak of his love for the genre.