Reo Mikage and Tabito Karasu were present in Blue Lock from the start, having a lot of time to polish their skills. Both of them seem to have settled on the Midfielder position. So, in a duel of Reo Mikage vs Tabito Karasu, who would win?
The answer might not be so easy to answer. One might say Tabito Karasu, after how he got the 3rd rank in Blue Lock after the Second selection. But, Reo Mikage has leveled up his game and can stand on equal terms.
For the short answer, we can say that Reo Mikage will be the victor in their duel. For the long explanation regarding who will win in a duel of Reo Mikage vs Tabito Karasu, keep reading.
Who is Reo Mikage in Blue Lock?
| | |
| --- | --- |
| Japanese Name | 御影 玲王 |
| Hair Color | Purple |
| Eye Color | Purple |
| Archetype | Utility Player |
| Position | Center Midfielder |
| Team | Manshine City |
Reo Mikage was the heir to Mikage Corporation, which was one of the world's largest companies. But, he understood that he had more passion for soccer, and started to pursue his dream instead.
Joining Blue Lock, he was always there to support Nagi and his plays. This led Nagi to play more freely and without any care in the world, scoring goals as he pleases.
But, Reo didn't stop there as he still want to be stronger to support Nagi better. Soon enough, both of them joined the Manshine City team, which was governed by the World's best Striker Chris Prince, and almost defeated Basterd Munchen.
---
Reo Mikage's Skills and Abilities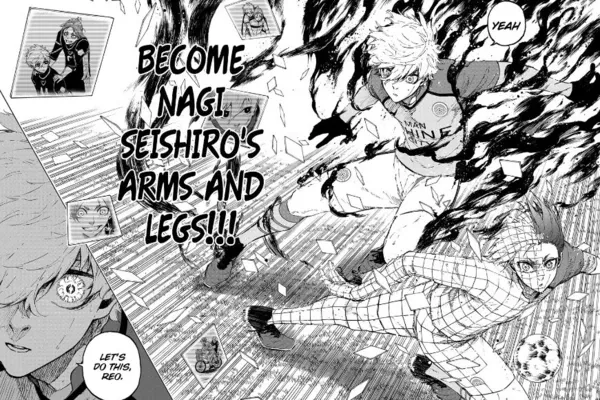 Reo was also able to use Meta Vision and almost stopped all of Isagi's plays.
He is considered a Jack-of-all-trades kind of player.
Reo has near-perfect stats in many areas, instead of focusing solely on a single play style.
This lets him be extremely versatile and play almost any position.
With his near-perfect stats, he can also copy other players' abilities, which is his Chameleon nature.
Since Reo is an all-rounder, he can re-create the similar moves of other players with 99% accuracy.
He also managed to re-create Rin Itoshi's shot and almost scored a goal.
---
Who is Tabito Karasu in Blue Lock?
| | |
| --- | --- |
| Japanese Name | 烏 旅人 |
| Hair Color | Purple and Dark Blue |
| Eye Color | Blue |
| Archetype | Midfield General |
| Position | Defensive Midfielder |
| Team | Paris X Gen |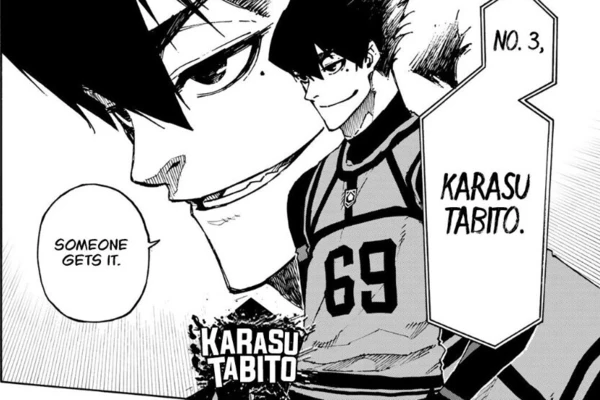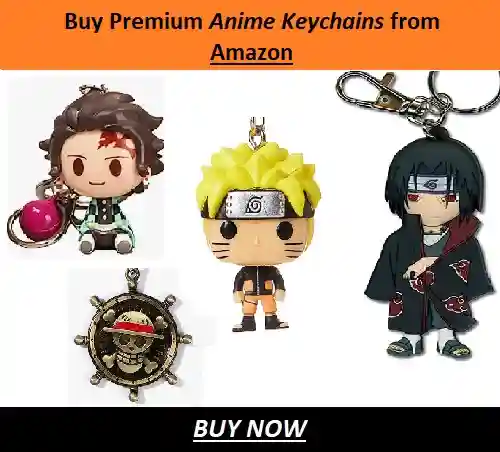 Tabito Karasu was one of the best Blue Lock players and ranked 3rd after the Second Selection arc. He displayed his talent numerous times throughout the third selection arc too, which made him a starter in the Blue Lock Eleven.
He did show his talent in this match too, but we haven't seen him since this match. He did join the Paris X Gen team, which even beat Italy Ubers and FC Barcha.
Aside from this, we do not know about his position in the team. He received the least bid, for the players in Blue Lock, and was in the 20th position and his bid was only 12 million yen.
---
Tabito Karasu's Skills and Abilities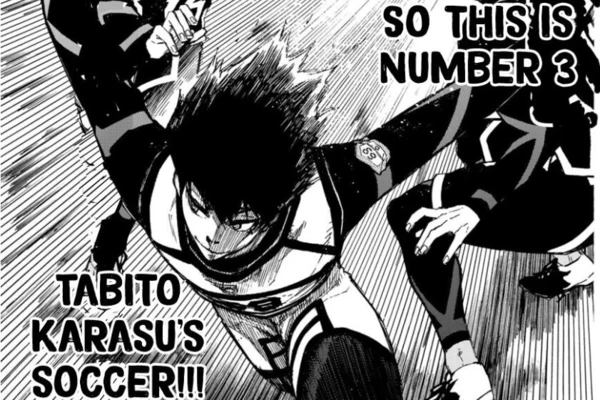 Has one of the best ball-control abilities in Blue Lock.
Karasu uses his arms to block off his opponents from reaching the ball, while he has the ball.
Due to this, he is also able to do pretty effective feints to throw off defenders.
He has a very sharp analytical ability and always targets the weakest player on the other team.
Jinpachi Ego had also recognized this and made him the Defensive Midfielder and the heart of the Blue Lock team.
Karasu is a Midfield general, who is renowned for his control over the midfield.
This also means that he is the core offense and defense of the team.
---
Reo Mikage vs. Tabito Karasu: Best Midfielder in Blue Lock?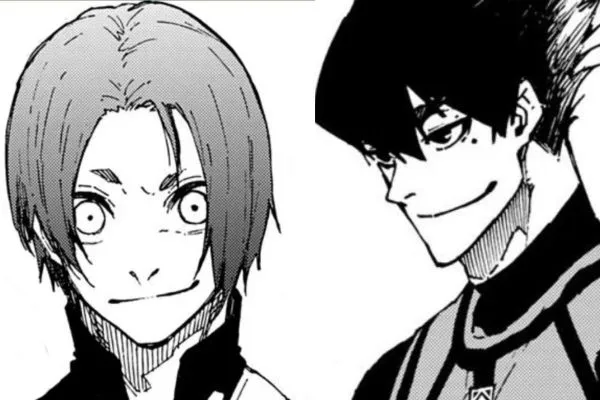 Coming back to the question of our duel of Reo Mikage vs Tabito Karasu, we could say that Reo Mikage will end up winning. Tabito Karasu did show up his skills at various times, but Reo managed to evolve more in a short time.
Tabito Karasu had been playing silently since the start of the Neo-Egoist league. He had not displayed much of his talent and skills, compared to when was commanding the Blue Lock team.
We also know nothing about him presently, or if he evolved or not. Reo after understanding his goals and learning to use his techniques even better, undoubtedly beats Karasu.
Reo had even copied Sae Itoshi, Aiku, Nagi, and many other players' moves. He just needs to analyze their moves one time, and he can do the same with 99% accuracy.
---
1) Based on Power
This should be a tie for both of them since Reo is an all-rounder. Karasu mostly depends on his physical strength, for ball control and to throw off feints.
On the other hand, Reo had copied Aiku's defense total defense as well as the Physical Press of Kazuma Niou. He could only do this because of his almost-perfect stats in all fields.
---
2) Based on Speed and Agility
This will also probably end up as a tie for both of them. Reo had to train a lot, to reach this level of attributes. And we can only say that Reo after his training is equal to Tabito Karasu before he joined PxG.
Meanwhile, we saw how quick and agile Karasu is, during the Third Selection. After this, we saw nothing from him or none of his evolution. So, we compared his stats from that time.
---
3) Based on Reflexes
This should be an easy win for Reo. Reo wins only because he managed to activate Meta Vision, and he can reflexively copy any ability he saw. We also saw how he reflexively supported Nagi in their game against BM.
On the other hand, Karasu had shown none of this ability. In all of the games he played, he only uses tactics and strategies after analyzing all the plays on the field.
---
4) Ability to win 1v1
This should be a win for Reo since he can copy Yukimuya's playstyle too. Reo had already once copied Yukimuya's Gyro shot, and after his evolution, he can easily copy his 1v1 emperor style too.
Karasu does have good offense and defense capabilities, but he cannot win against Yukimuya. Since the latter is said to be undefeated in 1v1, even at 99% accuracy, Karasu would be unable to stop him.
---
5) Based on Team Compatibility
This is a win for Karasu. He has shown great compatibility with his team and other players, during his every game. Jinpachi Ego even recognized his talent and made him the Defensive Midfielder of the Blue Lock team. This shows how well Karasu can manage between offense and defense too.
Reo does have his Chameleon style, to adapt to his teammate's playstyle, but he was never the heart of the team. Mostly, he was better compatible with Nagi, compared to others.
---
6) Based on Overall Ability
This should be an easy win for Reo, after his evolution in the Neo-Egoist League. Reo showed spectacular all-rounding capabilities, and this was further fortified by his evaluation scores.
Be it past ability or offense, defense, or speed, Reo is an A-tier in all of them. Coming to Karasu, we never knew much of his specifications, he was initially among the top 3 in Blue Lock, but it might not be the same now.
---
Conclusion
Finally, we can say that in a duel between Reo Mikage vs Tabito Karasu, Reo Mikage should end up being the winner. Reo Mikage showed that he could copy the abilities of even some of the best players in the world.
This automatically puts Karasu at a disadvantage, even if Reo can only copy them with 99% accuracy. Some of the shots and passes were still shown to be good enough, even if it was a copy.
Reo even managed to stop Shido's shot, when he copied Aiku's Total Defense. Karasu loses in this category, as he is always aiming for the weakest link, and Reo is in no way the weakest player.
This marks the end of our article on Reo Mikage vs Tabito Karasu. Now that we have a winner for this, make sure to check our other similar articles here.
---
Do small things with great love.
Follow us on Twitter for more post updates.
Also Read: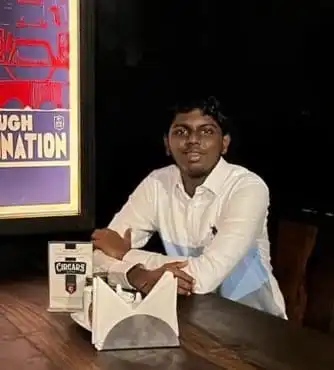 Eswar Keshav is an ardent anime fan for more than a decade. Along with this, he also has been following anime and manga updates for years. He is also enthusiastic and passionate when it comes to writing about his favorite things. Combining his love for writing and his love for anime and manga, his articles speak of his love for the genre.