Last updated on August 25th, 2023 at 11:26 am
My Hero Academia is often mentioned as one of the best new-gen anime and has a massive fanbase worldwide. The series has become very popular recently, and fans question whether it is available in dub and where to watch it.
Crunchyroll is the biggest platform for anime watchers around the globe. Millions of viewers visit the site daily to watch their favorite anime, movies, or manga.
Due to the increased popularity of anime, which has simultaneously increased the number of users on Crunchyroll, the organization has also added games and manga to its platform to provide fans with a wide range of entertainment.
Although most viewers watch or prefer to watch in sub-language, a sufficient number of viewers like to watch anime in the dub version, as MHA has been a very well-known anime in recent years.
Many people might wonder whether Crunchyroll has My Hero Academia Dub, and if there is, how can I watch it from anywhere in the world? In this article, we have provided the answers to all your questions.
---
Does Crunchyroll have My Hero Academia?
Crunchyroll has the broadcasting rights for My Hero Academia for both the sub and dub versions. The site is up to date with the releases of the sub version; however, on the other hand, the dub version is also available for the viewers.
Crunchyroll is a world-renowned anime website with millions of people using it as their primary source for anime viewing, reading manga, or even playing games, which helps the user feel connected to the series. Crunchyroll is a top-rated streaming platform with many viewers who watch the series; the site contains all the latest anime that are airing.
Although the platform is available globally and has no restrictions in most countries, it has separate libraries for each country, which helps the viewers watch the anime of their choice.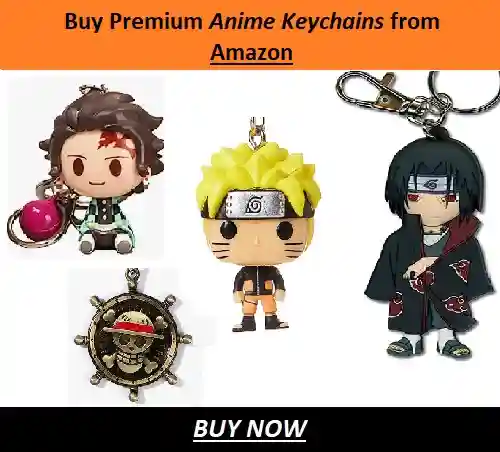 My Hero Academia is one of the trendiest manga and anime series that is ongoing and has a lot of people watching it while also getting new viewers every passing day. My Hero Academia is a Japanese superhero manga series written and illustrated by Kōhei Horikoshi.
The series began publishing in July 2014 and has been going strong ever since. The chapters have been drafted into volumes; so far, there are around 32 volumes available for readers.
MHA's new chapter number 388 is just around the corner, and according to leaks, readers can expect a monstrous turn of events and many significant character journeys to end soon.
My Hero Academia is nothing short of brilliance; the fights, the animation, and the OSTs are all made to perfection, and the action scenes are choreographed amazingly.
---
How to Watch My Hero Academia on Crunchyroll?
In this section, we will discuss how to watch My Hero Academia on Crunchyroll and guide you step by step so that you can watch this fantastic series and understand how to start and go through Crunchyroll. Crunchyroll is available for everyone in most countries, but if you cannot access it, we have also provided an alternative method.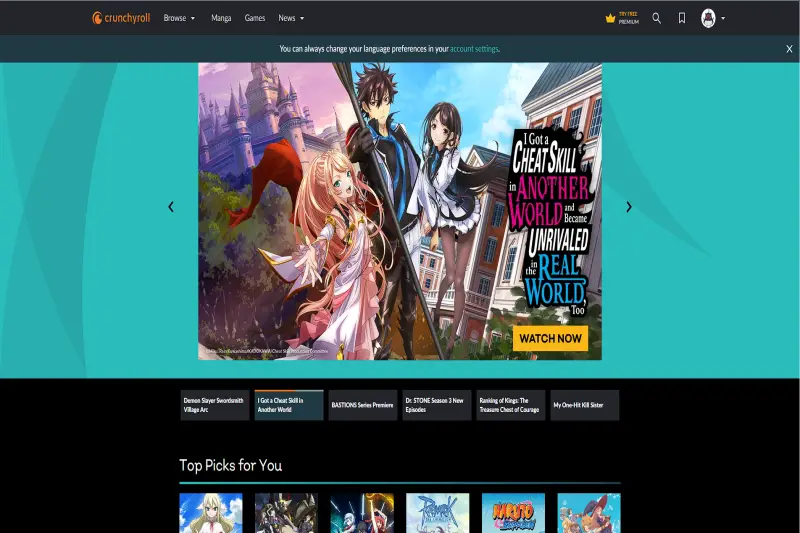 Open Crunchyroll on any web and register or log in to your Crunchyroll account.
---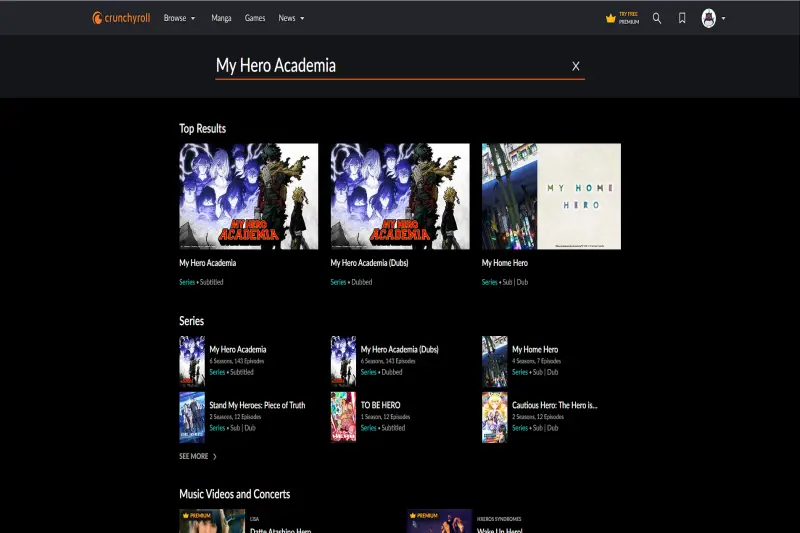 In the search bar, enter the keyword My Hero Academia, and you'll be redirected to all My Hero Academia shows from Episode 1.
---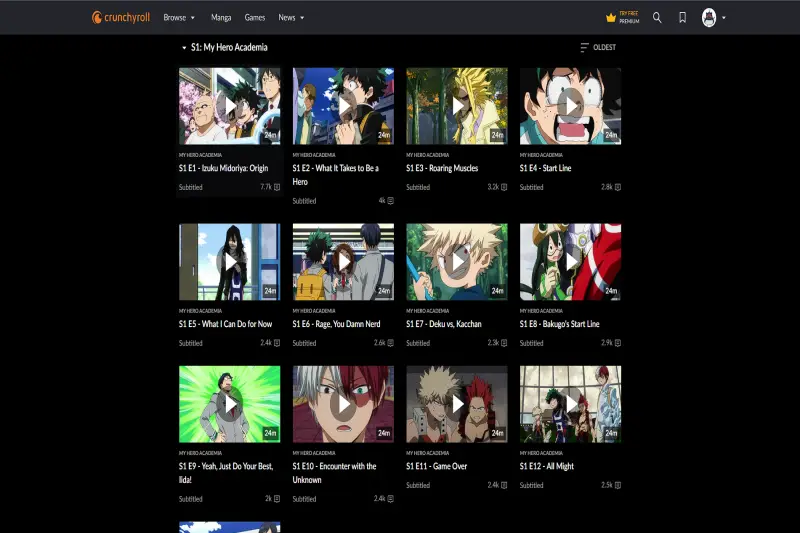 Click on the Episodes, and you will be redirected to season 1.
---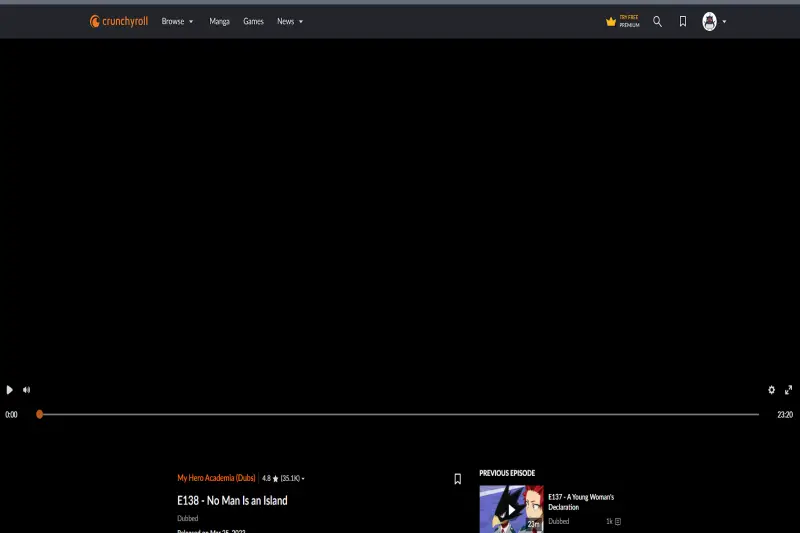 You can see up to "Season 6" at the end.
By clicking on Season 6, you can witness the latest episode available on Crunchyroll.
---
In other countries,
Step 1:

 Purchase a good VPN.

Step 2:

 Download and register your email address on a VPN.

Step 3:

 Log in to a VPN.

Step 4:

 Choose the location, either in the U.S. or Canada.

Step 4:

 Visit the Crunchyroll website after connecting to the new location, and then follow the steps mentioned above.
---
My Hero Academia Watch Order on Crunchyroll
My Hero Academia:

 Season 1

My Hero Academia: Save! Rescue Training!

 (OVA)

My Hero Academia: 

Season 2

My Hero Academia: Training of the Dead

 (OVA)

My Hero Academia: All Might: Rising 

(Special Episode)

My Hero Academia: Season 3

My Hero Academia: Make it! Do-or-Die Survival Training

 (OVA)

My Hero Academia: 

Season 4

My Hero Academia: 

Season 5

My Hero Academia: Season 6
---
Conclusion
Unfortunately, MHA movies are not yet available on Crunchyroll. If you want to watch it, you can use Hulu, where all the series are available.
When My Hero Academia began in 2016, nobody would have expected the series to grow tremendously; millions of people would watch it every day and make it one of their favorite new-gen anime.
The story revolves around Deku, a high schooler; in his world, everyone else has been born with power, also known as quirks. Unfortunately, Deku was not born with it; it was an abnormality.
Ever since he was a kid, his favorite superhero was All Might, who rescued everyone with a big smile and was more robust than anyone yet humble and down to earth.
He always used to say I am here before beating the villain and saving everyone. One day, Deku stumbled upon a man who looked no less than a Skelton, only to find out that a tragedy had struck his idol and things were very different for him in reality.
Due to an injury, he has been losing his powers and will soon be unable to fight anyone since he cannot transfer them to anyone. As nobody can hold two quirks, he decides to take Deku under his wings, prepare him to become his successor and the new host of All for One, and become Japan's number one hero.
However, the journey will be very tough for Deku, as he has never had a quirk, and suddenly, inheriting the strongest hero's powers will always come at the cost of self-destruction.
Not only that, but the monster that even All Might couldn't defeat will also be coming to fight and kill Deku and eradicate heroes from the world.
---
Follow us on Twitter for more post-updates.
Also Read:
I am a first-year student pursuing Data Science and Artificial intelligence and have always been mesmerised by AI and wish to build one for my own in future. In my free time, I like to watch Romance Anime or read Seinen Manga.