There was never any doubt that My Hero Academia Chapter 405 would be an explosive chapter, pun intended. And that is certainly true as we can see, thanks to the spoilers for the chapter. Now that Bakugo has rescued All Might, let's see what happens next with this post on My Hero Academia Chapter 405 spoilers and release date.
My Hero Academia Chapter 405 Spoilers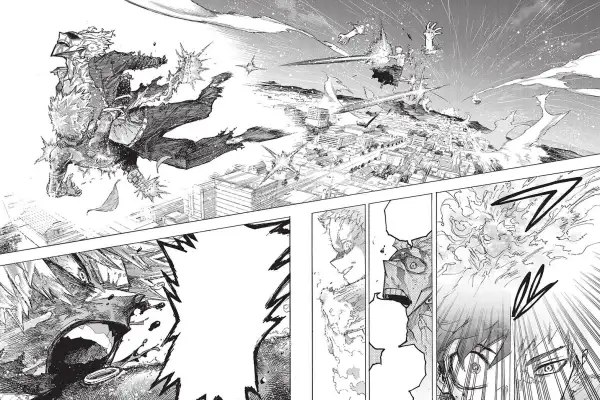 The spoilers report that the title of My Hero Academia Chapter 405 is "The Final Boss." The chapter alludes to Bakugo, of course, as his entry into the fight has changed the entire equation of the war.
The chapter starts with All Might and Sir Nighteye having a conversation in front of a white background where Nighteye confirms that the gruesome death he'd seen in All Might's future was his death by All For One but he's managed to change his fate.
In the present, All Might and Bakugo land on top of a building. People all over the world who are watching the fight live remember Bakugo as the kid who was kidnapped by the League of Villains and the winner of the U.A. Sports Festival. Among the many viewers, there are Mahoro and Katsuma who are cheering for Bakugo.
All Might asks Bakugo if he is okay and he asks the former Hero right back. Then Bakugo spits blood and Edgeshot comes out of his chest in a tiny form.

Edgeshot reveals that he's used his own body to mend Bakugo's broken bones and injured organs but he's still feeling unbearable pain and his body is not fit to fight anymore. Bakugo agrees and thanks his "senpai" for keeping him alive.

The Pro Hero further reveals that even though he has managed to keep Bakugo's body from falling apart, he couldn't bring him alive. It was Bakugo's own Quirk that brought him back. When Edgeshot was tired after mending Bakugo's body, a drop of sweat fell into his bloodstream and his Quirk ignited inside his body, forcing his heart to beat again.

Bakugo confirms that the glowing child is All For One who is fuming despite knowing he must be calm and transfer his Quirk to Shigaraki. All Might gives Bakugo his broken gauntlet which he's named "Great Murder Explosion God Dynamight." Bakugo smiles.
He appears in front of All For One, declaring that he is the Villain's "final boss." Bakugo announces that he'll always step in when Deku can't handle it all on his own, just like he promised. The chapter ends here.
Raw Scans
Bakugou stans how are we feeling? #MHA405 #MHAspoilers pic.twitter.com/JhiWKcVI3O

— 𝖓𝖆𝖙 ッ (@KACCHANISALIVE) October 25, 2023
Page 10 in higher quality pic.twitter.com/UfVgSCy6pj

— ever (@DabisPoleDance) October 25, 2023
Page 7 in higher quality pic.twitter.com/UMrOzklLuI

— ever (@DabisPoleDance) October 25, 2023
---
My Hero Academia Chapter 405 Release Date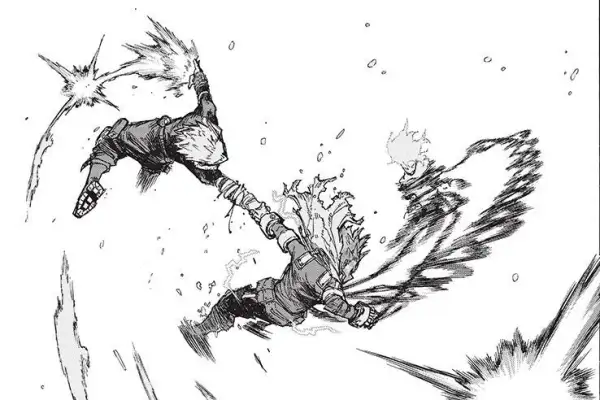 Online readers of My Hero Academia will have access to Chapter 405 from the upcoming Sunday, October 29, 2023. Manga Plus and Viz Media are the two official platforms of Shueisha where fans will find the new chapter with its official English translation for free. 
However, the exact time of the release of My Hero Academia Chapter 405 will be different in many parts of the world. This is because of the time difference in various time zones of the world. We've added the schedule for the release time of the upcoming chapter so that you know the exact moment the chapter drops in your particular time zone:
Pacific Standard Time: 7 AM, Sunday, October 22, 2023
Eastern Standard Time: 10 AM, Sunday, October 22, 2023
Greenwich Mean Time: 3 PM, Sunday, October 22, 2023
Central European Time: 4 PM, Sunday, October 22, 2023
Indian Standard Time: 8.30 PM, Sunday, October 22, 2023
Philippine Standard Time: 11 PM, Sunday, October 22, 2023
Japanese Standard Time: 12 AM, Monday, October 23, 2023
Australia Central Standard Time: 12.30 AM, Monday, October 23, 2023
Fortunately, there is no break next week, so fans won't have to wait too long for the next chapter and will have Chapter 406 on November 5, 2023. If there is any more update on My Hero Academia, you'll find it on Otakus' Notes, so make sure to keep an eye out.
---
Do small things with great love.
Follow us on Twitter for more post updates.
Also Read:
Anamika loves words and stories and putting them to pages. She also loves anime, manga, books, movies and everything fantasy. She has been a fan of anime since childhood and her admiration for it only grew with years. Her passion for writing is even more elevated by writing about the things she loves.