Last updated on June 14th, 2023 at 02:49 pm
Gojo vs Sukuna is in full swing, taking the manga to its absolute peak for the time being. So, it's unnecessary to reiterate how much fans have been waiting for the new chapter. Rejoice people, because the spoilers are finally out. So, we won't dally further and get right into Jujutsu Kaisen Chapter 225 spoilers and raw scans.
Jujutsu Kaisen Chapter 225 Spoilers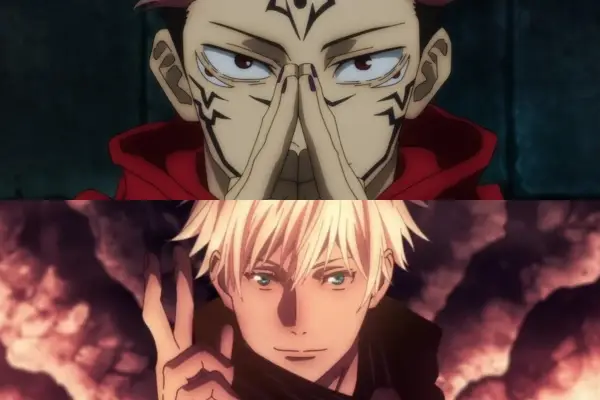 Jujutsu Kaisen Chapter 225 starts with the other Jujutsu Sorcerers watching the fight between Gojo and Sukuna on the screens, broadcasted by Mei Mei. The commentator of the video explains that Sukuna is using Domain Amplification to bypass Gojo's Infinity. It's the same technique that Hanami and Jogo used against Gojo at Shibuya.
Domain Amplification is an upgraded form of Simple Domain, but the user cannot use their Cursed Technique while implementing it. Angel comments that if Sukuna can get by Gojo's Infinity, he will win this.
When Choso informs that Sukuna's Domain Expansion has no barrier, everyone is shocked. He also reveals that Kenjaku's Domain is also barrierless.
Implementing a Domain Expansion multiple times is very difficult for any Jujutsu Sorcerer. But thanks to Gojo's Six Eyes, he never runs out of Cursed Energy and Sukuna is a master of efficiently using his Cursed Energy.

If it's just a matter of efficiency, everyone agrees that Sukuna would win. But Gojo's Six Eyes and Infinity makes him untouchable.

Momo finally concludes that even Sukuna and Gojo don't know who'd win if their Domains clash.

Back to the battling duo, we see Sukuna and Gojo both activating their Domain Expansions at the same time. Unlimited Void clashes against Malevolent Shrine. The must-hit effect of their Domains cancel each other out. However, if one opponent is wounded, then the effect would return and affect the weaker party within a split second.

The commentator explains that the range of Sukuna's Malevolent Shrine exceeds the distance of the barrier of Gojo's Unlimited Void.

Yuji remembers, horrified, that the barriers of Domain Expansions are vulnerable from the outside.

Malevolent Shrine attacks Unlimited Void from outside and the barrier shatters. Sukuna's plan works as he finally lands an attack on Gojo, slashing his neck. 
---
Jujutsu Kaisen Chapter 225 Release Date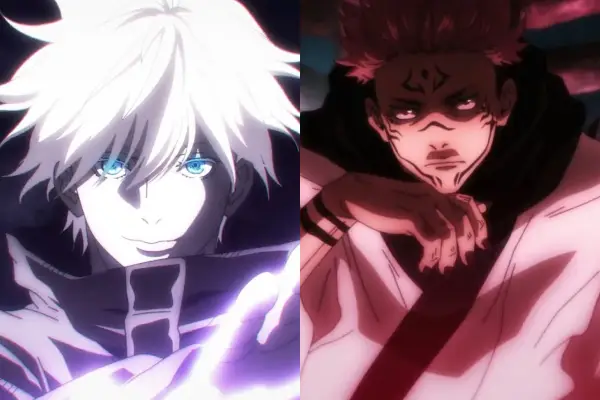 Jujutsu Kaisen Chapter 225 will be released on Sunday, June 11, 2023. The time of the release of the new chapter will vary in different time zones. The schedule for the release time of Chapter 225 in various time zones is as follows:
Pacific Standard Time: 7 am, Sunday, June 11, 2023
Eastern Standard Time: 10 am, Sunday, June 11, 2023
Greenwich Mean Time: 3 pm, Sunday, June 11, 2023
Central European Time: 4 pm, Sunday, June 11, 2023
Indian Standard Time: 8.30 pm, Sunday, June 11, 2023
Philippine Standard Time: 11 pm, Sunday, June 11, 2023
Japanese Standard Time: 12 am, Monday, June 12, 2023
Australia Central Standard Time: 12.30 am, Monday, June 12, 2023
Online fans of the manga will find the new chapter on MANGA Plus and VIZ Media, the platforms affiliated with Shueisha, with its official English translation. 
Jujutsu Kaisen will not be on a break for the next week. So, after Jujutsu Kaisen Chapter 225, Chapter 226 will also be released on its weekly scheduled date. We, at Otakus' Notes, will inform you if there is any further announcement. So, don't forget to follow us.
---
Do small things with great love.
Follows us on Twitter for more updates.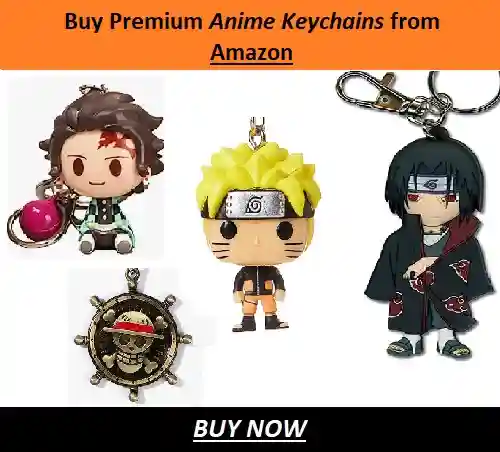 Also Read
Anamika loves words and stories and putting them to pages. She also loves anime, manga, books, movies and everything fantasy. She has been a fan of anime since childhood and her admiration for it only grew with years. Her passion for writing is even more elevated by writing about the things she loves.