Last updated on September 15th, 2023 at 10:34 pm
The last chapter of My Hero Academia was as beautiful as it was heartbreaking, and it noted the conclusion to Uraraka and Toga's story. Now in the Final War Arc, the manga has already concluded the story arcs of many major characters, including Shoto, Iida and Uraraka, but there are still quite a few left. With that in mind, we'll discuss My Hero Academia Chapter 396 predictions and its release date.
My Hero Academia Chapter 396 Spoilers-Prediction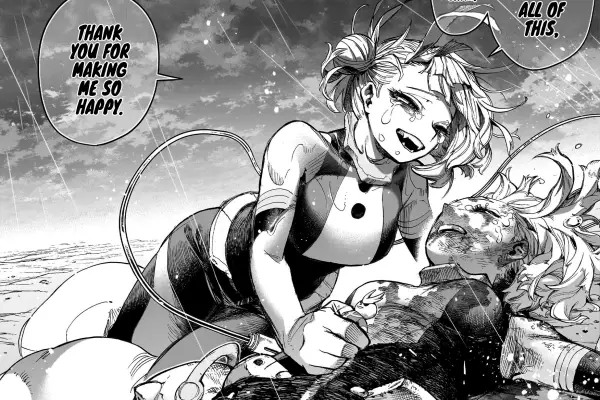 There are quite a few loose threads left for the story to pick up in the new chapter. While we're predicting what's about to come in the upcoming chapter, we'll have to consider every possibility. So, these are the major plot threads, one of which could be the focus of My Hero Academia Chapter 396:
Deku and Shigaraki have come face-to-face on the battlefield, and are yet to throw their blows yet. Since All For One hasn't gotten to Shigaraki yet, this is Deku's only chance to appeal to Shigaraki's humanity. But there would be a big fight before that, that's for sure.
A previous chapter gave us a little glimpse that All Might is meeting with the Hero Killer Stain. Whatever happened in their encounter is yet unknown, but the next chapter could reveal something.
Aizawa and Present Mic have fallen into the vortex of Kurogiri. Their current status is unknown, but there could be an emotional encounter going on between the three old friends.

Chapter 386 ended with an exciting panel of All Might facing All For One, prepared with special support gears. Maybe the next chapter will be focusing on their battle.

However, what fans are most eager and anxious to see in Chapter 396 is Bakugo who was fatally injured in the heart by his fight against Shigaraki. Bakugo's current status is unknown, and fans are dying to find out that the fan-favorite character has survived the ordeal, and will be joining the main battle soon.
Let's wait and find out what's about to come in My Hero Academia Chapter 396.
---
My Hero Academia Chapter 396 Release Date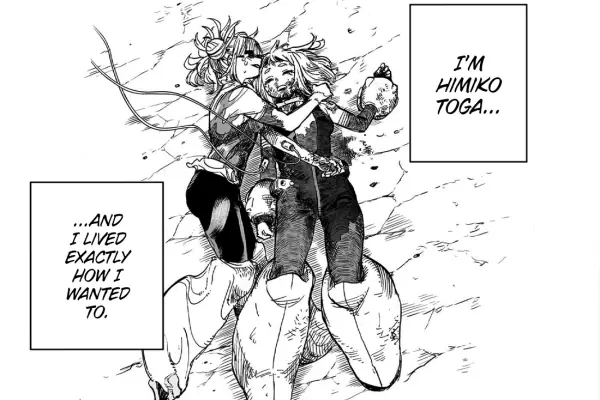 The recently released chapter announced a break for this week. So, fans can expect to not find a new chapter this Sunday. Instead, My Hero Academia Chapter 396 will be released on August 6, 2023. 
Fans all over the world would notice that the time the new chapter is released is different in various time zones. So, we've already prepared a schedule for you to know exactly what time Chapter 396 will be dropping in your time zone. Here's the schedule:
Pacific Standard Time: 7 am, Sunday, August 6, 2023
Eastern Standard Time: 10 am, Sunday, August 6, 2023
Greenwich Mean Time: 3 pm, Sunday, August 6, 2023
Central European Time: 4 pm, Sunday, August 6, 2023
Indian Standard Time: 8.30 pm, Sunday, August 6, 2023
Philippine Standard Time: 11 pm, Sunday, August 6, 2023
Japanese Standard Time: 12 am, Monday, August 7, 2023
Australia Central Standard Time: 12.30 am, Monday, August 7, 2023
As usual, the official digital prints of the new chapter will be available on Manga Plus and Viz Media, the official manga platforms of Shueisha. And as for unofficial raw scans and spoilers of My Hero Academia Chapter 396, those will come out on the internet days before the actual date of release.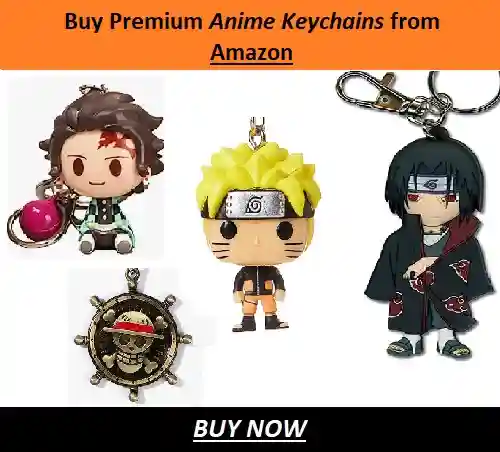 Keep reading Otakus' Notes and you'll never miss a spoiler or update about My Hero Academia.
---
Do small things with great love.
Follow us on Twitter for more post updates.
Also Read:
Anamika loves words and stories and putting them to pages. She also loves anime, manga, books, movies and everything fantasy. She has been a fan of anime since childhood and her admiration for it only grew with years. Her passion for writing is even more elevated by writing about the things she loves.