Fans of My Hero Academia are rejoicing because Katsuki Bakugo is back and he's declared himself to be the "final boss" for All For One. The battle has just begun and more exciting things are about to come. Keeping in mind that the break last week has been testing the patience of fans, we'll dwindle no further and get right into My Hero Academia Chapter 406 spoilers and release date.
My Hero Academia Chapter 406 Spoilers
The spoilers of My Hero Academia Chapter 406 reveal that the title of the upcoming chapter is "Understanding Your Own Quirk." 
The chapter begins with an update on the battlefield. In many places, the Heroes have defeated the Villains and the Nomus and have evacuated the citizens. However, Erasure and Present Mic are still missing after disappearing into the warpgate created by Kurogiri.
Back to the Bakugo vs. All For One fight, Bakugo shows such exceptional speed that it surprises even All Might. Edgeshot reveals that Bakugo unlocked this speed during his fight against the Shigaraki-AFO self right before he died and the Villain was surprised by his speed.

To know more about his Quirk, Bakugo has to keep using it. Bakugo beats AFO into a building, making him pissed but the Villain decides to deal with him later. 

The scene cuts to Shigaraki who says he'd have to "break" Bakugo once again.
Deku ruminates about how he's been using Danger Sense to dodge Shigaraki's but he still hasn't found a way to deal with Shigaraki's Decay, Regeneration, and superhuman body. He can use the Second User's Quirk, Gearshift, one more time but the aftereffect of it will be brutal. Deku still uses Gearshift. 

Back to Bakugo, he is angry when AFO proceeds toward Shigaraki. He understands that the key to his Quirk is pain. To use his explosions to their highest potential, he has to pinpoint the places where it hurts the most in his body.

After that, he unleashes an unprecedented speed, shocking AFO. Everyone, including Bakugo's parents, is watching. AFO thinks that everything is the Second User's fault who extended his hand toward Yorichi and started it all.
The name of the Second User is finally revealed. AFO shouts: "It's all your fault, Kudou!!!"
Bakugo replies: "Are you getting senile?! I'm the one and only Kacchan Bakugou!!!"
I'M THE ONE AND ONLY KACCHAN BAKUGO. pic.twitter.com/kDGnzjfnUv

— Bakugo Katsuki (@realdynamght) November 8, 2023
Page 9: Bakugou finally gets it: pain is the key. When the sweat that should be coming from his hand runs all over his body, the pain is excruciating. He has to focus on where it hurts the most in order to release stronger explosions pic.twitter.com/EdRERRWHue

— ever (@DabisPoleDance) November 8, 2023
Page 6: He can only use gearshift once more, and when that's done the blowback will be brutal, but Deku decides that the time is now. He activates the 2nd user's quirk pic.twitter.com/UIcW9XLg2v

— ever (@DabisPoleDance) November 8, 2023
---
My Hero Academia Chapter 406 Release Date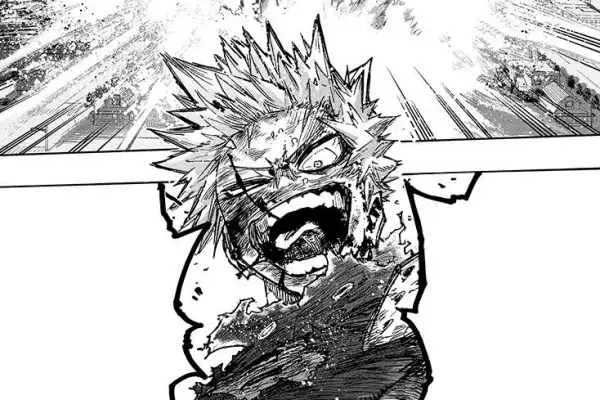 This week My Hero Academia Chapter 406 will be released on Sunday, November 12, 2023. The chapter will come out at different times in different parts of the world because of of time difference between the various time zones. To help our readers know the exact time the chapter will become available in their particular parts of the world, we've included a schedule of the release time of  My Hero Academia Chapter 406 below:
Pacific Standard Time: 7 AM, Sunday, November 12, 2023
Eastern Standard Time: 10 AM, Sunday, November 12, 2023
Greenwich Mean Time: 3 PM, Sunday, November 12, 2023
Central European Time: 4 PM, Sunday, November 12, 2023
Indian Standard Time: 8.30 PM, Sunday, November 12, 2023
Philippine Standard Time: 11 PM, Sunday, November 12, 2023
Japanese Standard Time: 12 AM, Monday, November 13, 2023
Australia Central Standard Time: 12.30 AM, Monday, November 13, 2023
Fans can read the official English translation of the chapter on Manga Plus and Viz Media for free. They will also be delighted to know that there will be no break next week, so Chapter 407 will be released a week later on November 19, 2023. For more updates on My Hero Academia, keep reading Otakus' Notes.
---
Do small things with great love.
Follow us on Twitter for more post updates.
Also Read:
Anamika loves words and stories and putting them to pages. She also loves anime, manga, books, movies and everything fantasy. She has been a fan of anime since childhood and her admiration for it only grew with years. Her passion for writing is even more elevated by writing about the things she loves.