Black Clover Chapter 364 opens up while showing that Lucius is more favored to win this battle. Lucius starts by saying to Yuno that all of them are very obsessed with Asta and that he already took measures so that Asta won't show up here.
The scene shifts to the Witches' forest, where Dorothy and Finral shout that they won't let Damnatio interfere with the Door of Fate. But, Damnatio who returned as a Paladin now, still uses his Scale Magic: Scale Dominate to erase all their magic.
Damnatio further says that justice is now on their side, and any spell used will tilt in their favor too. He further says that they must not allow these people to summon the Devil which threatens the peace of Lucius's world of perfect justice and order.
All of the other legless angels, combine a spell to throw a single highly coordinated beam of attack on the Door of Fate. The situation finally goes back to Yami and Morgen, and we see Morgen talking about how Lucius sees the path to a peaceful world.
He further says that Lucius also sees the suspicious movement in the Witches' Forest and sent some help. Morgen asks for Yami to be re-born so that they can save this Kingdom again, just like they did in Grey Deer.
But, Yami replies that he has his brigade Black Bulls instead to fight alongside him. We see the situation in the Witches' Forest again, and Damnatio thinks that it's game over for the Black Bulls.
The Black Bulls easily evade that coordinated beam of attack using Zora's Trap Magic. We see a beautiful two-page spread of Magna, Luck, Grey, Nacht, Gauche, Zora, and Secre blocking Damnatio's path.
All of the Black Bulls proudly say that they won't let him through no matter what. Damnatio thinks that all of them are fools, who have colluded with the Demon, and the chapter ends there.
---
Black Clover Chapter 364 Spoilers-Predictions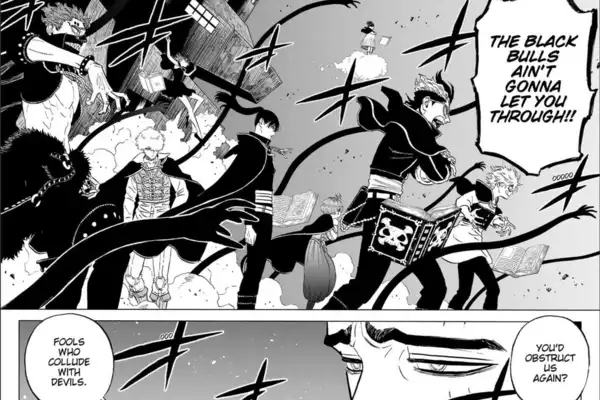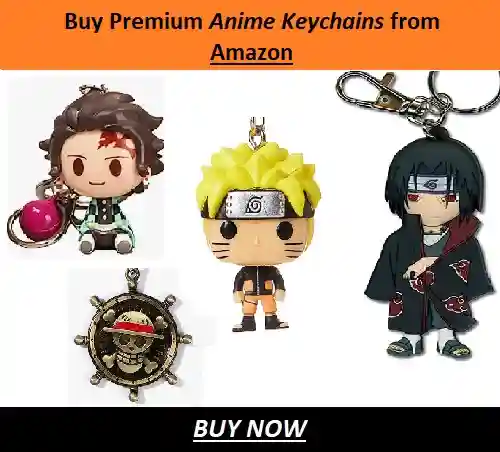 It seems that we have one more fight added, to the list of already pending fights. But, we see that Yami is in a bit of a bad shape, and is wounded after he clashes with Morgen.
However, Morgen doesn't look tired or injured in any way. This fight is shaping to be yet another interesting one. Yuno vs Lucius' outcome is already decided, seeing how many spare Lucius' there are, to fight off anyone.
Yuno looks in a pretty bad shape, and he had also used most of his mana, to kill off one Lucius. Looking at our other fights, we still have Mereoleona vs Morris, Noelle vs Acier, Yami vs Morgen, and now Damnatio vs Black Bulls.
Along with the continuation of the Damnatio vs Black Bulls, we will also get a continuation of the fight from one of the above-listed ones. This chapter just looks like a setup for the next chapter, and this chapter was also a very short one.
The next chapter might be concluding the battle of Damnatio vs the Black Bulls, while the spell inside the Door of Fate continues. And then finally, Black Bulls will be able to see Asta's whereabouts.
Asta's return is now a very crucial part of the upcoming battle. Clover Kingdom's defenses can't hold on for much longer, and Lucius can kill all of the remaining members of the Magic Knights whenever he wishes.
---
Black Clover Chapter 364 Release Date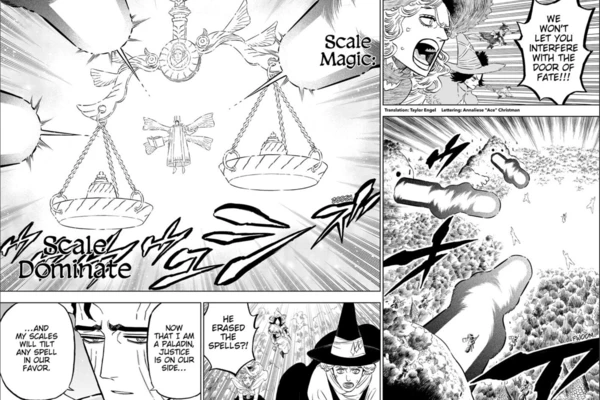 Black Clover Chapter 364 releases on 9th July. Seemingly, the manga is on a break this week, and we will get the new chapter the following week. This might be good, as we can probably get a bigger chapter than usual.
The raw scans and full spoilers will now release on the 5th of July. We will be updating all the raw scans and full spoilers in the article, once they are released. So, make sure to check this article later on.
This will be the end of our article on Black Clover Chapter 364 Spoilers-Predictions & Release Date. For more such content and updates regarding Black Clover, check out some of our other posts here.
---
Do small things with great love.
Follow us on Twitter for more post updates.
Also Read: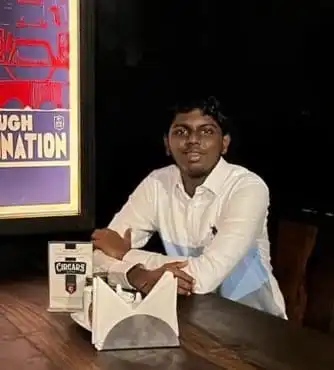 Eswar Keshav is an ardent anime fan for more than a decade. Along with this, he also has been following anime and manga updates for years. He is also enthusiastic and passionate when it comes to writing about his favorite things. Combining his love for writing and his love for anime and manga, his articles speak of his love for the genre.