Last updated on May 17th, 2023 at 02:35 pm
The last chapter of Jujutsu Kaisen was undoubtedly one of the best of the Shounen series. Not only did the fan-favorite Satoru Gojo come back but the chapter also ended with the announcement of the biggest and most awaited incident of the series: a Sukuna vs Gojo battle. The manga then took a two-week break, so now, we're back with Jujutsu Kaisen Chapter 222 spoilers and raw scans.
Jujutsu Kaisen Chapter 222 Spoilers & Raw Scans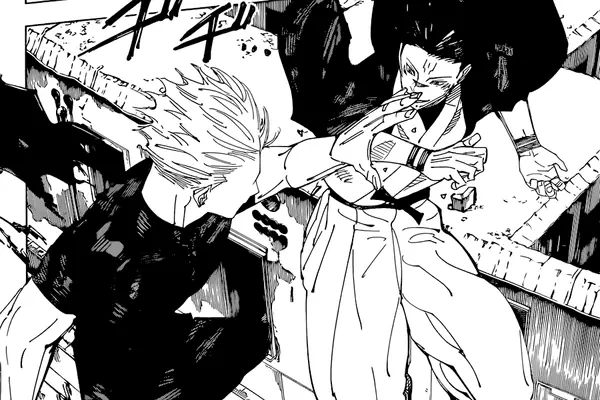 According to the spoilers for Jujutsu Kaisen Chapter 222 on Reddit, the title of the chapter is "Omen". The chapter continues 19 days after the events of the last chapter when Gojo announced to fight Sukuna on Christmas Eve.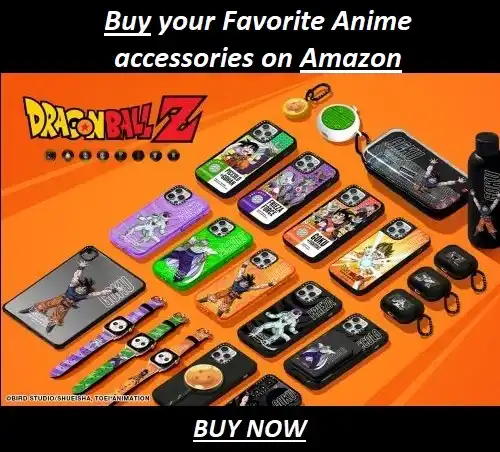 The chapter starts with Sukuna consuming the rest of his fingers except for one. He infers that the last finger must be hidden by Gojo to stop Yuji Itadori's impending execution. Sukuna decides to replace the power of the last finger with that of the Buddhist mummy.
The next scene shows Kenjaku asking Kogane how many people have died since he changed the rules of the Culling Game and withdrew his Cursed Technique, to which Kogane answers 61.
Back with the Jujutsu Sorcerers, Gojo expresses his surprise over the death of Kento Nanami. That's when Shoko Ieiri reveals that Takuma Ino has something to say about Nanami. However, the chapter doesn't reveal what.
The next panel is of Yuji training with Atsushi Kusakabe, in which he easily dominates the older man. Then there are Yuta Okkotsu and Toge Inumaki. Yuta reveals that he hasn't told Yuji that Sukuna is the reason for Inukami's loss of arm because he believes Yuji doesn't deserve the guilt. Inumaki appreciates this gesture.
The chapter then fast forwards to December 24, the night Gojo will finally fight Sukuna. Kenjaku says when Sukuna is fighting Gojo, he'll be killing the Culling Game players.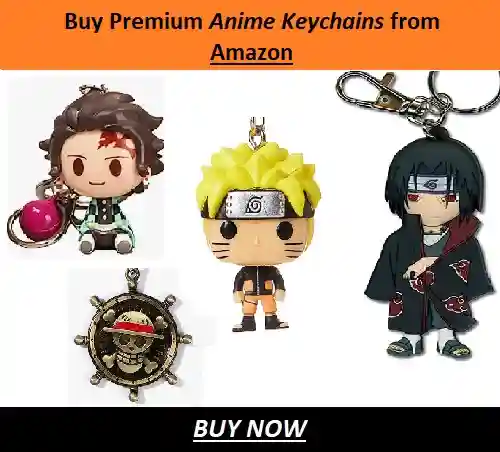 That's because if Sukuna does end up defeating Gojo, then Yuta and the other Sorcerers will fight Sukuna. Their only chance of killing Sukuna is after the Cursed Spirit fights Gojo and suffers immense injuries.
Back with the heroes, we see Kinji Hakari and Panda trying to think of what to say to Gojo for his upcoming battle, joined by Maki Zenin and Yuta. 
Gojo finally enters the scenes with Utahime Iori and Yoshinobu Gakuganji in tow. Seeing Gojo's intensity, the other students are reluctant to approach him.
But Yuji cheerfully tells Gojo that his Cursed Technique is in the way, and when Gojo disables it, he gives an encouraging pat on his back and the other students finally offer encouragement.
The chapter ends with Gojo promising to win.
Did he just eat his fucking head pic.twitter.com/fD2IFvbljw

— len (@kyuartii) May 10, 2023
#jjk222 weird how gakuganji isnt complete ashes rn after killing yaga pic.twitter.com/aLbV62vnxJ

— e (@svpphirestvr) May 10, 2023
no way people are putting bets on the sukuna vs gojo fight in the manga 😭 pic.twitter.com/H00J7LAEJm

— g (@kisspowa) May 10, 2023
#jjk222 #jjkspoilers so no hug no crying no emotional reunion??|$%?? gege u will PAY pic.twitter.com/n8QEpIHXHG

— abbie ★ (@biyuuji) May 10, 2023
#jjk222 #jjkspoilers MY POOKIES MY SILLIES MY ANGELS pic.twitter.com/oqOJogwIB0

— abbie ★ (@biyuuji) May 10, 2023
YEAH WHATEVER VIN DIESEL SAID pic.twitter.com/BgQ0LaXeLL

— ELLA (@n06ara) May 10, 2023
---
Jujutsu Kaisen Chapter 222 Release Date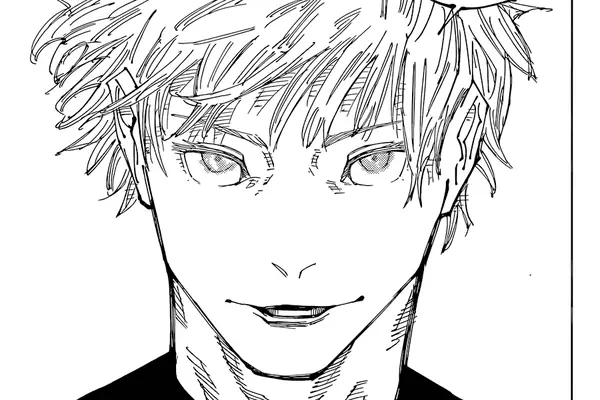 Now that the two-week hiatus is over, Jujutsu Kaisen Chapter 222 will be released on Sunday, May 14, 2023. The exact time of release will be different, depending on the time zones. The schedule for the release of Jujutsu Kaisen Chapter 222 is as the following:
Pacific Standard Time: 7 am, Sunday, May 14, 2023
Eastern Standard Time: 10 am, Sunday, May 14, 2023
Greenwich Mean Time: 3 pm, Sunday, May 14, 2023
Central European Time: 4 pm, Sunday, May 14, 2023
Indian Standard Time: 8:30 pm, Sunday, May 14, 2023
Philippine Standard Time: 11 pm, Sunday, May 14, 2023
Australia Central Standard Time: 12:30 am, Monday, May 15, 2023
The official English translation of the chapter will be available for readers on Manga Plus and Viz Media, two of Shuiesha's official manga platforms, from May 14 and onwards. You'll find all further updates about Jujutsu Kaisen at Otakus' Notes, so make sure to keep an eye on it.
---
Do small things with great love.
Follows us on Twitter for more updates.
Also Read
Anamika loves words and stories and putting them to pages. She also loves anime, manga, books, movies and everything fantasy. She has been a fan of anime since childhood and her admiration for it only grew with years. Her passion for writing is even more elevated by writing about the things she loves.