Jujutsu Kaisen is just getting better and better with each new chapter, especially more so after the legendary battle between Gojo and Sukuna began. With two such high profile characters, it's no surprise that the hype in the fandom is at its peak. So, we won't dally any further, and jump right into Jujutsu Kaisen Chapter 227 spoilers and release date.
Jujutsu Kaisen Chapter 227 Spoilers & Raw Scans
As per the translation by Reddit, Chapter 227 of Jujutsu Kaisen will be titled "Inhuman Makyo Shinjuku Showdown, Part 5", following the titles of its predecessor chapters focusing on the Gojo vs. Sukuna battle.
The chapter begins with the group watching Gojo vs. Sukuna on the screens, and Kusakabe confused over Gojo replenishing his burnt Cursed Technique. Yuta explains that this is similar to an engine getting hot, and having to wait until the engine cools to use it again.
Maki comments on how Reverse Curse Energy can heal, but can't cool down. To this Yuta thinks to himself that Gojo is indeed doing some super amazing things never done before.
Back to Sukuna and Gojo's fight where Sukuna uses his domain expansion again, and expands Malevolent Shrine to its full potential. Gojo also reopens his Unlimited Void, but switches up the conditions of the inside and outside of the domain. Now his domain is also strong against outside attacks.
Sukuna starts punching Gojo, and surprisingly his punches land. Turns out Sukuna can use domain amplification while using domain expansion, a near impossible task. Not only that, but he's also turned off the sure-hit effect of his domain.

This is when it's reminded that the only people inside Gojo's domain who aren't affected by Unlimited Void are Gojo himself and anyone touching him. Sukuna touching Gojo through his punches saves him from the effects of the domain, and he exchanges the sure-hit effect of his Malevolent Shrine to attack Unlimited Void from the outside with more strength.

This leads to Gojo losing the second time against Sukuna in the battle of domains. Kashimo announces that if Gojo dies now, he'll face Sukuna. But Gojo isn't out of tricks yet.
Thanks to the Falling Blossom Emotion, passed down to the members of the three great families, Gojo survives Sukuna's slashes. Shockingly, he uses Unlimited Void for the third time.

But when everyone thinks Gojo will expand his barrier to cover the range of Sukuna's domain, Gojo shocks everyone by shrinking the domain into a small ball. What happens within it remains a mystery.
Raw Scans
yuta was STRESSING the entire chapter 😭😭😭 pic.twitter.com/aM2Dba6k6X

— Len🌦️ (@kyuartii) June 28, 2023
SCARRED GOJO WE LOVE YOU #jjk227 pic.twitter.com/9xGPe09x4o

— ً (@vantaeprod) June 28, 2023
tried to do a high quality page from the leaks (i'm still learning)#JJK227 #JJKSpoilers pic.twitter.com/Ho6yRarljy

— 夢 (@9taiju) June 28, 2023
#JJK227 gojo's domain is now the size of a little ball small enough for yuuji to eat ERES UN IDIOTA STILL HAS A CHANCE MY DREAMS MAY STILL COME TRUE pic.twitter.com/auCS0WVRZg

— rin (getoruma ceo) (@smokerkeiji) June 28, 2023
---
How Kenjaku Becomes Major Antagonist in This Situation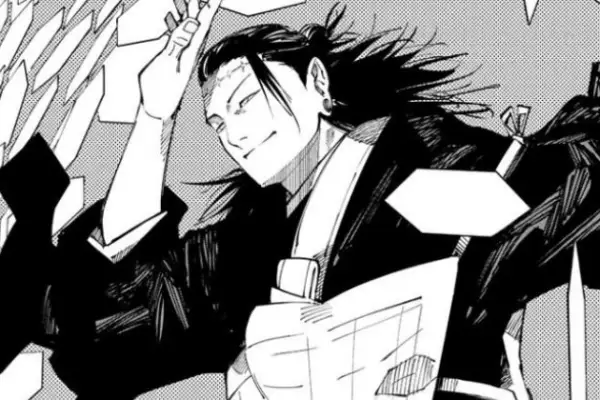 While Gojo and Sukuna are fighting a battle of the ages, one character remains suspiciously absent in all these, and that's Kenjaku. He's currently an ally of Sukuna, though both of them have plans of their own, and are only bound by an unknown Binding Vow. 
Before Sukuna's fight against Gojo, Kenjaku reminds Sukuna that even if he wins the fight and kills Gojo, he'll be considerably weakened, and eventually defeated by the likes of Yuta, Maki and Hakari. To prevent this, he plans to eventually dispose of the participants of the Culling Game one by one.
But given Kenjaku's nature, it's difficult to believe him to be so thoughtful towards someone, especially Sukuna. Throughout the story, Kenjaku has shown multiple times how he isn't bothered to throw out his allies when it serves him, evident by his complete lack of grief towards the death of Mahito and others.
All these indicate that Kenjaku indeed might be planning something sinister, and he might have given the hint himself. The only person who has the most to gain from Gojo and Sukuna's fight is Kenjaku. Because no matter who wins and who dies, he'll have a prime candidate to possess the body of.
Kenjaku's deadliest trait is his ability to transplant his brain into another body and possess it for himself. There are four known people whose bodies he has taken over, including the current one, Suguru Geto. His next target could very well be Gojo and Sukuna, since they are the undisputed strongest people in the world.
But taking over the bodies of such powerful people is impossible for him in any normal scenario. It can only be possible if one of them is significantly weaker, and that would only happen if they fight. They are both the best choices there are, Gojo with his Infinity and Six Eyes, and Sukuna with his own innate technique as well as Megumi's Ten Shadows Technique.
Kenjaku can also keep Geto's Cursed Spirit Manipulation even after he discards his body for a new vessel, evident by when he could use the Cursed Technique of Kaori Itadori in Geto's body. So, even if he possesses Gojo or Sukuna's body now, he'll get a wide range of special powers as well as Geto's super useful cursed technique.
And this is how Kenjaku becomes the ultimate antagonist of Jujutsu Kaisen.
---
Jujutsu Kaisen Chapter 227 Release Date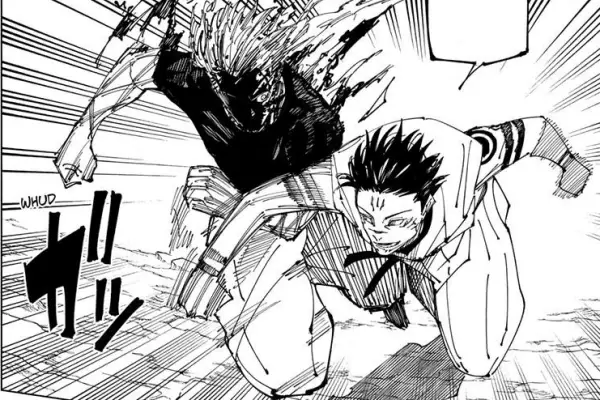 After the break last week, Jujutsu Kaisen will be returning with its Chapter 227 on Sunday, July 2, 2023. The chapter is supposed to be released at various times at various time zones, following a premade schedule. The schedule for the release of Jujutsu Kaisen Chapter 227 in separate time zones is as follows:
Pacific Standard Time: 7 am, Sunday, July 2, 2023
Eastern Standard Time: 10 am, Sunday, July 2, 2023
Greenwich Mean Time: 3 pm, Sunday, July 2, 2023
Central European Time: 4 pm, Sunday, July 2, 2023
Indian Standard Time: 8.30 pm, Sunday, July 2, 2023
Philippine Standard Time: 11 pm, Sunday, July 2, 2023
Japanese Standard Time: 12 am, Monday, July 3, 2023
Australia Central Standard Time: 12.30 am, Monday, July 3, 2023
From July 2 and onwards, the various translations of the new chapter will be available on VIZ Media and MANGA Plus, two manga platforms affiliated with Shueisha. The next chapter, Chapter 228, will be dropping just next week since the spoilers report no upcoming break. So, Chapter 228 will be coming out on Sunday, July 9, 2023.
---
Do small things with great love.
Follow us on Twitter for more post-updates.
Also Read:
Anamika loves words and stories and putting them to pages. She also loves anime, manga, books, movies and everything fantasy. She has been a fan of anime since childhood and her admiration for it only grew with years. Her passion for writing is even more elevated by writing about the things she loves.