Gore animes are not everybody's cup of tea. But for those who like it, the genre itself is very addictive and alluring. For these fans, we have made a list of the Top 15 Gory Anime on Netflix. 
It may be because gore animes tend to have fewer restraints when it comes to showcasing mature themes and taboo subjects.
The twisted and thrilling plotlines coupled with unconventional motifs capture the attention of many, making Gore an unusual but sought-after genre. 
Some of the gory anime available on Netflix are Berserk, Claymore, Wonderland, and many more. Later on, we ranked them all.
To watch the gore animes in high definition, one can stop just by Netflix, as they have a pretty solid collection in their arsenal to boast of. Just subscribe to one of their many plans and, you'll be able to catch all the shows.
For the shows not available in a particular country's Netflix, one can always use VPN to solve that issue. When it comes to using a VPN, we recommend using PIA VPN. You can use this link to avail of heavy discounts.
Today we present our picks for the Top 15 Gory Anime on Netflix 2023 based on MyAnimeList ratings.
Top 15 Gory Anime on Netflix
15) Berserk (2016)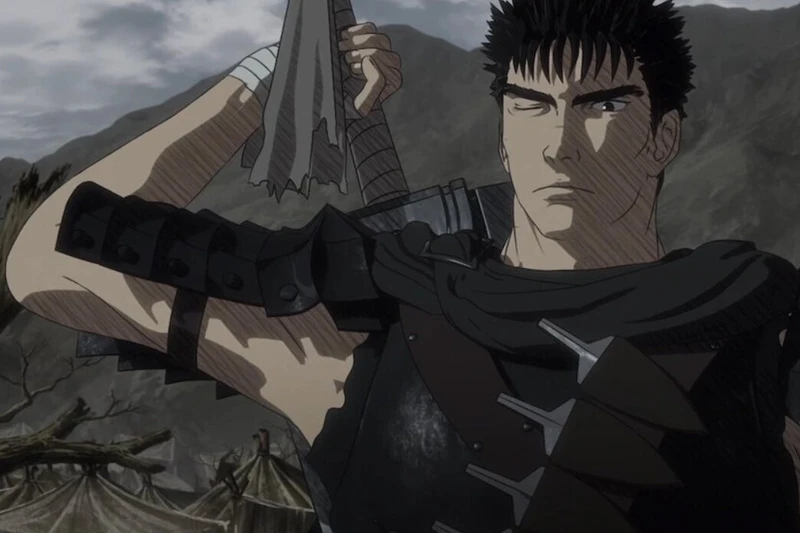 | | |
| --- | --- |
| MAL Rating | 6.30 |
| Number of Episodes | 24 |
| Genre | Action, Adventure, Drama, Fantasy, Horror |
| Animation Studio | Millepensee, GENBA |
Berserk is the goriest anime on Netflix for some fans. The story talks about Guts, a vagabond swordsman hellbent on exacting vengeance on his former teammate Griffith.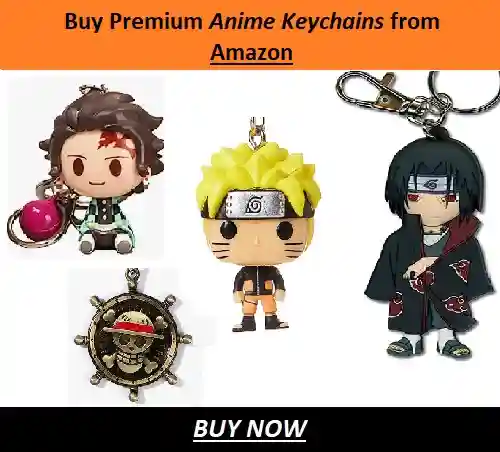 Guts, cursed to be haunted by his past, embarks on his journey with his heavy longsword, Dragonslayer.
He also encounters many friends and foes in demons, fairies, and otherworldly creatures.
In this anime, we witness Guts' adventurous, painful, and challenging journey to get his revenge on the person he considered once his friend.
---
Must Read – Top 10 Most Disturbing Anime that are banned in many countries
---
14) Deadman Wonderland 
| | |
| --- | --- |
| MAL Rating | 7.15 |
| Number of Episodes | 12 |
| Genre | Action, Horror, Sci-fi, Supernatural |
| Animation Studio | Manglobe |
Ganta Igarashi got falsely convicted for murdering his friends, whom he watched getting slaughtered by a floating figure.
Being the only one alive, everyone blames him for the murders and sends him to an unconventional prison that acts as a theme park. 
Here, he is not only treated harshly inside the prison, but he also needs to survive the deathly games designed for the audience's amusement.
Amidst all of this, his only solace is a childlike albino girl named Shiro, who quickly becomes his friend and the only ray of hope inside the hellish jail. 
---
13) Kabaneri of the Iron Fortress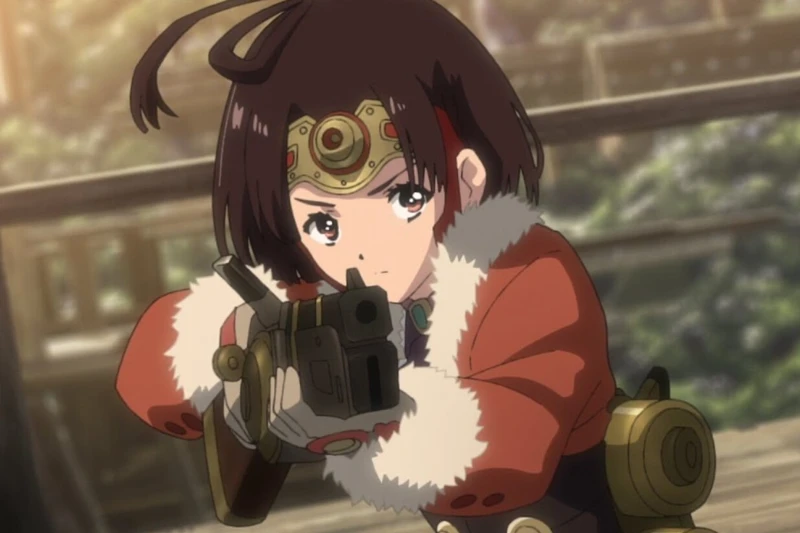 | | |
| --- | --- |
| MAL Rating | 7.27 |
| Number of Episodes | 12 |
| Genre | Action, Drama, Fantasy, Horror |
| Animation Studio | Wit |
Kabaneri of the Iron Fortress is set in a world, that is going through the industrial revolution and is plagued with monsters. Those monsters are thirsty for human lives and blood, and kill humans to quench their thirst.
The worst part about these monsters is that they can also turn humans into undead. Ikoma is an enthusiastic soldier, in Hinomoto Island, who wants to test his new weapon against Kabane.
Since the series revolves around Kabane and their battle with humans, there is an unnatural amount of gore in the series. If bloody battles are what you are looking for, this is the best pick for gory anime on Netflix.
---
12) Baki
| | |
| --- | --- |
| MAL Rating | 7.30 |
| Number of Episodes | 39 |
| Genre | Sports |
| Animation Studio | TMS Entertainment |
Everything about Baki can be summed up as a rules-fighting tournament. This means that there will be a lot of blood spilling in every battle.
Martial artists and even underground wrestlers participate in this once-in-a-lifetime battle. Every person fights for different values and then there is Baki who fights for the thrill of it.
This series is one of the best picks for gory anime on Netflix. It is filled to the brim with bloody and brutal fights, that will leave everyone satisfied.
---
11) Claymore 
| | |
| --- | --- |
| MAL Rating | 7.74 |
| Number of Episodes | 26 |
| Genre | Action, Adventure, Fantasy |
| Animation Studio | Madhouse |
Claymore is also Netflix gory anime. Claymores are worriers who wield claymore swords and fight monsters known as Youma.
They are flesh-eating monsters that hide amongst humans and prey on them. 
When Clare, a Claymore travels to a desolate village to eliminate a young, she meets with a boy named Raki. From then on, Raki tags with Clare on all her journeys and accompanies her in her missions.
In this anime, we witness them traveling from village to village in search of you to defeat. Furthermore, we see other people from Clare's association, unravel their secrets and know more about the monsters called you. 
---
10) Devilman: Crybaby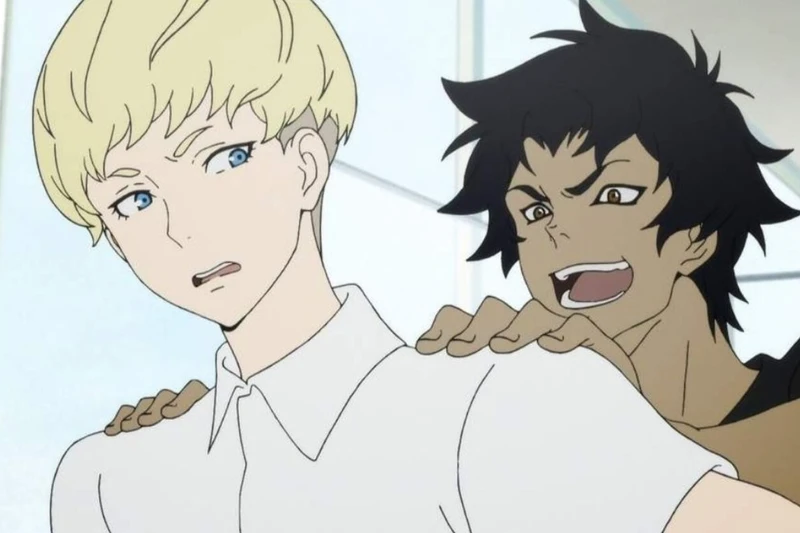 | | |
| --- | --- |
| MAL Rating | 7.76 |
| Number of Episodes | 10 |
| Genre | Action, Avant Garde, Horror, Supernatural |
| Animation Studio | Science SARU |
This is a Netflix original anime which is easily one of the goriest anime produced by them.
Akira is as normal as one can be. He is not only a loser but also a meek crybaby who readily agrees to help his friend Ryou find demons.
Later, when he lands himself in a real mess, it was already too late for him to turn back.
While he was trying to save his friend, he had to merge with Amon, a devil, and become the Devilman. After completely reemerging from his old useless self Akira has to control his inner demon and fight his kin to try and save humanity. 
---
9) Tokyo Ghoul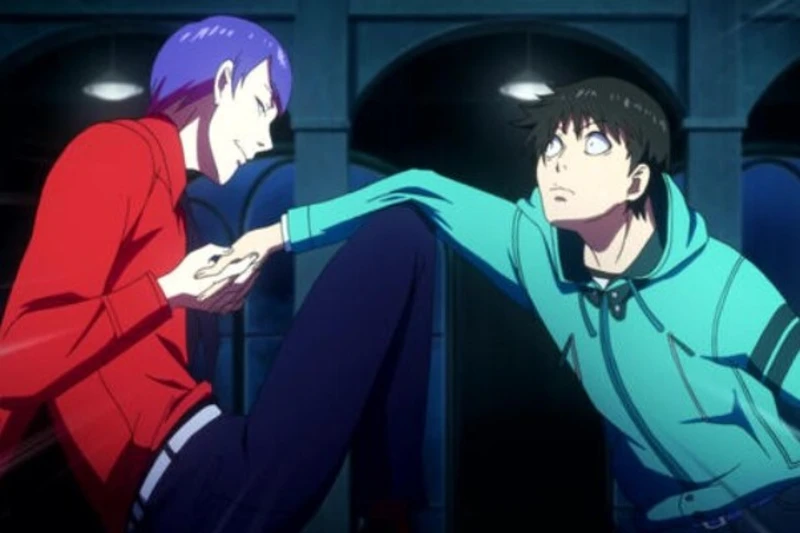 | | |
| --- | --- |
| MAL Rating | 7.79 |
| Number of Episodes | 24 |
| Genre | Action, Fantasy, Horror |
| Animation Studio | Pierrot |
Ken Kaneki is a normal high school student who lives a happy life. That was only till he was attacked by Rize, his crush, and the woman who is a Ghoul.
Ghouls are human-eating monsters, that are present all around Tokyo and Rize is infamous for being one. Rize dies that day, but Kanki needed Rize's organs to survive.
This embeds Rize's ghoul nature in Kaneki, as he is always in conflict with his human and Ghoul side. Kaneki needs to balance all of this, and also fight against other persistent Ghouls who want him dead.
Since Ghouls by nature need to eat humans to survive, there is a lot of gore involved in this anime. The fights in the series also involve a lot of blood and loss of life.
---
8) Higurashi When They Cry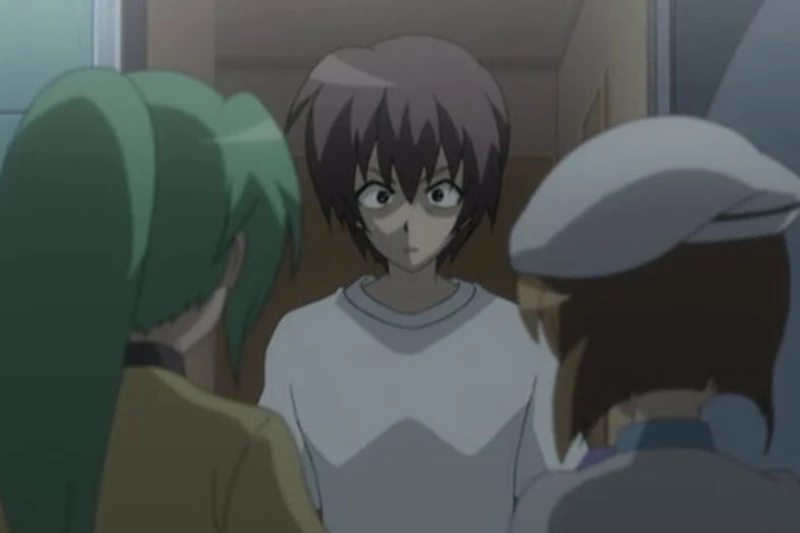 | | |
| --- | --- |
| MAL Rating | 7.89 |
| Number of Episodes | 94 |
| Genre | Horror, Mystery, Supernatural, Suspense |
| Animation Studio | Deen |
Yet another unexpected anime on this list of gory anime on Netflix, Higurashi is the least anime from which you can expect lots of amount of gore.
Initially starting as a harmless and fun story, you would be surprised to see a lot of deaths and gore in this anime. Higurashi anime is an eternal cycle of death and mystery.
The amount of gore and brutal murders in this anime might be a bit too much for viewers. It keeps inventing new methods of murder and torture, which get too much gory at times.
---
7) Parasyte: The Maxim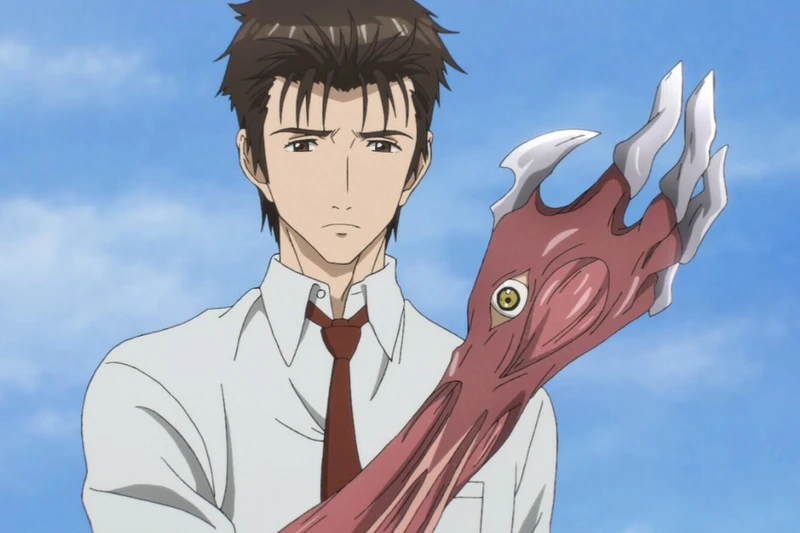 | | |
| --- | --- |
| MAL Rating | 8.34 |
| Number of Episodes | 24 |
| Genre | Action, Horror, Sci-fi |
| Animation Studio | Madhouse |
What's the goriest anime on Netflix other than flesh-eating monsters which inhabit the body of humans? Parasytes take over the human body and mind, and feast on humans to replenish their thirst and hunger.
One of the parasyte tries to take over the protagonist Shinichi's mind but fails and lives in his right hand instead. This event starts a downward spiral in our protagonist's life who has to choose between two sides.
Shinichi has to fight against Parasyte-infested humans and also reason with the humans to keep himself and his friends safe. This anime has a lot of action and gore, so don't be surprised to see humans getting brutally dismembered.
---
6) Hellsing Ultimate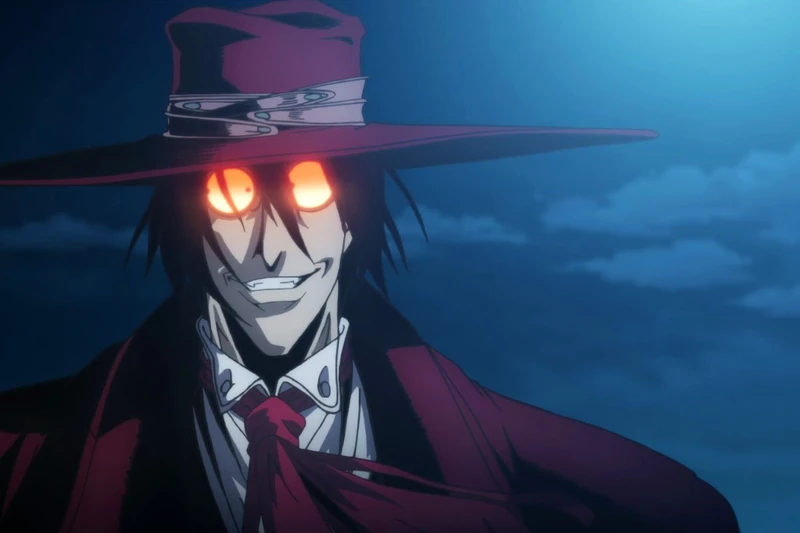 | | |
| --- | --- |
| MAL Rating | 8.35 |
| Number of Episodes | 10 |
| Genre | Action, Horror, Supernatural |
| Animation Studio | Madhouse, Satelight, Graphinica |
Another gory anime on Netflix is Hellsing. This anime on Netflix is a treat for dark and gory anime lovers.
Integra runs her organization of eliminating vampires with an iron fist. And under her command is the best vampire hunter Alucard, a vampire himself. 
He does his job remarkably, as it has been implied multiple times that he might be the strongest vampire of all. 
Along with his newly appointed vampire servant Seras, he makes the perfect vampire hunting team, ready to wipe out any enemy in the way of the Hellsing organization.  
---
Must Read – Best Horror Anime on Funimation Ranked
---
5) Attack on Titan 
| | |
| --- | --- |
| MAL Rating | 8.53 |
| Number of Episodes | 25 |
| Genre | Action, Drama, Suspense |
| Animation Studio | Wit |
The best gory anime on Netflix is Attack on Titan. It talks about people living inside walled cities, created to protect them from man-eating giants lurking outside the walls. 
One day, the protagonist Eren, with his adopted sister Mikasa loses everything dear to them to the titans. After declaring he'd finish every last one of them, he decides to join the survey corps and go outside the walls for his revenge.
In his quest for vengeance, he goes through life-changing experiences that shake his beliefs to the core and makes the viewers question what is good and what is bad. 
---
4) Cyberpunk Edgerunners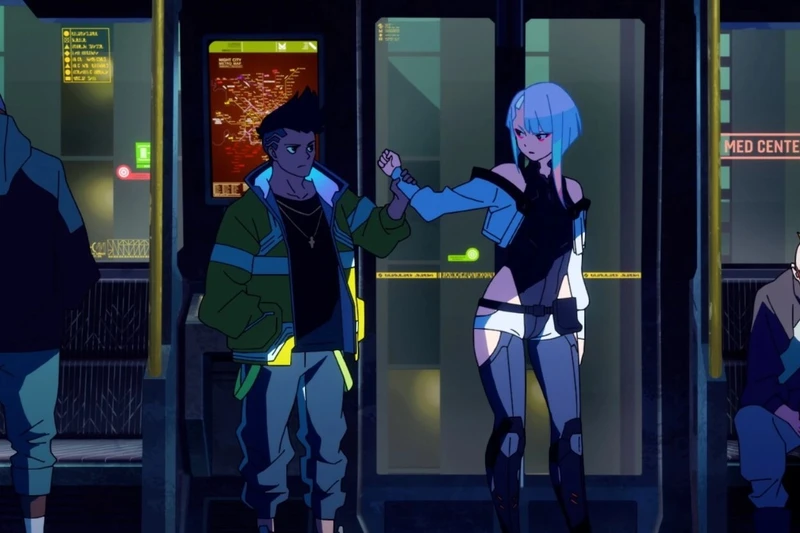 | | |
| --- | --- |
| MAL Rating | 8.61 |
| Number of Episodes | 10 |
| Genre | Action, Sci-fi |
| Animation Studio | Trigger |
David Martinez leads a normal life in an academy, in hope of fulfilling his mother's wishes. But, his life is turned around, after his life is ruined by street thugs and he lands on Sandevistan cyberware.
This prosthetic grants the user superhuman speed which he uses for revenge, and this incident gets him expelled from the college.
After some time, he meets Lucy who introduces him to the world of Edgerunners, a group of criminals willing to go to any lengths to earn money.
There starts David's journey into the dangerous game of cops and robbers, with his life on the line. One wrong move and his blood will be the first to spill.
Cyberpunk Edgerunners is an 18+ anime, given its themes and the amount of gore that is shown. The criminals are brutally tortured and killed if found out by the law.
---
3) Chainsaw Man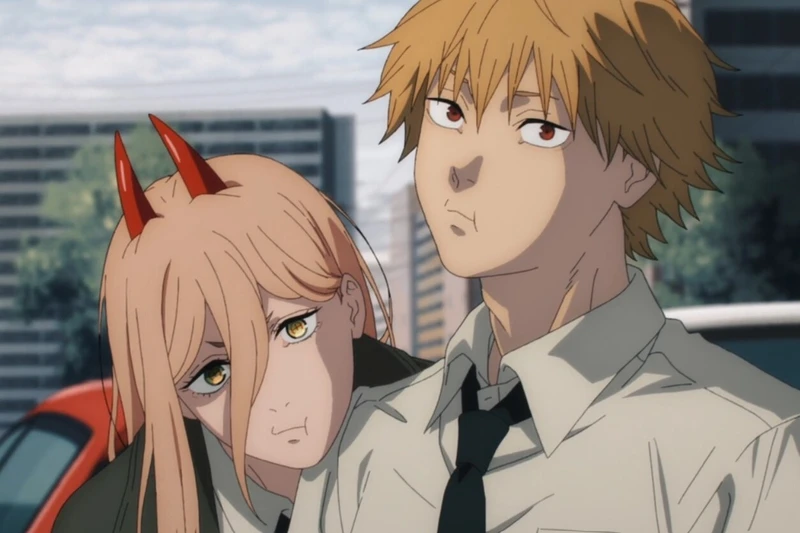 | | |
| --- | --- |
| MAL Rating | 8.63 |
| Number of Episodes | 12 |
| Genre | Action, Fantasy |
| Animation Studio | Mappa |
Denji is a carefree guy who slays devils along with his devil friend Pochita to pay off his dad's debt. One certain day, the Yakuza kill off Denji for money.
This was the moment he fused with Pochita and came to be known as the Chainsaw Man. The rest of the story follows his daily life disposing of other devils and his time as a Devil Hunter.
Chainsaw Man has a lot of gore because it is mostly focused on Denji fighting against other Devils. If you don't mind seeing people getting decapacitated and lots of blood being thrown here and there, this is the perfect series for you.
---
2) Made in Abyss
| | |
| --- | --- |
| MAL Rating | 8.66 |
| Number of Episodes | 25 |
| Genre | Adventure, Drama, Fantasy, Mystery, Sci-fi |
| Animation Studio | Kinema Citrus |
Made in Abyss looks like a completely harmless mystery & adventure series at first, but that notion is completely blown away within its first few episodes.
The abyss is a chasm that is present in this world, which holds home to many unknown mysteries. Divers are a set of individuals, who navigate through these chasms and unknown dangers.
Riko is just a novice among these and wants to explore the deeper layers of the Abyss. Upon meeting Reg, a humanoid robot, she finally starts working toward her dreams.
Made in Abyss series has one of the darkest plots. Adding upon this, the series also has plenty of gore, which comes at the most unexpected moments.
---
1) Vinland Saga
| | |
| --- | --- |
| MAL Rating | 8.73 |
| Number of Episodes | 37 |
| Genre | Action, Adventure, Drama |
| Animation Studio | Wit, Mappa |
Vinland Saga is considered to be one of the best Seinen anime and manga. It starts as a revenge story but later keeps delving into more mature and psychological themes.
The series follows Thorfinn in his journey of taking revenge against Askeladd, the person who killed his father. It has plenty of unique and interesting action sequences scattered all over the season.
The best part about the Vinland saga is that it is the best gory anime on Netflix. Throughout its first season, we get to witness plenty of war and action sequences filled to the brim with gore.
These are some of the goriest Netflix animes that you can watch and enjoy. Those who do not have a Netflix account can certainly go to official sites like Crunchyroll or unofficial apps like Anime X Stream to catch these shows.
If that does not work for you, then just use the one-month free trial period of Netflix with different email ids and accounts. We hope this list was able to satiate our reader's thirst for gory anime available on Netflix. Stay tuned for more news and updates on various manga/manhwa/webtoons like this.
---
Frequently Asked Questions
Q1. What is Gore Anime?
Ans. Anime that does not hold back on showing blood, highly graphic, and has disturbing content with endless slaughter are gore anime.  
Q2. Which is the best Gore Anime to watch?
Ans. Apart from the ones we have listed, anime like Gantz, Elfen Lied, Shigurui, and Blood-C are great shows to watch. 
Q3. Are Gore Anime 18+?
Ans. Yes, they are 18+ most of the time as they contain graphic content.
Q4. Which one is the Goriest Anime to watch on Netflix?
Ans. Even though we have listed Berserk at the sixth position, it is arguably the goriest anime on Netflix.
Q5. How can we watch Anime on Netflix for free?
Ans. Just buy the one-month trial subscription on Netflix and start watching these shows.
---
Do small things with great love.
Follow us on Twitter for more post updates.
Also Read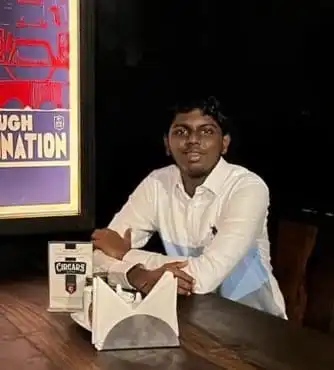 Eswar Keshav is an ardent anime fan for more than a decade. Along with this, he also has been following anime and manga updates for years. He is also enthusiastic and passionate when it comes to writing about his favorite things. Combining his love for writing and his love for anime and manga, his articles speak of his love for the genre.